Screen's critics have selected their top films of 2022, plus the best documentaries and standout performances.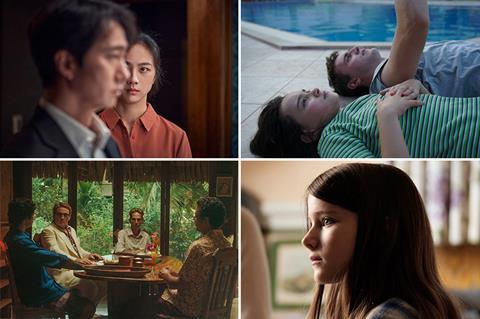 Fionnuala Halligan
Screen's executive editor, reviews and new talent
Top film: Aftersun (Charlotte Wells)
Wells's lament for young parenthood is such a limber, layered and fresh debut it immediately became the must-see film at Cannes. A second viewing proves it has not been over-praised and is, in fact, all the richer when you surrender and stop fighting the narrative for answers that don't exist — onscreen, or in life. This heart-melting debut sees the Scottish director give it her all, but she also knows when to pull back and leave the viewer in silent contem­plation. At its heart is love, loss and two exceptional performances from newcomer Frankie Corio and Paul Mescal, who continues to impress in his talent and the choices he makes.
Tim Grierson - senior US critic
Screen's senior US critic, based in Los Angeles, has written for the publication since 2005
Top film: Aftersun (Charlotte Wells)
A brilliant meditation on memory — how it imposes its will on us, how it's always shifting, slipping through our fingers like water — Wells's feature debut tells a delicate story with piercing intimacy, following a young dad (Paul Mescal) and his pre-teen daughter (Frankie Corio) on a Turkish vacation, nothing much happening but also everything all at once. Filtered through the perspective of the now-adult daughter (Celia Rowlson-Hall), who's trying to wrap her arms around the phantom father she still doesn't understand, Aftersun deftly collects its shards of half-remembered fragments to craft a beguiling mystery that is never fully solved.
Wendy Ide
Ide joined Screen in 2015 as a UK-based critic, and also writes for The Observer and Sight & Sound
Top film: Decision To Leave (Park Chan-wook)
Sinuous in its plotting, ravishingly beautiful to look at and dangerously seductive in its storytelling, Park's slippery thriller is a masterclass in elegant precision. Tang Wei, as a widow whose lack of obvious grief arouses suspicion, is sublime in one of the most fascinatingly complex and confounding characters of the year; the score teases with Hitchcockian references and the playful and inventive framing ensures that there's not a single banal or predictable shot in the entire picture.
Jonathan Romney
A longtime contributor to Screen, Romney also writes for Film Comment, Sight & Sound and The Observer, and teaches at the UK's National Film and Television School
Top film: Pacifiction (Albert Serra)
The Catalan avant-gardist makes a bold step towards mainstream narrative — after a fashion. A South Seas political thriller deconstructed down to its bare bones, it features a white-suited Benoit Magimel as a seedy diplomat steeped in intrigue under nightclub neon and Gauguin skies.
Allan Hunter
Hunter has worked for Screen since 1990. He is based in Edinburgh and is co-director of Glasgow Film Festival
Top film: Aftersun (Charlotte Wells)
In a year of outstanding debut features, Wells's poignant Aftersun really impressed. There is such harmony between her aesthetic choices and the emotional charge of the material. A young father and daughter's holiday in the sun unfolds as a break from the routines and cares of the everyday. A lazy afternoon requires nothing more than lying by the pool. An evening is enlivened by an exhibition of dad-dancing designed to cause maximum embarrassment. The father is doing everything he can to make the moments count, but he is clearly troubled. Wells has the confidence not to spell everything out; we know that hindsight has rendered precious the time these two spent together. The tantalising air of mystery and the tender playing of Paul Mescal and newcomer Frankie Corio make for a haunting film. Can't wait to see what Wells does next.
Nikki Baughan
Screen's deputy reviews editor
In a year of impressive debuts, Hanna Bergholm's dark Finnish fairy tale Hatching got under my skin at Sundance and has stayed there ever since. Bergholm expertly balances her themes of adolescence and identity with genre elements for this tale of a young teen who cares for an egg until it hatches into something entirely unexpected; her delicate touch, together with Siiri Solalinna's incredible performance, make this unforgettable and unnerving. Terrifying for a different reason, Daniel Roher's documentary Navalny was a eye-opening portrait of the Russian opposition leader, and a lesson in how the best non-fiction filmmakers can roll with the punches to striking results.
Lisa Nesselson
Paris-based Nesselson is an in-house film critic for the English-language channel France24, and has reviewed for Screen since 2008
Gaspar Noé's films are an acquired taste and accessible gem Vortex, starring national treasure Francoise Lebrun opposite Dario Argento, makes brilliant use of split screen to follow an elderly couple at odds with mortality. Believable characters under harsh circumstances burst out of the screen in Leila's Brothers, Saeed Roustayi's unrelenting portrait of a poor Tehran family. Thirty years after Man Bites Dog, Flickering Ghosts Of Loves Gone By sees André Bonzel apply his sly imagination to found footage. And Roberto Rossellini and Ingrid Bergman surely met so their daughter Isabella could voice talking shell Marcel's perfect grandmother, Connie, in Dean Fleischer-­Camp's bittersweet stop-motion animation Marcel The Shell With Shoes On.
Neil Young
Young is a film critic, film curator and filmmaker. He joined Screen late 2020
Not just 2022's best new feature-­length film, but for my money the best of the last half-decade, Riders (which premiered in competition at Sarajevo in August) is the tender, mature, quietly virtuoso debut feature from Slovenian director/co-writer Dominik Mencej. Featuring excellent editing by Matic Drakulic and Andrej Nagode, it's a lo-fi, 1999-set road-movie in which two young blokes — inspired by a VHS viewing of Easy Rider — ride souped-up mopeds from their farming village to the Croatian coast. Unpromising on paper but cumulatively moving, even magical, on screen, Riders blossoms magnificently as a multi-layered tribute to the power of friendship, of nostalgia, and of cinema.
Lee Marshall
Marshall joined Screen in 1996 as an Italy-based film critic. He also writes on travel, design and culture
Is it okay to dislike Bach's music because he maybe wasn't great with women? No! rails world-famous composer Lydia Tár in Todd Field's TÁR, while taking apart the music school student who voiced this opinion. We admire her stand against cancel culture… until we don't. In a film that keeps forcing its audience to reassess, Tár's erudition, passion and self-belief is the flipside of her manipulations, her dishonesty, her self-doubt. But Field's memorable third feature is more than a nuanced character study, one made chillingly real by Cate Blanchett's towering performance as a monstrous yet vulnerable 'genius'.
Amber Wilkinson
Wilkinson is an Edinburgh-based journalist with more than 20 years experience. She has been writing for Screen since 2019
Alejandro Loayza Grisi marries the wide-open spaces of the Bolivian Highlands to an intimate story of ageing love and generational tensions in his exquisitely shot meditative drama Utama. While never losing his focus on Quechua llama shepherd Virginio, his wife Sisa (José Calcina and Luisa Quispe) and their grandson Clever (Santos Choque), he gracefully tackles climate change and its impact on remote communities without sentimentality. Also premiering at Sundance was All That Breathes, which couples its close quarters documentary observation of two brothers who rescue stricken birds in New Delhi with more a philosophical rumination on man's complex connection to the environment.