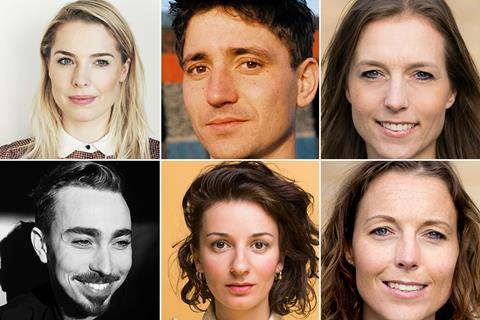 Rogier Hesp, director
Hesp has come to feature filmmaking via commercials. After graduating from the Dutch Film Academy in 2008, he directed several Cannes Lions-winning advertisements.
He is now presenting his debut feature Gold at IFFR. It is written by Anne Hofhuis and is about the very fraught relationship between a talented young gymnast and his father, who has huge ambitions on his behalf.
"We should really think about this subject because it is also happening a lot everywhere around the world," the director suggests. "Kids with parents have these problems. Can you be a loving, caring parent and, at the same time, be a demanding coach?"
Real- life gymnast David Wrister stars in the film which will be released in the Netherlands by September Film in late March,
Hesp is now working a raft of new projects, including two mini-series. He says is looking forward to having "four hours" to tell a story. He believes making commercials is good grounding for filmmakers. "The advantage of advertising is that you spend a lot of time on sets. If it is 30 seconds or 40 seconds, you still have to bring that emotion on screen."
Olivia Sophie van Leeuwen, producer
The prolific van Leeuwen is a partner and head of documentary at HALAL, the Amsterdam-based production and photography agency, where she oversees a stable of directors. Her credits include Vincent Boy Kars' IFFR Tiger contender, Drama Girl, an intriguing hybrid project blurring the lines between drama and documentary for which Periscoop has acquired local rights.
"We nurtured Boy Kars when he was fresh from art school," van Leeuwen says of the director. She produced his first documentary, Independent Boy, which premiered at IDFA, and will be working on his third film too.
"What is really important with HALAL is that we work with directors from the beginning and support them all the way," she explains.
HALAL also gives filmmakers the opportunity to "do some commercial work too to get some bread on the table," as van Leeuwen puts it. The company works with both established figures and "the very, very young, super fresh directors we really believe in. We stick with them because we see something in them."
van Leeuwen has many projects in the works, among them Sophie Dros' King Of The Cruise (which Dogwoof is selling and will release in the UK) ,and Searching For Madness, the new feature documentary from artist filmmaker Fiona Tan. Another new feature documentary is Dros' latest, as yet untitled, film, about a Las Vegas beauty pageant for old ladies.
Mees Peijnenburg, writer-director
Long feted for his short films, including Even Cowboys Get to Cry (2013) and We Will Never Be Royals (2015), Peijnenburg's debut feature Paradise Drifters is making its world premiere in the Voices section at IFFR.
Paradise Drifters has also been selected for the Generation sidebar in Berlin and will be released in Dutch cinemas in April by Gusto.
Peijnenburg shot the road movie all over Europe, telling the story of three young drifters from very tough backgrounds who are thrown together in unlikely circumstances.
"I feel there is this energy around in the Netherlands with people really trying to tell their own stories," Peijnenburg previously commented. "People are broadening their horizons and thinking more globally instead of nationally, which I find super interesting."
The prolific filmmaker has just finished shooting a new short and will soon start writing his next feature.
Ena Sendijarevic, writer-director
Sendijarevic moved to the Netherlands from Bosnia when she was seven years old and her background has often informed her work. Her early short, Import (2016), which screened in Directors' Fortnight at Cannes, is about a day in the life of a Bosnian family trying to make sense of their new life in a small village in the Netherlands.
By contrast, her debut feature, Take Me Somewhere Nice, which won the Special Jury Award in Rotterdam last year and went on to screen in the ACID sidebar at Cannes in 2019, was about a young woman who heads back from Bosnia to the Netherlands to visit her ailing father.
She is now working on Flores (working title), billed as "a playful and slightly absurdist take on colonialism and femininity, set on a sugar plantation in 1900 Dutch East Indies," which is being produced by Erik Glijnis at Lemming Film and has been developed at the Torino Film Lab.
"I really want to focus on the feminine aspect of this history, looking at this transition period from colonial to post-colonial," says Sendijarevic. "I am especially interested in the role of women - and also in the role of men. I am very interested on the impact [the end of colonialism] had on male/female relationships and power structures."
In late January 2020, she is heading to Indonesia for a second research trip for the new film, expected to shoot in 2021.
"Ena is one of most talented directors in the Netherlands," says producer Iris Otten of Pupkin which produced Take Me Somewhere Nice. " Her way of reflecting on the world and on cinema is inspiring, intelligent and rebellious with a great sense of taste. She breathes pure cinema."
Take Me Somewhere Nice has now been to around 60 festivals. "One of the biggest highlights was showing it at the Sarajevo Film Festival," says Sendijarevic. The poignancy of screening the film in the country in which she was born was capped when the film also won the best feature award.
Ilse van Velzen and Femke van Velzen, directors
The van Velzen sisters, Ilse and Femke, are regularly described as forces of nature. The identical twins, top-level athletes in their youth, have made a series of campaigning feature documentaries exploring subjects ranging from sexual violence in Congo to civil war in South Sudan.
Their latest feature, Prison For Profit, highlights shortcomings in the way UK private security firm G4S manages The Mangaung Prison in Johannesburg, South Africa. The film, sold by Java, was a premiere at IDFA in the autumn and will be screening at multiple festivals later this spring including The HUMAN Festival in Oslo, the
Geneva International Film Festival and Forum on Human Rights (FIFDH), Planete + Doc in Poland and Movies that Matters in The Hague. Cinema Delicatessen is releasing the film in the Netherlands in late March.
The filmmakers are now looking ahead to their next project, an educational film/mobile cinema project in the Congo. They are also preparing for the "impact" campaign and outreach programme for Prison for Profit.