SCREEN SUBSCRIBERS: Spike Lee discusses the shocking urban violence that inspired Chi-Raq, and explains how his timely new film found a home at Amazon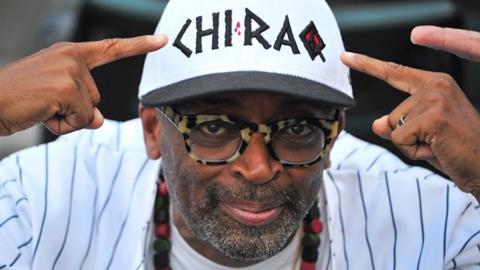 At last, one of America's most vital filmmakers has his Academy Award. It's Tuesday morning, and Spike Lee is sitting in a hotel suite in Beverly Hills, just days after receiving an honorary Oscar at the Academy's annual Governors Awards ceremony (Sat, Nov 14).
He's not surprised that news stories focused on his acceptance speech's condemnation of Hollywood's lack of diversity - "It's easier to be the President of the United States as a black person than be head of the studio" - but he's disappointed how his comments were reported.
"When you speak, people are going to print what they want," Lee says. To back up his point, he cites one article that he feels twisted his words, attributing to the director a US Census Bureau study that found, by 2043, whites will no longer be the majority in America.
"[The article] said, 'Spike says that white Americans would be a minority in the year 2043.' I didn't say that. I said, 'The United States Census Bureau says…'"
Lee shakes his head, getting irritated. "That's some journalism shenanigans. Why do you think I said 'United States Census Bureau'? Because I wanted people to know that I wasn't making this shit up."
Righteous fire
At 58, Lee has lost none of the righteous fire that powered early films such as Do The Right Thing. His latest movie, Chi-Raq, is further proof: part willfully confrontational satire, part despairing societal indictment, the film takes inspiration from the classic Greek play Lysistrata, telling the story of a young Chicago beauty (Teyonah Parris) who encourages her girlfriends to go on a sex strike until their gang-member boyfriends agree to end the gun violence and senseless deaths.
Chi-Raq couldn't be timelier, as the rampant killings in Chicago have become national news, but the project has been long-gestating.
The film's co-writer Kevin Willmott, who made the 2004 faux-documentary C.S.A.: The Confederate States Of America, wrote a version of the script six years ago with the same sex-strike premise called Gotta Give It Up.
"We tried to get it together, tried to get it made, nobody wanted it," Lee says. "I called him a year ago and said, 'Let's try it again.'"
The key was changing the setting from what Lee describes as "a non-distinct urban area" to the South Side of Chicago. He also felt the script needed more levity, but insisted that the story keep Willmott's use of rhymed verse in the dialogue, even though that had been one reason backers balked before.
"My lawyer went to the last Sundance, everybody said no but Amazon," Lee says. "And even Amazon, we had to have two readings for them before they came onboard. I understood it: they wanted to hear it instead of just reading it."
Urgency to release
The film, which is being distributed through Amazon Original Movies and Roadside Pictures on Dec 4, is a last-minute entry on the 2015 release schedule, Lee commencing production June 1 and wrapping up the shoot July 9.
But award-season considerations had nothing to do with the sped-up release date. "We feel this film would save lives, so there's an urgency to get it out," says Lee.
To emphasise his point, the director states: "During that time [Chi-Raq was in production], 331 people wounded and shot, 55 got murdered [in Chicago]."
Plus, Lee notes, on the same day that he's speaking with Screen, "Father Pfleger is burying another 14-year-old who was shot last week."
He's referring to Father Michael Pfleger, a white Chicago Catholic priest heavily involved in raising awareness about the city's crime epidemic.
Lee, a filmmaker deeply connected to New York, didn't want to give the impression of being an interloper commenting on Chicago's woes, and so he sought Pfleger's guidance when preparing Chi-Raq.
"I cannot be, like, the New York City army occupying Chicago," he explains. "His credit in the film is spiritual advisor/consultant."
John Cusack, who plays the film's fervent Father Corridan, is based on Pfleger, delivering impassioned speeches to his congregation about the evils of guns and the callous disregard of local government toward the city's poorest and most imperiled citizens.
Rambunctious, unwieldy energy
Cusack joins an ensemble that includes Angela Bassett, Nick Cannon, D.B. Sweeney, Samuel L. Jackson and Wesley Snipes.
In the past, Lee has had a habit of showing his casts reference films for inspiration, but he opted not to do that for Chi-Raq because, as he puts it, with a laugh: "I couldn't think of a film that would help everybody understand what we're doing."
Indeed, the movie's rambunctious, unwieldy energy and mix of tones make it hard to find a clear precedent. Unless, of course, you think of Chi-Raq as an amalgam of Lee's previous films: the furious invective of Bamboozled, the call-to-arms spirit of Do The Right Thing, and the portrait of city life that's been the essence of so many of his movies.
Chi-Raq doesn't pretend to provide explanations for why Chicago's gun violence is far higher than in other US cities. (According to the film's press notes, as of Nov 1, more than 2,500 people had been shot and 430 people killed in Chicago this year.) But Lee sees plenty of blame to go around.
"I will say that Chicago being segregated has a lot to do with it," he says. "It's the biggest American segregated city - this is not Spike Lee saying it.
"All the historical gang culture, the poverty, hopelessness. I mean, it's a lot of things. I don't know enough to tell you what exactly it is, but I know it's something."
Amazon
When Lee began his career in the mid-1980s, he emulated independent filmmakers such as John Sayles, hoping to be a storyteller who could move between studio movies and personal projects.
And although he has had hits such as Inside Man, Lee doesn't see a place for himself in the studio environment anymore because of Hollywood's tentpole mentality.
This development doesn't discourage him, though, which is why he's happy Chi-Raq found a home with Amazon.
"I find it refreshing," he says. "It's gonna be places like Amazon and Netflix that are gonna take the chances that the big Hollywood studios don't want to take."
But some chances can be challenging even for Amazon. If there was any doubt that Lee isn't interested in inserting Chi-Raq into the Oscar conversation, consider that, according to Lee, Amazon and Roadside initially resisted rushing the movie into release.
"They had a legitimate concern that it would not be enough time to prepare the film," Lee acknowledges. "The Christmas season is very crowded."
So how did he sell them on it?
"I was very passionate," Lee responds simply, breaking into a long laugh. Passion has never been a problem for him.