President Michael Luisi has expanded WWE Studios' roster beyond its typical action fare to include animation and indie pick-ups.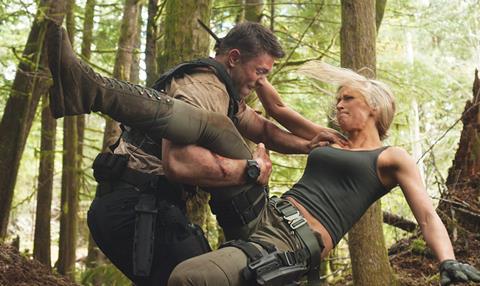 'I grew up with the brand when I was a kid'
Michael Luisi, WWE Studios
An animated Scooby Doo feature and Oculus may not seem the most obvious stablemates, but they share genealogy. Both productions arrived on screens bearing the mark of WWE Studios, the Los Angeles-based producer-financier that for the past four years has been quietly building a name for itself.
The portfolio is a little more catholic than one might expect from a film division offshoot of global brand WWE (World Wrestling Entertainment). Since Michael Luisi arrived as president in 2011, the former Miramax and Disney executive has nurtured the company's ability to cast its net widely and be opportunistic.
"I grew up with the brand when I was a kid and went to see matches in Madison Square Garden," says Luisi. "This gave me a chance to refocus on what it had become."
The executive did his due diligence and was inspired by what he saw: half a billion dollars in annual revenue, number one shows on networks, more than 500 million social media follows… the list went on.
"The movie business made great sense to them and was a great brand enhancer," he says. "The Rock was starting to hit his stride in film, and since then you've seen people like Dave Bautista and John Cena. I saw an opportunity to develop and nurture talent and have them cross over.
"But what I thought was really holding them back was they were making a certain type of movie starring a WWE talent in the lead role," he adds. "I felt that was a narrow way to execute in the movie business." It meant scouring for high-grade screenplays that could result in a quality production with possibly a WWE superstar in a supporting role.
"[A wider audience] will look at a movie like [Halle Berry thriller] The Call and want to go see it and many of them will not realise there's a guy from WWE in it [David Otunga]. So the movies have to come first."
Luisi also pulled WWE Studios out of distribution; previously it used Samuel Goldwyn for theatrical while Vivendi was the home entertainment partner.These days the emphasis is on the producer-financier role, such as the Erebus Pictures joint venture with Kiss co-founder Gene Simmons (see box). Leveraging the platforms and fanbase to assist marketing efforts is crucial, and any P&A split on any title would most likely come on the smaller titles that WWE Studios gets involved in.
2013 was a milestone year. While Dead Man Down fell below expectations via FilmDistrict, it was the first wide release after Luisi came on board and served as a statement of intent. The Call, meanwhile, opened via the Sony fold and was the first in-house production to achieve what Luisi calls "significant" success ($68m worldwide).
Besides obvious action-oriented titles such as The Marine 4: Moving Target, Vendetta and 12 Rounds 3: Lockdown, WWE Studios acquires films even if they do not contain a WWE star. It partnered with Relativity on the 2013 Toronto pick-up of Mike Flanagan's horror Oculus and Luisi was back at the festival last month for a private buyers' screening of the director's micro-budget Hush.
A collaboration with Warner Bros on Scooby-Doo! WrestleMania Mystery, one of the studio's biannual direct-to-home releases, allowed the WWE superstars to hone their voice work. More importantly, Mystery is understood to have outsold the live-action titles by a three-to-one margin. Those are the kind of returns that could keep the muscle-bound cohorts of WWE Studios in voice work for many years to come.
The gospel according to Gene
Gene Simmons has thrilled rock fans for decades and wants to do the same for followers of a certain type of cinema.
"The basic premise is to do higher-end horror, sci-fi and genre films," says the Kiss co-founder of his WWE Studios joint venture Erebus Pictures. A three-film deal starts this autumn with Temple, while Voltage Pictures handles international sales on the slate. "It's too easy to show a close-up of a knife opening up a human body… that's the lowest common denominator. Some of my favourite films never showed a knife entering a human body. Psycho comes to mind."
Simmons readily cites Nosferatu, The Most Dangerous Game, Poltergeist and The Cabinet Of Dr Caligari as other genre films he holds dear.
Erebus will make elevated genre for a price via the independent funding model of equity investment, tax incentives and international sales.
"Then you pay attention to the important stuff, which is how good is the script and can the action express itself in a way that is believable," he says.
That is just how the man known occasionally on stage as The Demon wants it — so long as the gore quotient stays low. "I can't even watch a chicken get killed," says Simmons.