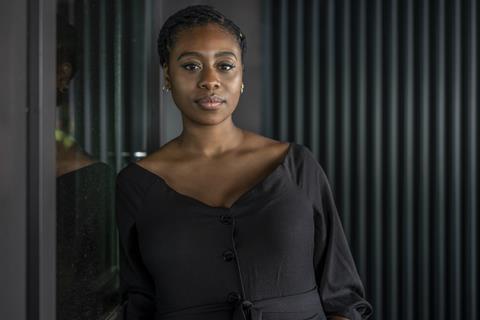 After graduating from the University of Bedfordshire in 2004 with a degree in media production, Fiona Lamptey landed a job in Channel 4's commercial affairs department, spending four years working across the financial side of reality TV, factual, daytime and sports programming. "It gave me an understanding of the money side of the business," she says.
Always holding the ambition to work in film, Lamptey transitioned to a production manager role at Film4, where she stayed for nine years. "I was learning so much about the film landscape, but I still felt a bit distant from the creative."
To address that, Lamptey set up Fruit Tree Media in 2014, while still working at Film4, with a view to collaborating with new, diverse talent. She began producing shorts, including with previous Stars of Tomorrow filmmakers Shola Amoo, Ben Aston and Remi Weekes. Aston's short He Took His Skin Off For Me travelled the festival circuit in 2014-15 and has notched up some 880,000 views on YouTube. Weekes' Tickle Monster premiered at SXSW in 2017 and was longlisted for a British Independent Film Award.
After becoming a mother, Lamptey decided to leave Film4 and go freelance. "It should have scared me because I was probably more financially vulnerable than ever before, but I felt a calling to make the films that I wanted to make," says Lamptey, who also took a role as a production executive for Channel 4's short film strand Random Acts.
On her slate is Adeyemi Michael's debut feature Ibeji, a supernatural folklore fantasy about twins who are separated by death, only to be reunited through rebirth. Lamptey is also producing Carmen Mueck's first feature, with the working title The Dance, about the 16th-century dancing plague, which saw people in what is now modern-day France literally dance until they were dead. She is also working with Aston on his absurdist comedy feature John Moves In, which is in development with Film4.
"I have always been conscious of how expensive cinema is," says Lamptey. "I want to make sure everything I make is worthy of the audience's time and money."
Contact: Fiona Lamptey