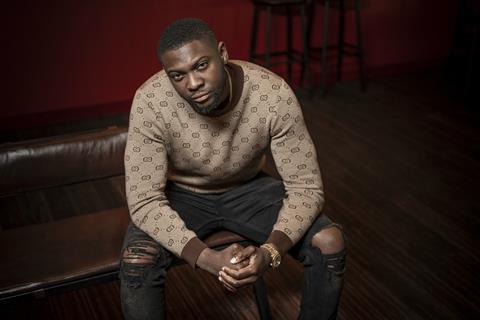 When he started filming stories told through music about his London upbringing, Rapman (real name Andrew Onwubolu) did not have the terminology for what he was doing. "I didn't even know it was called directing," he says. "I just knew that I knew the story better than anyone else."
Rapman says he was inspired by Tupac Shakur, Notorious B.I.G. and Jay-Z to instil his music with narratives and he made multiple short videos for YouTube, including the 2014 series Blue Story, which follows two boys from rival London postcodes whose friendship is tested when they are on opposing sides of a street war.
Rapman achieved huge viral success in 2018 through another YouTube series, the three-part Shiro's Story, inspired by a true story he had heard around his Lewisham area about a man who uncovers his best friend's shocking betrayal. With a combined 18 million hits on YouTube alone, it changed the game for the feature script he had already written, from "me going there to pitch why they should make it, to them pitching to me why we should let them".
That script is the feature-length version of Blue Story, which ended up being backed by BBC Films and Damian Jones' DJ Films. Paramount Pictures bought world rights to the title in February, in advance of a 23-day shoot in London.
Others who expressed interest in Rapman were Jay-Z's RocNation, which signed him to manage all of his future projects, and is developing a series that Rapman will write and direct. He is also writing and directing a series with Jeffrey Katzenberg for the Hollywood executive's mobile streaming platform Quibi, which is set to launch next year.
Rapman has not had any formal training — "coming where I'm from, you don't know where to send scripts" — but says he has always known "how to connect the emotion I put on page to the screen".
Contact: Anwar Chentoufi, Independent Talent