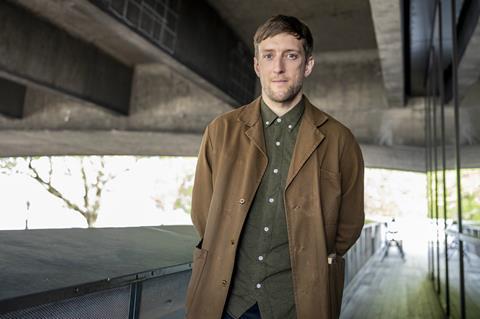 Terence Dunn and director Sean McAllister hit it off straight away when they started working on McAllister's 2016 Bafta-nominated documentary A Syrian Love Story. "We both come from Hull, we're a similar kind of person with similar senses of humour," he smiles.
They have since collaborated again on the Yorkshire port's City of Culture opening event on New Year's Day 2017 — for which Dunn provided the music alongside Lady Macbeth composer Dan Jones — and McAllister's A Northern Soul.
In his twenties, Dunn played in rock bands and worked "not particularly nice" jobs in a pasta factory then a chemical plant, before "it got to the point where I realised I can't do this for the rest of my life".
He moved to Brighton and studied for a degree in composition for film and media from Northbrook College, before securing a place on the composing for film and television MA at the National Film and Television School (NFTS), graduating in 2015. "I went from having a basic knowledge of film, to picking apart the whole craft. You get a chance to understand every discipline," he says of his time at the NFTS.
His ideal working process is to begin creating music for a project at script stage — "some of the strongest ideas come together then," he suggests — and stay right until the end.
His further feature credits include Lisa Mulcahy's drama Undercliffe, which premiered at Austin Film Festival in 2018, and Carol Salter's award-winning documentary Almost Heaven.
Dunn has also scored the first part of a Brazilian VR game called Pixel Ripped, with each version transporting the viewer back to a particular year in the past. He will soon start on a live action-animation hybrid short Beyond The Purple Mountains, directed by Dunn's wife, animator Nina Gantz; and I Don't Wanna Dance, a feature by Dutch director Flynn Von Kleist. The goal of his work is "to eke out feelings that are not necessarily present on screen".
Contact: Terence Dunn