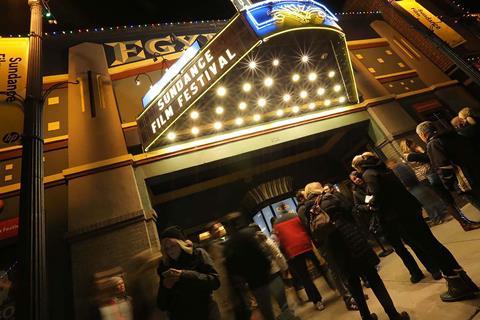 With all eyes on the fate of embattled Aviron Pictures and the sound of yet more thundering streamers on the horizon, the US independent sector could be forgiven for feeling the squeeze a little more than usual.
Sundance 2020 could be the year when we see statement buys from new platforms like HBO Max and possibly even Peacock, both of which go live in a matter of months. Apple could use a break after an underwhelming launch last November, the brouhaha over The Banker, which was pulled as AFI FEST closing night selection late last year, and Oprah Winfrey's recent decision to pull the sexual harassment documentary On The Record from the platform itself after she cited "inconsistencies" in the film.
Netflix and Amazon Studios could well be active again. Netflix loves documentaries and Amazon Studios is still discovering its taste, although the theatrical box office performance of Sundance 2019 selection Late Night should not mislead, insiders say. The $15m box office may have been less than hoped for, but it didn't stop the comedy from becoming one of the biggest hits on Prime Video.
While that statement is impossible for outsiders to verify, Amazon saw fit to shorten short theatrical windows late last year on another Sundance 2019 pick-up, The Report, and The Aeronauts. None of this alters the fact that like all platforms, Amazon Studios needs content.
Yet if the company with the highest market cap on the planet struggles with theatrical releases of festival films, what about distributors with less cash to burn? Expertise is critical, which explains why The Farewell director Lulu Wang felt compelled to eschew a $15m deal from a platform and placed her trust in specialists A24 last year. The far smaller film has earned more than $17m and remains in the awards season conversation.
As Aviron Pictures leadership seek a way forward for the company amid lawsuits and the firing of 12 out of 30 staff following a mixed bag of theatrical results, other buyers will be exercising extreme caution around this year's cluster of hot acquisition titles.
"Documentaries have been a bright spot at Sundance [with] streamers, theatrical buyers… working on every level," said Jason Ishikawa, Cinetic's head of international sales, whose titles in Park City include US Documentary feature Spaceship Earth, US Dramatic Competition entry Dinner In America, and Steve James in episodic. "Narrative's having a bit of a harder time, and episodics are booming."
Sellers have the relative luxury of engaging with the whole gamut of buyers - and this time around can also enjoy a two-week breather before Berlin starts, in contrast to a four-day gap last year. Sebastien Raybaud, the founder of production, finance and sales company Anton, was preparing to introduce Rebecca Hall horror The Night House in Midnight, which the company produced, financed, and is selling.
"It depends on how the market responds," he said when asked which sales strategy he was adopting. Anton arranged no previews before the festival and Raybaud was preaching agnosticism on the eve of Sundance, prepared to accept a worldwide deal with a platform, or a US theatrical sale as a precursor to launching international film sales in Berlin.
"It's a great market," the London-based executive said of the Park City jamboree. "It's the first of the year and we're expecting it to be very busy because it's the first time when there are many platforms. It's a time when people need to buy."
Plenty of selections already have US distribution in place: Sony Classics has Spotlight selection The Climb, as well as Father in Premieres with Anthony Hopkins and Olivia Colman; A24 has Zola and Minari in US Dramatic Competition; Bleecker Street has Dream Horse in Premieres and The Assistant in Spotlight; Searchlight Pictures has Premieres titles Wendy and Downhill; Focus Features arrives with Promising Young Woman in Premieres and Never Rarely Sometimes Always in US Dramatic Competition.
First Look Media has a company record 11 projects in the festival under the Topic Studios / Field Of Vision / Topic Streaming labels, including from Topic Studios acquisition titles The Nowhere Inn, The Fight, docu-series Love Fraud, and A Thousand Cuts. A few already have distribution in place: Topic is co-distributing Dream Horse with Bleecker Street, while SPC has The Climb, and Netflix picked up Mucho Mucho Amor.
Netflix has multiple films in the festival, a list that features recent buy His House in Midnight, as well as documentaries Taylor Swift: Miss Americana, Crip Camp, Mucho Mucho Amor, Into the Deep, and Dick Johnson Is Dead, and features Horse Girl, The Last Thing He Wanted, Lost Girls, Sergio, and Cuties. Hulu has the Hillary Clinton series Hillary, and Disney+ arrives with Kids selection Timmy Failure: Mistakes Were Made.
Anticipated acquisition titles (see separate buzz titles list) kick off with a Thursday night debut for Justin Simeon's Bad Hair (The Ray Theatre, 9pm), followed on Friday by a trio of Premieres selections at Eccles Theatre: Phyllida Lloyd's Herself (3.30pm); Benedict Cumberbatch and Jessie Buckley thriller Ironbark (6.30pm), and Michael Keaton drama Worth (9.45pm). Two anticipated Midnight selections screen later that night: Scare Me (Egyptian Theatre, 11.45pm), and The Night House (Library Center Theatre, 11.59pm).
Jude Law family drama The Nest debuts on Sunday January 26 (Premieres, Eccles Theatre 6.30pm) and is arguably the title topping many buyers' "must-see" lists. Also generating early excitement are Julie Taymor's The Glorias (Premieres, Sunday, 12noon) with Julianne Moore, and Romola Garai's directorial debut Amulet later that night in Midnight (Library Center Theatre, 11.59pm). Possessor starring Andrea Riseborough from Brandon Cronenberg premieres on Saturday January 25 (World Cinema Dramatic, The Ray Theatre, 9pm), and Edson Oda's curio Nine Days in US Dramatic screens on Monday (Eccles, 6.30pm).
Some anticipated screenings will fall flat on their faces, while below-the-radar selections will break out. The overall sense is there is plenty for buyers to consider as they go shopping at the start of the year. Where the films end up, whether or not they are awards prospects, and how they make their money remains to be seen