Following the recent Consumer and Electronics Show (CES), Sundance's New Frontier strand, now in its tenth year, boasts a bigger-than-ever slate of virtual-reality (VR) pieces and mixed media installations.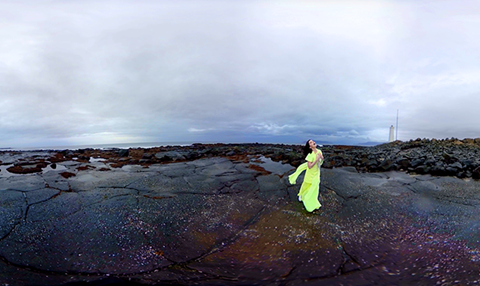 Speaking to Screen, senior programmer and chief curator Shari Frilot attributes the programme's expansion to celebrating the section's ten-year milestone and the "explosion in the VR field".
"Immersive technology seems to take a quantum leap every three months," says Frilot.
Speaking at this year's CES, Chris Milk noted how rapidly the VR medium is evolving, claiming that a revolution in the language of shortform and longform storytelling and the format of VR itself is currently underway.
With Samsung's Gear VR already on the market, and Oculus Rift, Sony's PlayStation VR and HTC Vive scheduled for consumer release this year, VR headsets have increasing capabilities and the new options for users to move and interact with elements in the virtual world.
Film-makers are showing increased intersest in testing their skills in alternative content creation. Frilot says Sundance has increased its own investment in the new technology for use in the New Frontier Story Lab and the Residencies Program, which works in partnership with MIT Media Lab and Jaunt.
Two VR projects developed in the labs will both feature in this year's line-up: Walden: A Game starring Emile Hirsch and Collisions from Australian interactive artist Lynette Wallworth.
"Directors are learning their way around the medium to make content that plays better in a 360-degree environment," she says. "This will only keep getting better."
New Frontier VR documentaries
Frilot says this year's line-up is "reaching for the bleeding edge of the convergence of technology, art and cinematic storytelling. We are bringing back multi-media installations, live performances and 30 VR works, as opposed to last year's 12."
Ten narrative and ten documentary VR pieces will be available to watch remotely, via a downloadable app and withVR headsets such as Google cardboard.
The selected pieces come from hundreds of submissions ("considerably more than last year," Frilot notes) and returning guests like director Chris Milk, who directed Grammy-nominated video for Johnny Cash's Ain't No Grave/ The Johnny Cash Project, and VR specialists Felix Lajeunesse and Paul Raphael, who spearheaded 20th Century Fox's first foray into VR with Wild, which was unveiled at last year's festival.
Several documentary film-makers will premiere their first VR pieces in New Frontier, include Oscar-nominated UK director Lucy Walker (Waste Land), who will debut the live-action virtual reality doc A History Of Cuban Dance.
Photojournalist Danfung Dennis joins forces with 3D animator Phil McNally in a virtual look into the habitats of Earth's endangered species with Condition One.
The UK's Guardian newspaper, along with collaborators Lindsay Poulton and Francesca Panetta, also enters the fray with 6x9: An Immersive Experience Of Solitary Confinement; while pioneering immersive journalist Nonny de la Peña follows up last year's Project Syria with two new pieces, one of which transforms the viewer to an active witness in a real-life domestic-violence homicide in Kiya.
Narrative VR
Containing 17 films, this section included the public premiere of 20th Century Fox's new VR foray The Martian VR Experience, which Frilot describes as "a complete cinematic undertaking" (Fox first unveiled it at CES).
Different to 'plug-and-play' experiences, a new layer of interactivity has been added, including 4D chairs that rumble and hand-held devices allowing participants to be active in the journey.
Directed by Maleficent's Robert Stromberg, Fox's 20-30 minute experience (depending on which journey viewers choose for Matt Damon's character Mark Watney) allows participants to navigate the rover, change the music on the radio or launch from the planet in a capsule.
"We worked in line with Stromberg's innovative ideas, but remained true to Ridley Scott's vision," says Fox's executive vice president of production David Greenbaum.
"It was a very complicated process of rebuilding the existing footage, and transforming it into 360-degree live-action capture. There was a lot of CGI work involved," adds David Greenbaum, one of the creative directors at the Fox Innovation Lab.
A considerable leap from the company's VR debut Wild - which lasted three minutes - Greenbaum says Fox is moving the ball forward, with plans underway to create VR pieces tied to several of the studio's films and television series over the next year.
Also focusing on a first-person storytelling experience, writer-director-producer Rose Troche, whose debut film Go Fish premiered at Sundance in 1994, brings the second part of her Perspective series - Perspective 2 - The Misdemeanor - to the fest, allowing viewers to step inside the shoes of both the police and two men during a shooting. CG visual-effects supervisor Morris May co-directed.
Icelandic musician Björk also tries her hand at VR with Stonemilker. Working with Andrew Thomas Huang, she explores the possibilities of immersive technology within the music video world.
Comedian-musician Reggie Watts premieres Waves starring Game Of Thrones' Nathalie Emmanuel, a virtual reality piece that is "about embracing all the attributes and characteristics of VR," says Frilot.
Installations
New Frontier will also feature 11 interactive mixed-media installations. Audiences can find themselves standing in front of a reflective pool and three screens in Chris Milk's large-scale interactive piece The Treachery Of Sanctuary. Centred around birth, death and transfiguration, attendees have the opportunity to interact with their shadows and birds, ultimately granting them wings to fly.
Industrial Light & Magic's ILMxLab presents The Holo-Cinema - a scenic design and experience theatre where participants can step inside a fully immersive media environment, as if walking through film sets in the real world.
"This system really caught my eye," says Frilot. "Be aware of the moving image leaping off the screen. It's exciting experimentation, and will be interesting to see how this field develops."
Frilot is also excited by Kahlil Joseph's "sublimely beautiful" two-channel projection installation Double Conscience. The winner of Sundance's Short Film Grand Jury Prize for Until The Quiet Comes (2013), Joseph presents a portrait of Compton set to a soundtrack by Kendrick Lamar.
Films and Performance
Five mixed-media projects will be presented including Nari, a hybrid of animation, family archives and a live performance from Gingger Shankar, exploring the lives of Lakshmi Shankar and her daughter Viji - who helped bring Indian music to the West in the 1970s with Ravi Shankar and George Harrison.
Stemming from their award-winning short and subsequent feature of the same, the UK's Peter Middleton and James Spinney world premiere the multi-media presentation of Notes On Blindness, detailing the loss of sight through audio diaries and a mobile VR experience. The cast includes Irish actress Simone Kirby and British actor Dan Skinner.
New Frontier runs alongside the Sundance Film Festival from January 22-February 1.