Taiwanese drama series are under the spotlight at Series Mania
In the ­first showcase dedicated to in-development projects from Taiwan, a fresh crop of upcoming drama series will take centre stage at Series Mania in Lille this month.
The showcase at the French TV festival and industry event is titled 'Stories and voices from Taiwan: spotlight on upcoming projects and their producers', and is jointly organised by the Taiwan Creative Content Agency (TAICCA) and Series Mania. It is part of a new creative partnership between the two organisations to establish stronger industry ties between Taiwan and Europe, after signing a strategic alliance agreement last year.
The key highlight of the showcase is the Taiwan Pitching Session, which will take place on March 21 during Series Mania. Five selected in-development drama projects will have the opportunity to pitch on stage to key French and international buyers, co-­financiers and co-producers.
The same ­five projects are also invited to attend the French festival's Creative Bazaar (March 17-20), during which the project teams will take part in masterclasses, workshops and training programmes under the mentorship of creative producers, script doctors and showrunners who will offer guidance to develop their ideas.
The project teams will join a 30-strong delegation, led by TAICCA CEO Izero Lee. Several leading production companies are also making the trip from Taiwan to Lille, such as Each Other Films, MirrorFiction, Yoo Sonn Entertainment, Select Entertainment, TVBS Media and Fantastic Production.
The five projects set to be pitched include Judoka, with YC Tom Lee and Jae Yang as showrunners and directors. It was selected by the Series Mania delegation led by general director Laurence Herszberg after they attended the series pitch at TAICCA's flagship industry event, Taiwan Creative Content Fest (TCCF), in Taipei in November 2022.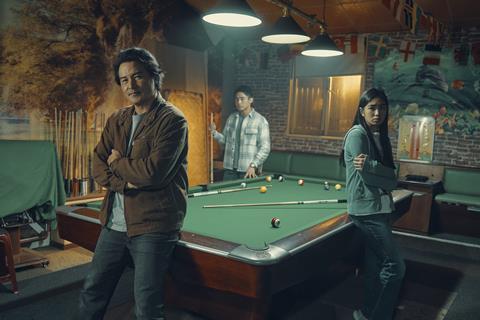 Judoka tells the true story of a washed-up judo athlete from Taiwan who falls in love with a judo champion from North Korea. It is positioned as a Taiwan-South Korea co-production, with Lu Wei-Chun of Machi Xcelsior Studios and Jonathan Kim of Hanmac Culture Group as executive producers, and is being developed and produced through Renegades Entertainment.
Yang is also the producer/director of Cry Me ­Through Hell, which is lined up for the Taiwan Pitching Session. The fantasy comedy follows a notorious reaper from hell who — in order to be reincarnated into a good family — must work for the Tear Collecting Unit to help souls who have no-one to cry for them.
Further projects include The Brides Town, a suspenseful sci-­fi set within a cult where young and beautiful girls are trained to be the perfect brides for wealthy men. Executive producers are Dennis Yang of Studio 76 and Alyssa Chia, who was named best actress at the 2021 Golden Horse Awards for her role in Chung Mong-Hong's ­The Falls.
Morakot is a horror survival story produced by Eric Chen of Ma Studios and written by Francesca Lin, revolving around a doctor who leads a rescue team to her remote hometown, which has been battered by a typhoon. But the villagers have disappeared and mysterious markings are found on the trees.
Bubble Battle is a comedy drama produced by Kelly Lin of leading post-production house Pixelfly Digital Effects. Centred on Taiwan's most beloved bubble tea, it follows two young men who took the humble drink from a small tea stand to national and international success.
In addition, a book from Taiwan has been selected for the IP Pitch: Book To Screen section at Series Mania Forum. Written by Chang Kuo-Li, Ching Ling Foo: ­The Second Greatest Magician Of All Time is based on real-life events, following a journalist who investigates the truth behind the rivalry of two magicians. Grayhawk Agency, which represents the book, will deliver the pitch on March 22.
A further 74 drama series, completed or in post-production, will be introduced at the Taiwan Pavilion, including legal drama Port Of Lies, executive produced by Tung Cheng-Yu from MirrorFiction and starring Christopher Lee and Regina Lei; On Marriage from Public Television Service (PTS), a sci-­ anthology series by ­five award-winning directors including John Hsu, Kao Pin-Chuan and Cheng Wen-Tang; and Eightgeman's latest Q series, Golden Dream On Green Island, a horror comedy directed by Toyoharu Kitamura.
Contact: Erica Lin / en.taicca.tw

Taiwan Creative Content Agency (TAICCA), supervised by the Ministry of Culture, is a professional intermediary organization that promotes the development of Taiwan's content industries, including film and television, pop music, publishing, ACG, and fashion, artworks and cultural technologies.