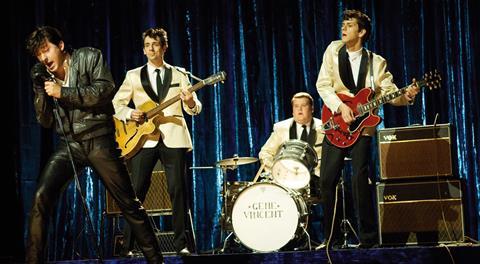 Dir. Nick Moran. UK, 2008. 114 mins.
There's a lot in the Telstar credits to attract the viewer - or at least the UK viewer. Nick Moran's directorial debut (an adaptation of his stage play with Hicks); Kevin Spacey in a small but substantial role; its setting of swinging London in the 60s; performances from UK TV favourites Pam Ferris, James Corden and Ralf Little, as well as acameo from Justin Hawkins. Plus the music: based on the life of little-known recording producer Joe Meek (O'Neill), this features his hits Johnny Remember Me and Telstar (while a Duffy cover of Please Stay closes out the end credits).
But Telstar consistently misses the tone it's aiming for. Its initial playfulness is too quickly dissipated through repeated flash-forwards which weigh heavily on the narrative. With Meek's denouement being signposted so early and so repeatedly, it feels a long time coming and overplayed when it finally does arrive.
Despite this, however, Telstar could capture press interest and curious British audiences, at least initially, and will almost certainly find a lucrative TV niche there. Spacey's name may also attract some overseas interest. Word of mouth will not be strong, however, and the soundtrack won't boost interest: Meek's oeuvre was not the most compelling of the era, and toe-tapping this ain't.
Con O'Neill certainly gives it his all as Meek, reprising his role in the stageplay. Under the guidance of actor Moran, it's a busy performance right to the bitter end, but the character itself never seems fully realised. We first meet Meek, a former engineer completely untrained in music, at his 'recording studios' in the Holloway Road in 1963 above a leather goods shop owned by landlady Violet Shenton (Ferris).
This is where the film is at its liveliest, with characters popping in and out and Meek eccentrically extracting new sounds in strange ways. Meek produces a string of hits including Telstar, the first UK number 1 in the US, while the screenplay establishes him as a gay, paranoid pillpopper who turned down the Beatles and has no business sense. He squanders money on his talentless crush Heinz (Field) despite his business partner Major Banks' continued admonishments (Spacey amusingly plays Banks like a character straight out of Dad's Army)
Having so convincingly and promptly sowed the seeds of Meeks' downfall, however, Moran is left treading water until it all slowly, leadenly comes to an end.
Betraying its theatrical origins, Telstar is largely a studio-bound production and production values are efficient at best. Sequences where Meeks' bands tour ina period England are amusing but don't do much to open it up.
Production companies
Aspiration Films
International sales
Fortissimo Films
+31 20 627 32 15
Producer
Simon Jordan
Adam Bohling
David Reid
Screenplay
Nick Moran
James Hicks
Cinematography
Peter Wignall
Main cast
Con O'Neill
Pam Ferris
JJ Field
James Corden
Tom Burke
Kevin Spacey
Ralf Little
Justin Hawkins