The composing of film and television scores may have been a traditionally white male domain, but positive action is being taken to attract new voices to the mix.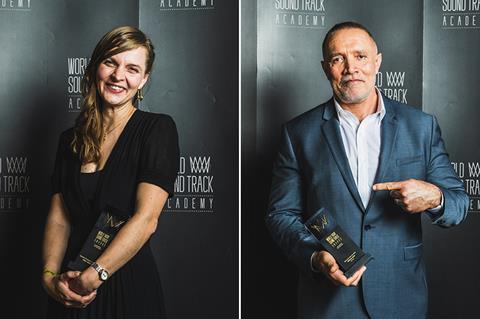 On accepting the Oscar for best original score for Joker earlier this year, Hildur Gudna­dottir put out a call to other female composers: "To the girls, to the women, to the mothers, to the daughters who hear the music bubbling within, please speak up. We need to hear your voices."
And, she says, the industry is ready to listen. "It seems there is a real energy for change. Now people are actively asking for female composers."
The stark statistics behind her impressive awards haul for Joker helped open the eyes of the industry to the inequalities of gender representation. She was the first woman to win an Oscar for best original score, one of only seven to ever be nominated. The World Soundtrack Awards (WSA) – which take place annually during Film Fest Gent and will announce its 2020 winners this weekend (October 24) – also named her TV composer of the year in 2019 for Chernobyl.
Michael Abels, 2019 winner of the WSA's discovery of the year prize for Jordan Peele's Us, concurs there has been an explosion of opportunities for film composers from racially diverse backgrounds.
"Films like Get Out, Black Panther and Crazy Rich Asians have shown diversity can be one of the components of success," Abels notes. "Also, all of the platforms we have now means there is an incredible demand for content. Out of that restructuring comes opportunity for people whose stories haven't been told, whose music hasn't been heard. That's very different from when I was coming up."
Although Abels had always "responded to music as a form of storytelling" and felt that writing music for film was a natural progression, he had never managed to get any traction in the industry. But opportunity came in the shape of Jordan Peele.
"He was looking for a composer who understood the dissonant harmonic language of 20th century orchestral music, but who also might have come from a background where he might understand the lead character of Get Out," says Abels. "Between my music and me, he saw someone who could help tell that story."
For Gudnadottir, the traditional lack of diversity in film music was more to do with risk-averse productions than active discrimination.
"With film music – especially big productions – there are a lot of intense stress periods, especially towards the end," she says. "So you really feel productions are not willing to take a chance on someone who has not done a big production before. The vibe I got was, 'Can she handle it?'"
Role models
Both Abels and Gudnadottir have found their respective successes have been a catalyst that has prompted composers from similar backgrounds to reach out.
"I had young people write to me [following Get Out] and say, 'I see you, and you are like me and you inspire me'," says Abels. "These were gifts and opportunities I was being presented with – I needed to answer that."
This prompted him to co-found the Composers Diversity Collective (composersdiversitycollective.org), a database and resource for the film industry to draw on.
"If Holly­wood is willing to fix the doorbell and allow people in, we have to help fix the pipeline," says Abels. "We're here to say, 'Let us build up your contact list with lots of diverse people.' Not just African American and black, but Latino, Asian, South Asian."
Gudnadottir takes a similar view. "That's the best way to change anything – just to see it's possible. There's no reason why women shouldn't do this work. I compare it to my grandmother, who was the first female doctor in Iceland. In a time when women weren't supposed to be doctors, my grandmother said, 'Fuck that, if I want to be a doctor, I'm going to be a doctor.'"