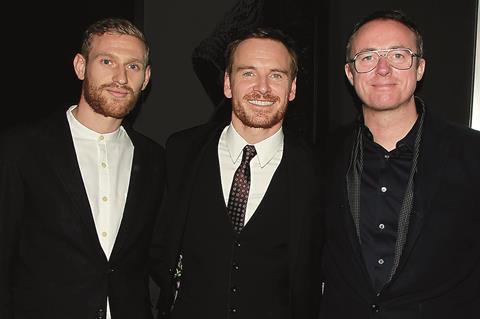 Need to know: DMC Film is a talent-led film and TV production outfit founded by Michael Fassbender and Troika agent Conor McCaughan in 2011. The company originates and builds projects around Fassbender — such as Slow West and Assassin's Creed — and has also served as a producer on some of the actor's other films, including Macbeth and Trespass Against Us. DMC is also ramping up its original projects outside of the Fassbender oeuvre, which is led by Daniel Emmerson who joined the company in 2014 and is now managing director.
Key personnel: Conor McCaughan, Michael Fassbender, directors; Daniel Emmerson, managing director.
Incoming: Calm With Horses, Emmerson's first full production credit for the company, is aiming for festivals in 2019. The project was developed with Film4 and marks the feature debut of director Nick Rowland. Also upcoming is dystopian thriller The Kitchen, written by Daniel Kaluuya and to be directed by Kibwe Tavares. On the horizon is Dreadful Ned, the next project from Calm With Horses writer Joe Murtagh; an adaptation of Eimear McBride's novel The Lesser Bohemians; and two projects backed by BBC Films: Hayley Squires' debut screenplay Gentle In The Bones, and Garagistas from James Graham. DMC also has a burgeoning TV slate with projects from The Crown writer Tom Edge, Englistan writer Ash Ghadiali and Trespass Against Us writer Alastair Siddons.
Conor McCaughan says: "The company was founded with the twin pillars of delivering projects that are ambitious and international in their scope, and trying to help and promote new voices."
Contact: info@dmcfilm.co.uk