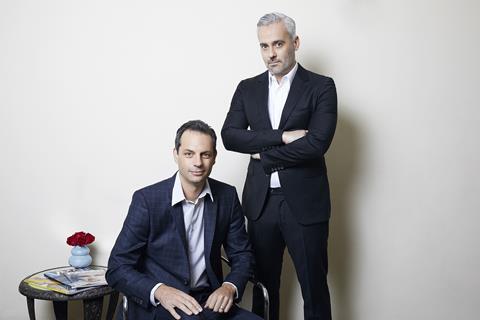 Need to know See-Saw Films was founded 10 years ago by London-based Iain Canning and Sydney-based Emile Sherman. Two years in, the company catapulted into the international spotlight with Tom Hooper's The King's Speech, which won four Oscars including best picture and grossed more than $400m worldwide. That success opened doors, particularly in the US, but heaped the pressure on Canning and Sherman to deliver future hits.
They did that by establishing fruitful relationships with rising UK talent, including Steve McQueen, initially on Shame, which saw Michael Fassbender nominated for a Bafta, and now heist drama Widows. The company has also produced two films with Garth Davis — the Oscar-nominated Lion and Mary Magdalene. Further feature credits include Macbeth, Mr Holmes and Slow West. The company's TV branch, run by Jamie Laurenson and Hakan Kousetta, has produced two series of Top Of The Lake with Jane Campion, both shot in New Zealand and Australia.
The company opened an office in Los Angeles last year, which Negin Salmasi is heading up — it operates as a meeting point between their London and Sydney bases. In January this year, See-Saw struck a three-year, first-look pact with New Regency Productions as it continues its push into the US. See-Saw also has sister companies in the form of Australian distributor Transmission and Australia/New Zealand finance outfit Fulcrum Media Finance. Canning and Sherman still speak at the same hour almost every day, despite the time difference (7:30am GMT/5:30pm AEST).
Key personnel Iain Canning, Emile Sherman, managing directors; Jamie Laurenson, head of television; Hakan Kousetta, COO of television.
Incoming Next up is Steve McQueen's Widows, which premiered in Toronto and opened this year's BFI London Film Festival. It will be released by 20th Century Fox in November. See-Saw is known to be producing the still-untitled project from Four Lions filmmaker Chris Morris. Shrouded in secrecy, the film is understood to be produced by See-Saw with US outfit Archer Gray Productions, Film4 and the BFI, and stars Anna Kendrick.
The TV slate is also busy, with the company now deep into pre-production on Andrew Haigh's The North Water with the BBC, ahead of a 2019 shoot. The five-part thriller series is based on a novel by Ian McGuire. Also in the works is 10-part drama series The End, created by Samantha Strauss, with Foxtel in Australia and Sky in the UK. See-Saw is also branching out into short-form content, in the shape of the Nick Hornby and Stephen Frears project State Of The Union, a 10-part series of 10-minute episodes produced for Sundance TV in the US. Rosamund Pike and Chris O'Dowd star.
Iain Canning says "The UK has always punched above its weight, in terms of the talented storytellers that we provide the world — it's always a good time here. The most exciting thing is enticing audiences to see stories that are fresh and new."
Emile Sherman says "The interplay between the UK and Australia has been at the heart of our company, making it more than the sum of its parts. Now, as a company spanning three continents, our global reach and ability to bring in the best creative forces from across the world is very much at the heart of our mission."
Contact: info@see-saw-films.com