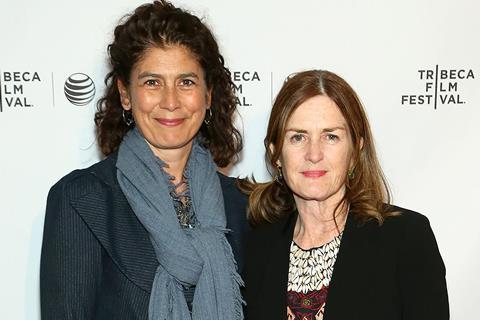 Need to know: Friends and colleagues for many years, Finola Dwyer and Amanda Posey first produced together in 2009 with Lone Scherfig's 1960s-set An Education, landing three Oscar and eight Bafta nominations. That success defined what so far has been Wildgaze Films' sweet spot, with further hits following from literary-sourced, female-led dramas set in the 1950s (Brooklyn) and 1940s (Their Finest, with Number 9). Recent projects include Ritesh Batra's Our Souls At Night for Netflix, and executive producing Ed Lilly's UK rap battle drama VS.. A frequent collaborator is Posey's husband, novelist Nick Hornby.
Key personnel: Finola Dwyer, Amanda Posey, directors; Farhana Bhula, head of development.
Incoming: Wildgaze is shooting Dirt Music in Australia, Jack Thorne's adaptation of Tim Winton's 2002 novel, directed by Gregor Jordan, starring Kelly Macdonald and Garrett Hedlund, and co-financed by Film4. Brooklyn TV spin-off Brooklyn Boarding House has reached pilot script stage, with Julie Walters expected to reprise her role. Film adaptations of Elizabeth McCracken's 1950s-set romance The Giant's House and Michelle Paver's Arctic-set ghost story Dark Matter are in development, respectively adapted by Nick Hornby and Gaby Chiappe, with God's Own Country's Francis Lee attached to direct the latter.
Amanda Posey says: "We are always looking for stories with a universal resonance, that speak to everyone, but through a particular and original form. Often with our projects, and particularly the ones with Nick, it's been hard to convince people how they will speak to a wider audience, but once made, people have said its resonance was obvious: 'Oh, it's a story about leaving home,' for example. It is in the particular that we find something with a universal theme."
Contact: info@wildgaze.co.uk