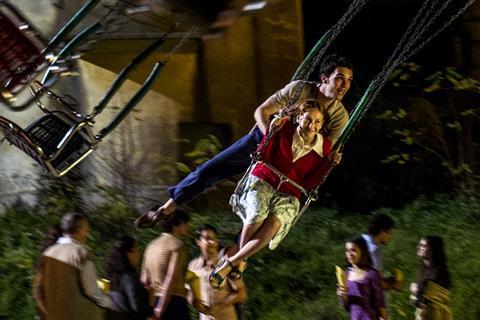 European buyers will be out in force at MIA in Rome this year in what will be their last physical market of 2021, after a quiet Toronto and with the AFM moving online as a result of the ongoing Covid-19 pandemic.
Screen has compiled its first-ever MIA buzz list for key European territories to round up what will be on offer.
To see what French sales companies are selling, click here.
Italy
True Colours is kicking off sales on a trio of titles world premiering at Rome Film Festival: Giuseppe Bonito's drama The Girl Returned [pictured] about an adopted teenager who is sent back to her dysfunctional biological family out of the blue after a comfortable childhood with a couple she believed to be her parents; Christmas comedy I Am Santa Claus; and Manuele Franceschini's No Tenemos Miedo, about the 2019 Chile 'social outburst' protests.
Vision Distribution is also handling two Rome titles: Amanda Sthers's English-language love story Promises starring Pierfrancesco Favino and Kelly Reilly, and Pierfrancesco Diliberto's On Our Watch, a Wildside-produced comedy on the future of the workplace. It is also screening Damiano and Fabio D'Innocenzo Venice competition title America Latina and the new action thriller Mad Dog directed by Vincenzo Alfieri and starring Dogman's Edoardo Pesce.
RaiCom is looking to sew up deals on Gabriele Mainetti's Venice 2021 Golden Lion contender Freaks Out, about four circus performers with supernatural powers trying to escape Nazi-occupied Rome, which is due to be released in Italy at the end of October, and The Hidden Child by Roberto Andò, which closed Venice. It will also market screen Locarno Piazza Grande animation title The Walking Liberty by Alessandro Rak.
TVCO is bringing Lithuanian director Ernestas Jankauskas's second feature I'm Fine, Thanks, as a market premiere. The film is about a researcher who hides the fact she is suffering from panic attacks. The sales outfit also has Belgian coming-of-age drama Dark Heart Of The Forest by Serge Mirzabekiantz and Silvia Brunelli's The Miracle Child, which world premiered as part of Venice's Biennale College selection this year and is produced by Raindogs.
Intramovies is launching sales on Turkish coming-of-age drama Time Of Impatience by Aydin Orak, about a class struggle for a pool on a hot summer day. It will also continue working on its Venice titles, Finnish director Teemu Nikki's The Blind Man Who Did Not Want To See Titanic, which debuted in Horizons, and the Critics' Week docudrama Mother Lode by Matteo Tortone.
Fandango is handling a trio of Rome Film Festival titles: Natalia Cabral and Oriol Estrada's A Film About Couples, which debuts in official selection; Belarusian-Italian director Hleb Papou's The Legionnaire, which world premiered in Locarno's Filmmakers of the Present this summer; and doping drama Takeaway by Renzo Carbonera. The latter two titles debut in parallel section Alice in the City.
Minerva market premieres Volfango De Biasi's comedy Help! My In-Laws Are Vampires, which is produced by IIF Lucisano Media Group. It is also focusing on the Venice Critics' Week post-apocalyptic drama Dogworld by Alessandro Celli and starring Alessandro Borghi (The Devils), and Silvia Brunelli's The Miracle Child in association with TVCO.
Coccinelle will launch sales on newly-acquired Venice Horizons title The Girl Has Flown by Wilma Labate. It will also market premiere Peruvian drama The Invisible Girl by Dorian Fernandez Moris and is also screening Italian drama The Giants by Bonifacio Angius, as well as comedy-drama Giulia by Ciro De Caro which premiered in Venice's Giornate Degli Autori in September.
UK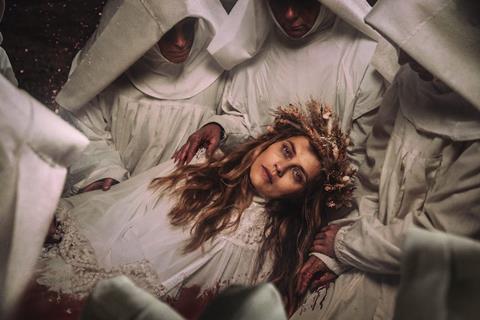 Film Constellation is aiming for a pre-sales push on upcoming horror The Twin, which won best project at Finnish Film Affair, about a mother plagued by the death of one her twins. Shudder previously acquired rights for the US, Canada, UK and Ireland, and Australia and New Zealand. Leonine Studios and Mediawan jointly acquired the film for German-speaking and French-speaking territories respectively.
It will also continue sales on Sundance entry John And The Hole. The psychological coming-of-age thriller about a young boy who abducts his own family has already sold in key territories including North America, the UK and Spain.
HanWay Films is continuing pre-sales conversations on Master Gardener, Paul Schrader's follow-up to Venice title The Card Counter, which sold worldwide for the company. The new feature stars Joel Edgerton and Sigourney Weaver, and tells the story of a horticulturist who becomes embroiled in a dangerous situation with his employer and her great-niece.
Bankside Films is continuing sales on Terence Davies' Siegfried Sassoon biopic Benediction, which premiered in Toronto and which Vertigo Releasing has snapped up for the UK, Australia and New Zealand. Screen Ireland-backed horror You Are Not My Mother, another Toronto premiere, is also a focus, as are pre-sales for Mr Shaw Goes To Hollywood, which launched at Toronto, and stars Dustin Hoffman, Sam Neill and Aidan Turner. The title is an imagining of Irish Pygmalion playwright George Bernard Shaw's 1933 trip to Hollywood before the play was reborn as musical feature My Fair Lady.
Nordic region
TrustNordisk will market screen Jens Sjögren's biopic I Am Zlatan, charting the childhood and rise to fame of Swedish soccer star Zlatan Ibrahimović. The work, which has already secured a slew of sales, world premieres at Rome Film Festival. Its MIA slate also features Danish director John Andreas Andersen's oil rig disaster drama The North Sea, which also world premieres in Rome. It has already sold to Elysian Film for the UK.
LevelK is participating in an online capacity only. Its slate features Spanish minivan-set horror The Passenger directed by Fernando Gonzalez and Raul Cerezo; Aik Karapetian's Latvian dark comedy Samuel's Travels; Venice selections Karmalink and Zalava; and buzzed-about San Sebastian award-winner As In Heaven from Denmark's Tea Lindeburg.
Eastern and Central Europe
Poland's New Europe Film Sales attends with its Cannes 2021 Un Certain Regard selection Lamb, which has just posted a record debut for an Icelandic theatrical debut in the US, and Venice competition title Leave No Traces. The political thriller is Poland's submission to the best international film race for the 2022 Oscars.
Budapest-based Luminescence market screens two Russian productions: animated wayward princess comedy My Sweet Monster by Viktor Glukhushin and Maksim Volkov and Syria-set action picture Infiltration.
Germany and Austria
Film Boutique has a market screening of Canadian director Bretten Hannam's Wildhood which premiered in TIFF Discovery. Its lead actor Philipp Liwitski won the TIFF Rising Stars award for his performance as a teenager who runs away from home to connect with his Mi'kmaw heritage. He will next be seen in Steven Spielberg and Tom Hanks's Apple TV+ series Masters Of The Air.
Picture Tree International market screens Jordanian filmmaker Darin J. Sallam's 1948 Palestine-set coming-of-age drama Farha, which world premiered in Toronto's Discovery section; Oliver Hirschbiegel's upcoming hybrid work The Painter, made in collaboration with German artist Albert Oehlen; and biopic Chasing The Line about Austrian skiing champion Franz Klammer.
Global Screen is focusing on big-budget animated feature The Amazing Maurice, which is due for delivery in late 2022; Swiss director Peter Luisi's drama Princess, about an alcoholic who forms an unexpected bond with his neglected young niece; and The Conference, about the notorious 1942 meeting during which the Nazis drew up plans for the Final Solution.
EastWest is continuing sales on Czech romantic comedy Mothers by Vojtech Moravec and Serbian director Darko Nikolic's thriller The Only Way Out, which have both enjoyed successful releases in their home territories over the summer. Mothers generated 360,000 admissions in the Czech Republic and Slovakia, while The Only Way Out reached 250,000 spectators.
The Match Factory market premieres Nana Neul's German-Italian-Greek comedy-drama Daughters, starring Birgit Minichmayr and Alexandra Maria Lara as two sisters who take a final road trip to Greece with the father played by Josef Bierbichle. Produced by Heimatfilm, the was released by Warner Bros in Germany last week. The company will also screen Andreas Kleinert's Dear Thomas, starring Albrecht Schuch as the late real-life East Germany dissident poet, playwriter and writer Thomas Brasch. It also launches sales on Italian director Francesco Lagi's medieval black comedy Il Pataffio, which is part of MIA's work in progress showcase What's Next Italy.
Sola Media will be focusing on Norwegian director Cecilie Mosli's children's film remake Three Wishes For Cinderella, which is in the final stages of post-production, and German animation director Ute von Münchow-Pohl's animated feature Rabbit Academy: Mission Eggpossible.
The Playmaker Munich (formerly Arri Media International) has three new completed films screening at Rome film festival: Monte Verita by Stefan Jäger, Michael Steiner's And Tomorrow We Will Be Dead and Nikias Chryssos's horror film A Pure Place.
Spain
Latido Films is attending with three market premieres, including two titles that have just world premiered at Guadalajara Film Festival in early October: Immersion, a Chile-Mexico thriller directed by Nicolás Postiglione and starring Alfredo Castro; drama Alegría, directed by Violeta Salama and starring Cecilia Suárez and Leonardo Sbaraglia; and Camila Comes Out Tonight, an Argentinian coming-of-age drama directed by Inés Barrionuevo that played in competition at San Sebastián. The slate also features The King Of All The World, Cannes Directors' Fortnight title The Employer And The Employee and Spanish box-office hit The Kids Are Alright.
Film Factory Entertainment has the market premiere of Wetland (El lodo), a thriller directed by Iñaki Sánchez Arrieta produced by Sunrise Pictures. With a cast led by Raúl Arévalo, Paz Vega and Roberto Álamo, it tells the story of a biologist who arrives in a natural preserve aiming to protect it but finds his life and that of his family threatened by the locals.
Greece
Heretic is continuing sales on Chema Garcia Ibarra's cross-genre title The Sacred Spirit. The film is a mixture of comedy, drama and sci-fi; it received a special mention in competition at Locarno this summer and has already sold to Arrow Films for the UK and HBO Europe for the broadcaster's European territories.