Screen profiles all the films in Cannes Film Festival's Official Selection and parallel sections.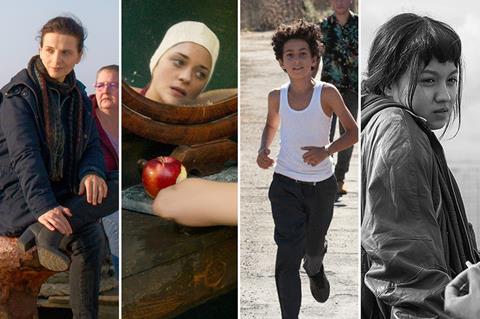 Last year, the raging Covid-19 pandemic forced Cannes to suspend its physical festival, opting instead for the Cannes label, which applied its coveted status to a list of titles, many of which then surfaced at other festivals. This year, Cannes may have missed its traditional May slot, but the upside is a physical event, unfolding amid rigorous health protocols.
Scroll down for profiles
The Competition line-up is heavy on feted auteurs, many of whom are Cannes regulars including Asghar Farhadi, Bruno Dumont, Sean Penn, Leos Carax (opening the festival with Annette), Joachim Trier plus Palme d'Or winners Jacques Audiard, Nanni Moretti and Apichatpong Weerasethakul. Wes Anderson's The French Dispatch, selected to open Cannes 2020, makes its world premiere one year later.
Missing from the list here are female directors, which this year number four in Competition, including Mia Hansen-Love and Julia Ducournau, whose acclaimed Raw premiered in Critics' Week in 2016. Cannes delegate general Thierry Frémaux instead points to Un Certain Regard, where there are eight female filmmakers, for those who want to find "the future of cinema".
This year's Cannes line-up is once again dominated by white film­makers — a topic likely to attract comment from Spike Lee, who is the first Black jury president, "not just at Cannes but at any big festival", in the words of Frémaux.
The delegate general and his team made their selection from what was evidently an embarrassment of riches, hence the addition of high-profile strand Cannes Premiere — one of two new sections this year, alongside Cinema For The Climate. Major directors who previously played in Competition pepper the Premiere line-up, including triple Cannes prizewinner Andrea Arnold, six-time Competition entrant Arnaud Desplechin, Oliver Stone, Gaspar Noé, Italian veteran Marco Bellocchio (a recipient of an honorary Palme d'Or this year) and South Korea's Hong Sangsoo.
Frémaux had toyed with making the Competition even more crammed than its 24-strong line-up, but, as he explains, "In the end, we had to think of Spike Lee and his jury and allow them to work under good conditions." Even so, we imagine the jury discussions of five women and four men led by Lee — whose Do The Right Thing missed out on Cannes prizes in 1989, the year of Palme d'Or winner sex, lies and videotape — will be especially animated. We can't wait to join them in discovering what promises to be — as always — a treasure trove of cinema.
Click on the links to each section for the profiles.
Ahed's Knee
Annette
Benedetta
Bergman Island
Casablanca Beats
Compartment No. 6
The Divide
Drive My Car
Everything Went Fine
Flag Day
France
The French Dispatch
A Hero
Lingui, The Sacred Bonds
Memoria
Nitram
Paris, 13th District
Petrov's Flu
Red Rocket
The Restless
The Story Of My Wife
Three Floors
Titane
The Worst Person In The World
Aline, The Voice Of Love
Bac Nord
Emergency Declaration
Peaceful
Stillwater
The Velvet Underground
Where Is Anne Frank
Are You Lonesome Tonight?
Babi Yar. Context
Black Notebooks
H6
The Heroics
Mariner Of The Mountains
Mi Iubita, Mon Amour
New Worlds: The Cradle Of Civilization
The Story Of Film: A New Generation
The Year Of The Everlasting Storm
Bloody Oranges
Suprêmes
Tralala
Cow
Deception
Evolution
Hold Me Tight
In Front Of Your Face
Jane By Charlotte
JFK Revisited: Through The Looking Glass
Love Songs For Tough Guys
Marx Can Wait
Mothering Sunday
Val
Vortex
After Yang
Blue Bayou
La Civil
Commitment Hasan
Freda
Great Freedom
House Arrest
The Innocents
Lamb
Let There Be Morning
Moneyboys
My Brothers And I
Nora
Onoda — 10 000 Nights In The Jungle
Playground
Prayers For The Stolen
Rehana
Streetwise
Unclenching The Fists
Women Do Cry
Above Water
Animal
Bigger Than Us
The Crusade
I Am So Sorry
Invisible Demons
The Velvet Queen
A Chiara
Ali & Ava
Between Two Worlds
The Braves
A Brighter Tomorrow
Clara Sola
The Employer And The Employee
Europa
Futura
The Hill Where Lionesses Roar
Hit The Road
Intregalde
Magnetic Beats
Medusa
Murina
Neptune Frost
A Night Of Knowing Nothing
Our Men
Returning To Reims (Fragments)
Ripples Of Life
The Sea Ahead
The Souvenir Part II
The Tale Of King Crab
The Tsugua Diaries
Amparo
Anaïs In Love
Bruno Reidal, Confessions Of A Murderer
Feathers
The Gravedigger's Wife
Libertad
Olga
A Radiant Girl
Robust
Small Body
Softie
A Tale Of Love And Desire
Zero Fucks Given
Cannes profiles by Nikki Baughan, Charles Gant, Melanie Goodfellow, Elaine Guerini, Jeremy Kay, Lee Marshall, Wendy Mitchell, Jean Noh, Jonathan Romney, Michael Rosser, Silvia Wong