Eliran Malka first introduced Israeli audiences to the Orthodox community with TV series Shababnikim. Now his debut feature The Unorthodox has opened Jerusalem Film FestivaL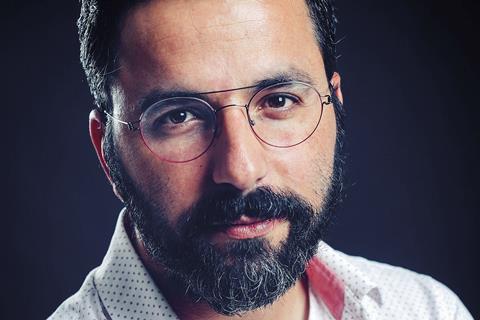 The Unorthodox by Eliran Malka is an unusual opening film for Jerusalem Film Festival in more ways than one. Not only is it the first time a feature by a debut filmmaker has opened the festival but the drama, about the creation of Israel's controversial ultra-Orthodox party Shas, will bring the religious world to the big screen at an event renowned for its secular atmosphere.
"The story of the birth of the Shas party has never been told, at least not like The Unorthodox tells it," says Malka. "The Shas party began as a beautiful dream and was the result of an incredible vision. Its crash against the harsh reality of politics was inevitable and has turned it into an establishment that is very difficult to relate to and like today."
The film marks the return of ultra-Orthodox actor and performer Shuli Rand to JFF for the first time in 14 years. He last appeared here as the star of Gidi Dar's groundbreaking comedy Ushpizin in 2004. The first ever feature to star an all-Haredi cast, the film took the festival by storm, filling the Cinematheque with an ultra-Orthodox crowd that had never before set foot in the building.
Rand stars in The Unorthodox as the forgotten figure of Ya'akov Cohen, the owner of a printworks in the Jerusalem neighbourhood of Mekor Baruch, who was a key player in the early days of the party that would eventually become Shas, but who has since been erased from the annals of its history.
"Ya'akov was one of the Shas founders in 1983. Surprisingly, he is not mentioned anywhere on the Shas website or in leaflets. Even if you ask current Shas people, they do not know who he was," says Malka. "This unbelievable fact — that the man who established Shas vanished, under very strange circumstances, from its biography — is the reason I made this movie."
Shas was created 35 years ago to champion the rights of what was then a Mizrahi and Sephardic underclass, hailing from the Middle East and North Africa at a time when the roots of Israel's establishment were almost entirely of European origin. Today it is one of Israel's most controversial political parties due to its neo-conservative and religious-based political agenda. The film delves into the early days of Shas, exploring its roots as a revolutionary socialist political movement.
"When I read an interview with the 1983 Shas party founders, I realised for the first time there is a charming world behind this party that I did not know," Malka reveals. "I felt it would be amazing to revive this world through a movie. The Unorthodox is not only about Shas, it's a story about politics and how beautiful and inspiring ideas come to an end in a place called politics."
Malka has given the feature a two-part structure, with the first half capturing the events surrounding the creation of Shas in 1983, and a second part looking at its "crash against the wall of politics" in 1984.
"The Unorthodox is not about the existing Shas party — rather, it's a trip into its history and to the events that forced its establishment 35 years ago. It talks about what I call the 'Shas of Jerusalem' or 'the original Shas'," explains the filmmaker.
"In a way, the movie is about the disassociation between the original party to its realisation today. The movie is about bringing to life the 'Mizrochnik' world and the Jerusalem vibe that existed in the 1980s, but which has faded out since then. The research for the film was mainly based on going through pictures, archives, watching videos of demonstrations and characters from that time." A score with an oriental feel by prolific Israeli composer Ophir Leibovitch (Foxtrot), blending traditional and contemporary music, further captures the atmosphere of the time.
Religious and secular schooling
Malka, who grew up in a religious Mizrahi family in the northern Israeli city of Nahariya, moved to Jerusalem 10 years ago to attend the Ma'aleh School of Television, Film and the Arts, one of the only film schools in the world offering a curriculum and teaching environment for both religiously observant and secular students.
"Ma'aleh provided me with the freedom to create. It made me feel that I didn't need to pretend to be someone else for four years. I could be myself without having to dance to someone else's tune," says Malka. His graduation work, short film 71 Square Meters about a young man's trip down memory lane as he visits his abandoned childhood home on the eve of its demolition, played at numerous festivals including JFF in 2010.
Malka freely admits his religious background helped in getting Rand back on set for the first time since Ushpizin, but adds the latter's decision to take on the role went beyond that.
"After six months of auditioning a number of great actors, I still didn't feel that I had nailed the right person for this role, since he had to hold the entire movie. There are hardly any scenes without him," Malka explains. "At this point I tried to reach out to Shuli through my agent, Erik Kneller, who is a mutual friend. I had very little hope that he would agree but, luckily for me, he read the script and loved it, and we met. He felt a certain warmth in the film that drew him to it."
Rand had been waiting for a role to which he could relate. "Not only from a purely religious and Halakhic [Jewish religious laws] perspective," says Malka, "but also from the perspective of being able to identify with the character and his world of beliefs."
Like Ushpizin, The Unorthodox was shot in a way that respected Rand's strict interpretation of Halakha. It was a position Malka was happy to join him in. "Shuli and I are religious people," he says. "Our work is based on these values. As a writer, I will not write scenes that I won't feel comfortable directing. I believe that Shuli feels the same. We might have different Halakhic bars, but we had set our expectations in advance and were fully aligned.
"People sometimes ask me if I feel whether being religious limits my creation," Malka continues. "I do not see it that way at all. These are not restrictions to the movie, but rather the way we feel comfortable to create. This is how I live and this is what I want to bring to the screen."
The Unorthodox was produced by Keren Michael and Yoni Paran at Jerusalem-based Dori Media Paran, and will be released by Lev Cinemas in Israel on July 26 to coincide with the JFF premiere.
Comic timing
The film comes hot on the heels of Malka's groundbreaking TV show Shababnikim about the shenanigans of four ultra-Orthodox likely lads studying at a Jerusalem yeshiva. The TV series' upbeat and irreverent insight into the world of the yeshiva captured the imagination of both secular and religious audiences when it aired on Israeli cable channel Hot earlier this year.
"The idea for Shababnikim dates back to 2010," he explains. "I started writing The Unorthodox in 2015. Five years later, they ended up coming out six months apart from each other. Although they both tell a story of ultra-Orthodox people, there is really no connection between them.
"Shababnikim is a comedy about four young, handsome and stylish yeshiva guys who want to experience the world around them. The Unorthodox is a political drama about little people who go against big systems — very different perspectives of people whose only connection is that they all keep Shabbat."
Malka suggests the TV series appeals to a curiosity among secular audiences about Israel's ultra-Orthodox community, which he suggests is misrepresented by the media.
"For many years, secular audiences were presented with the classic ultra-Orthodox image of a closed, segregated community with political interests only," he says. "In recent years, these secular audiences realise there is more to this community. Deep inside, the secular community in Israel really wants to know their partners in this country."
Religious audiences loved seeing themselves portrayed on the small screen. "Although the ultra-Orthodox do not watch TV, they watched this series in their thousands. Perhaps for the first time they felt that Shababnikim values them and makes them feel part of the game," suggests Malka, who is now busy writing the second season.
"Every time I meet people who've seen the series, I'm told that they are waiting for the second season, so I can't let them down."