Jane Campion is generating major awards heat nearly three decades after she won the best original screenplay Oscar for The Piano. Screen talks to her about her investigation into masculinity in Netflix western The Power Of The Dog.
Growing up in Wellington, New Zealand, Jane Campion and her friends used to sit atop grocery boxes and pretend they were riding horses — "It was my favourite game to play as a kid, crossing the American divide, pretending we were in wagons."
Campion's new film The Power Of The Dog is not a typical western, but it does explore some of the mythologies of the American west that captivated her as a child, "The sense of being on a journey, a sense of space and freedom," she says, talking to Screen International during her visit to the BFI London Film Festival in October.
That was something she found in Thomas Savage's book of the same name. "I don't see it as a western in that typical way," she explains. "I see it more of an intimate portrait of a family, and of growing up in that very masculine ethos as a different kind of man, which Thomas Savage was — he was someone who could pass in Montana in this masculine world as a cattle man, with a more sensitive brain. He wrote about the west in a different way than people writing about the romantic idea of the cowboy."
Savage's 1967 novel, and Campion's film, tell the story of troubled rancher Phil Burbank, who has a fraught relationship with his brother George, and starts to bully and torment George's new wife Rose and her teenage son Peter when they move into the family ranch in a frontier town in 1920s Montana. The film is very much a four-hander, with Benedict Cumberbatch and Jesse Plemons playing Phil and George, Kirsten Dunst as Rose, and Kodi Smit-McPhee as Peter.
"I thought of them as the four strands of the braided rope," Campion says, referencing the leather rope Phil uses to teach Peter how to braid. "In the book, Savage changes perspective, so I tried to do that in the adaptation as well. You follow the story from more than one point of view."
Another pivotal creative decision was to not show the audience the person who could be seen as the fifth character — Bronco Henry, the late cowboy who had a huge impact on Phil's life. "He is kind of the haunted heart of the story," Campion explains. "I felt there was a strength in never seeing him, and we never did flashbacks to explain more. It helps the mystery of the story and the secrets of it, that there are things you can't see."
Leaving much of the past, and some of the present, unsaid was important to Campion. "When we meet people in real life, we don't get their whole life story, we're just here in a moment and take it as it is. Then you slowly have people talking about their past."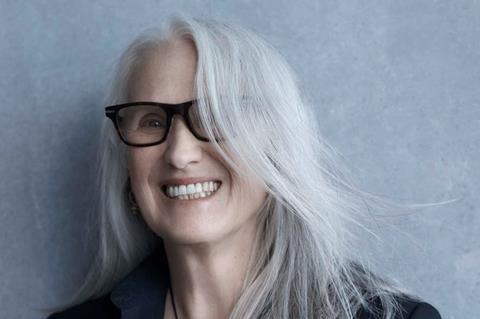 The Power Of The Dog was a book Campion had loved for decades, and after finishing BBC/Sundance Channel miniseries Top Of The Lake: China Girl, she found herself again captivated by the story of Phil Burbank as she contemplated her next feature. She learned Canadian producer Roger Frappier held the rights to the book, and after the pair met at Cannes in 2017, he was thrilled to move forward in partnership with Campion — who is lauded as the first woman to win the Cannes Palme d'Or for her 1993 film The Piano, and one of only seven women to be Oscar-nominated as best director.
Frappier and Campion (who also serves as one of the film's producers) brought on UK-based independent producer Tanya Seghatchian, who had become a friend of Campion's after backing 2009 feature Bright Star when she worked at the UK Film Council. Also on board were producers Iain Canning and Emile Sherman of See‑Saw Films, who knew the director from working on two seasons of Top Of The Lake. BBC Film also backed the production.
Netflix bought international rights outside New Zealand and Australia, later launching The Power Of The Dog at Venice in 2021, where Campion won best director. The streaming giant released the film in select cinemas in November followed by the platform launch in December. Early awards bodies have showered the film with nominations, including 10 at the Critics Choice Awards, while the New York Film Critics Circle gave Cumberbatch and Smit-McPhee the two male acting prizes and named Campion best director. Campion looks a strong contender to net her first Oscar and Bafta film nominations since The Piano in 1994.
Casting with courage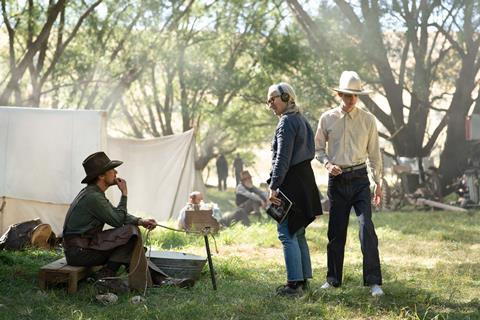 Cumberbatch has range in roles from Doctor Strange to Sherlock and The Imitation Game, but he was not an obvious choice to play a sadistic 1920s Montana rancher. "Casting is always a gamble, but I knew he put his hand up for it and he was game," Campion says. "He has courage and he's a badass, charismatic person, which Phil needs because otherwise we would just totally hate him.
"Ben is a kind person and I always felt confident to speak my mind to him. We would have strong dialogues with each other that maybe would sound quite rude to other people," she says with a laugh. "But it was just how we are designed, and we were there for each other. He also came up with great ideas to change or fix things."
Despite it being her homeland, Campion was not the first one pushing to shoot in New Zealand. "I went to Montana to scout but it was very hard to find the Montana of 1925," she says. "We knew we'd have to build a lot there, so it was going to be expensive. We did some recces in New Zealand and compared that to our location search in Montana. We even showed our location scout in Montana some photos from New Zealand and asked him where they were in Montana, and he'd say, 'Oh, just a bit further south.'"
In the end the production shot in studios in Auckland and on location on the remote South Island of New Zealand, near Central Otago. Campion had worries the isolated setting could wear on cast and crew. The opposite was true — "We were all team players and we were together out in the wild. Everybody was falling in love with that countryside and that expanse. I worried they might find it bitterly lonely and socially isolated, but they all adored it."
Isolation might have been one of the keys to saving the project when the pandemic hit. They had been several weeks into shooting in 2020 when a shutdown was enforced, and the team had to pause for four months.
"We were fortunate we could restart when we did, safely," Campion says, after New Zealand pushed its Covid-19 infection rate down to zero. Cumberbatch had stayed in the country during the pause, but real‑life partners Dunst and Plemons returned to Los Angeles and had to come back and quarantine before resuming the shoot.
]"This gap gave me a chance to review what we had done already and what was working best and what could be better," says the filmmaker. "I learned a lot that informed the second half of the shoot.