With their third collaboration Lean On Pete playing in LFF competition, Andrew Haigh and Tristan Goligher recount their journey to becoming one of the UK's most successful director-producer partnerships.
In the space of eight years, director Andrew Haigh and producer Tristan Goligher have become one of the UK's hottest filmmaking duos, following the breakout successes of micro-budget drama Weekend and Berlin prize-winner 45 Years.
Their latest collaboration, Lean On Pete, is the story of a teenage boy who takes a summer job with a washed-up horse trainer, forming a bond with the titular failing racehorse in the process. The film premiered in Venice's Competition, played as a Special Presentation in Toronto and screens this month in Official Competition at the BFI London Film Festival.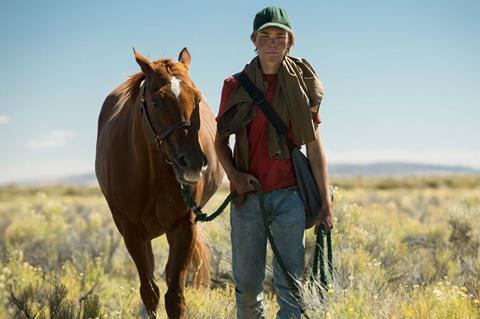 Early days
Retracing his early career while speaking to Screen at Toronto, Haigh recalls first encountering Goligher while seeking a producer for his fourth short film, Five Miles Out.
The pair met when Goligher was producing his debut feature, Warp Films' Crack Willow, on which Haigh was editor (he had previously worked as an assistant editor for films including Reign Of Fire and Black Hawk Down).
Taking it upon himself to watch the three shorts in Haigh's portfolio, Goligher recalls finding them "emotionally intelligent and profound", despite being made with student crews and for no money.
Haigh says the pair "clicked creatively right away" and decided to embark on Five Miles Out, applying to the UK Film Council and Film4's now-defunct short-film scheme Cinema Extreme. The initiative had been set up with production outfit The Bureau, which acted as an executive producer on each short (a year later, Goligher would join the company as an in-house producer).
The pair made the short in 2008 while Haigh was simultaneously working on his debut feature, micro-budget docudrama Greek Pete, which he directed, wrote, produced and funded. Released in 2009, Five Miles Out travelled successfully on the festival circuit after premiering at the Berlinale.
In the wake of their debut collaboration, the duo rushed into the process of putting together their first feature, Weekend, about two men whose weekend fling develops into something much stronger. Despite a rejection from Film London's microbudget scheme Microwave, Goligher managed to assemble a $160,000 (£120,000) budget from Nottingham-based screen agency EM Media, UK tax credits, Creative Scotland and completion finance from The Bureau.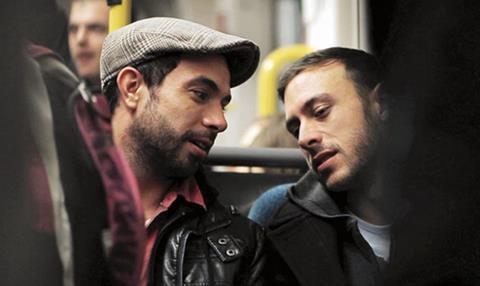 Commercial breakthrough
While modest in nature, Weekend proved a breakout hit for the pair when it premiered at SXSW in 2011 and secured distribution through Sundance Selects in the US, where it went on to gross nearly $500,000. In the UK, it reached a healthy $298,000 (£222,000) for Peccadillo Pictures.
"There had been a dearth of films about gay relationships at that time," Haigh says. "It filled a space nicely."
Goligher adds that the film felt "incredibly fresh" within UK cinema, not least because it was a love story about two gay characters that did not try to define itself as a 'gay movie'.
"That's Andrew's gift — he's able to tell stories about very real, normal people in a beautiful manner," he says. "That caught people by surprise and got attention."
With Weekend putting the pair on the radar of the international industry, they didn't waste any time getting their next project off the ground.
Haigh had already begun working on 45 Years, an adaptation of a short story, during post-production on Weekend. A step up in scale, Goligher secured backing from the likes of the BFI Film Fund and Film4 to make up the $2m (£1.5m) budget.
One of the key decisions the duo faced was casting the leads, eventually opting for Charlotte Rampling and Tom Courtenay. Haigh says that even though the two actors were not necessarily "obvious choices", Goligher backed his creative instincts — a decision validated when Berlin awarded Rampling and Courtenay the Silver Bear acting prizes and Rampling went on to be Oscar nominated.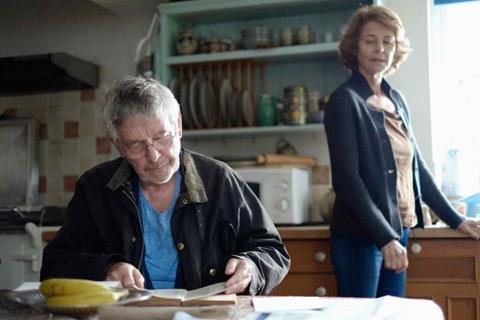 "I see my job as supporting the version of the film the director is trying to make; to an extent you have to take your own agenda out of it," says Goligher.
For Haigh, Goligher has been a constant voice of support as the pair climb the ladder of the UK industry. "What I like enormously about Tristan is that he cares about the artistic merits of the project before everything else," says the director, who took a career detour to the US for two seasons of HBO's Looking. "You want the producer to protect you from all the shit that goes around and to back you up. That's what Tristan does for me."
After the release of Lean On Pete, next up for Haigh is a six-part TV adaptation of Ian McGuire's The North Water, set on a whaling ship in the 1850s. "I'm scared of horses and I get badly seasick, so it felt like a good fit," jokes Haigh, who is no longer attached to direct Pathé's previously announced biopic of fashion designer Alexander McQueen, although he and Goligher have several film projects in early development.
Separately, Goligher and The Bureau are working on features, including Only You, starring Victoria breakout Laia Costa and God's Own Country star Josh O'Connor, which is shooting now in Scotland.