Andrew Haigh and Tristan Goligher [pictured top] follow the Oscar-nominated 45 Years with Lean On Pete, the Oregon-set story of a teenage lad and a race horse. The film premiered at Venice Film Festival in competition and is also playing Telluride and Toronto. Screen talks to the director-producer duo.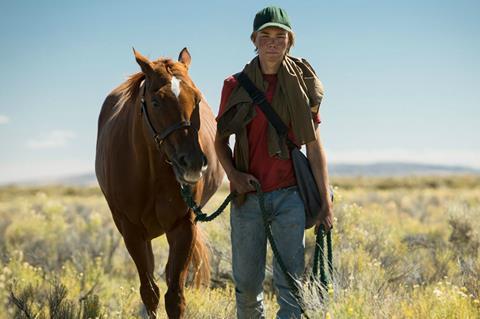 Filmmaker Andrew Haigh was on a plane while touring with his microbudget hit Weekend in 2012 when he first read Willy Vlautin's novel Lean On Pete, on the recommendation of his partner. He immediately saw the feature film possibilities in this story of a teenage lad who takes a summer job with a washed-up horse trainer, forming a bond with a failing racehorse, the titular Lean On Pete.
However, deciding with his regular producer partner Tristan Goligher (The Bureau) that the US-set story would be too big a leap in scale for his third feature (Haigh's debut was little-seen 2009 docu-drama Greek Pete), he initially developed the project in parallel with 45 Years. That acclaimed drama went on to premiere at the Berlinale in 2015, where it won its two leads the Silver Bear acting prizes and eventually garnered an Oscar nomination for Charlotte Rampling.
In the process of adapting Vlautin's novel, Haigh went to stay with the author in Oregon, who took him around the local race tracks that had inspired the novel, introducing him to personalities in that community. Vlautin was initially nervous about assigning the film rights, and insisted that Haigh needed to understand the world if he was going to direct the film. "I knew nothing about horse racing," Haigh recalls. "It wasn't glamorous, high-stakes horse racing, it was country fairs. I couldn't write anything unless I experienced some elements of that world."
Seeking further inspiration, the director set off on a three-month road trip across the Pacific Northwest, retracing the journey that the protagonist Charley takes in the novel. Haigh stayed in many of the same motels and camped in locations from the novel, writing along the way. He encountered a tight-knit working-class community that had, for generations, been working in the horseracing business. "There's a real sense of community that exists there but it's not an easy life. These aren't people that make a lot of money," Haigh adds.
Leading boy
Casting began in earnest in early 2016 when Los Angeles-based casting director Carmen Cuba was enlisted to begin searching for the lead role of Charley. After seeing hundreds of young actors, she whittled the field down to a pool of around 200 who were put in front of Haigh.
Charlie Plummer, an emerging US actor whose roles included HBO series Boardwalk Empire, was one of the first tapes shown to the director, and he instantly caught the eye. Haigh was further impressed when Plummer sent him a letter detailing his connection to the story and the character.
"He'd moved around a lot as a child and ultimately Lean On Pete is about a boy searching for a home," says Haigh. "He was able to identify with the idea of somebody transient who is reaching for stability in life." It was a major decision but Haigh says they felt confident "pinning the entire movie" on Plummer, whose character appears in every scene of the film.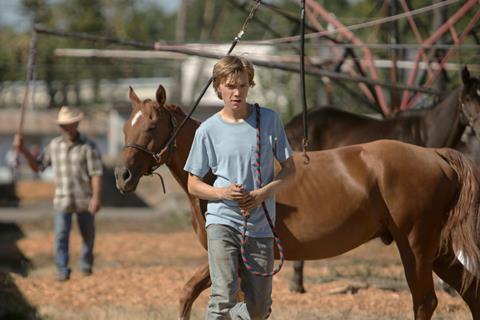 Steve Buscemi and Chloë Sevigny, who Haigh calls "the king and queen of American independent cinema", were cast in other key roles, as the washed-up trainer and one of his jockeys respectively. The majority of the $8m budget came from the British Film Institute and Film4, which were both involved in the development process. Financing was completed by Oregon Film Office's tax credit, the UK tax credit and a US presale to A24, which Goligher secured himself at TIFF in 2015, where 45 Years screened. "A lot of it came together because of the momentum of 45 Years," the producer recalls.
The production shot in the US for eight weeks in summer 2016, filming at many of the same locations detailed in the novel because the production team believed replicating them authentically would be more of a challenge.
These included a race track which hosts one of the film's showpiece sequences. Goligher says that they were determined to shoot there because "there's nowhere else like it", but had a tough time convincing the owners who were concerned about the depiction of horse racing in the movie. The entire production penned letters to those in charge and, through sheer persistence, only a month before shooting they got the greenlight to use the location.
The staging of the horse racing scene at the track was complex, with hundreds of extras employed as spectators alongside multiple horses and jockeys. Goligher says that they only had one shot at the sequence because the horses are only psychically able to race once, with standard practice being for them to rest for weeks in between races. As a result, they filmed in one take after days of careful planning. The pair agree that the "high risk situation" was the most demanding sequence that they've shot.
Never work with children or animals
Working with the horses was "a whole other level of health and safety", says Goligher. "Horses are fragile creatures and in a natural racing environment they can break legs or even die racing. Add into that a film crew actors, with events needing to be orchestrated to happen at certain times, it was challenging," he says.
Further production challenges included the temperature, which regularly topped 40 degrees Celsius, and various other natural hazards including sandstorms and dangerous animals. Filming in the desert necessitated hiring an animal wrangler who, ahead of filming a night sequence, removed ten scorpions and a rattlesnake from the shooting path.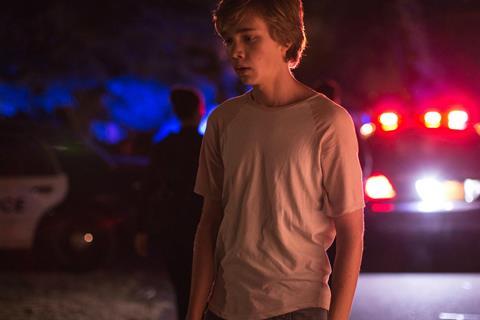 Since wrapping, The Bureau's sales wing took on international rights jointly with French outfit Celluloid Dreams. By Cannes 2017, the project had sold out all major territories, including deals for the UK (Curzon Artificial Eye), France (Ad Vitam) and Focus Features, which picked up German-speaking territories, Scandinavia and most of Asia and Eastern Europe. The film's release is scheduled for the first quarter of 2018 in most territories.
Next up for Haigh is a six-part miniseries adaptation of Ian McGuire's The North Water, which is set on a whaling ship in the 1850s. "I'm really scared of horses and I get really badly sea sick, so it felt like a good fit," he jokes.
Film-wise, Haigh is no longer attached to direct a previously announced biopic of fashion designer Alexander McQueen for Pathe, but him and Goligher have several film projects in early development.