Making a documentary about how classic Disney movies helped a young autistic boy engage with the world proved a huge creative challenge for director Roger Ross Williams.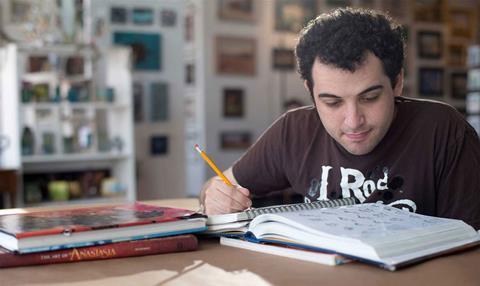 Roger Ross Williams was not particularly a Disney fan before he directed Life, Animated, the true story of an autistic boy who learned to interact with the world through Disney films. But now the Oscar-winning director has a newfound appreciation for the Disney classics.
"I didn't grow up watching Disney," admits the film-maker, who won the Oscar for best short film in 2010 for Music By Prudence. "But what I realised in the process of making this is the reason the Disney films resonate so much with people is that they are classic fables. Walt Disney took archetypal stories that make us human and connect us. Now I understand the power of story structure and fable."
Life, Animated has an archetypal structure itself, with the hero, Owen Suskind, navigating challenges such as graduating from school and starting to live independently of his close-knit family. "If you can master a classic story structure, you have a powerful film to relate to people in a universal way," Williams adds.
Audiences have certainly been relating to Owen's story. At Sundance, the film won the US documentary best director prize, followed by audience awards at San Francisco, Nantucket and Full Frame. Owen, now 25, has also been enjoying the festival circuit and interacting with audiences at Q&As around the globe. The film is on the shortlist of 15 documentary features in the Oscar race.
Family connection
Williams knew Owen's father, Pulitzer Prize winning political writer Ron Suskind, for many years through journalism. When Ron wrote a memoir about the family's journey with their son, they thought this could be the perfect film collaboration. "Ron started telling me the story and I was blown away," Williams recalls.
Yet there was one problem: the book was all about the past and Owen's childhood. Thankfully, in talking to Ron and his wife Cornelia, Williams realised their son was experiencing life-changing events that he could document — graduation, falling in love for the first time, moving into his own apartment. "I thought, 'Oh wait, this is a coming-of-age story.' There was a natural arc of him hitting all these notes and then charting his own destiny."
Williams wanted to plan carefully before the shoot — something he says he learned from directing 2013's God Loves Uganda — so he started talking to editor David Teague when he first began shooting, as well as the sound design team at Skywalker Sound.
The resulting film is a seamless blend of vérité footage of Owen going through his big year, interviews with him and his family, old home movies and two styles of animation. Black-and-white line drawings bring to life Owen's back story, along with colourful hand-drawn animation of his own fantasy world, 'The Land of the Lost Sidekicks'.
"The animation needed to be very different from Disney. It needed to be original, this was Owen's world," Williams explains. He worked with French animation company Mac Guff, veterans of Despicable Me. 'The Land of the Lost Sidekicks' is a film within the film, which had to "transfer the audience into Owen's inner world, and show them what a rich world he lived in". Short film The Land Of The Lost Sidekicks will be included as a DVD and digital release extra for Life, Animated.
Eye contact
A further technique to bring the audience into Owen's world is the use of the Interrotron — made famous by Errol Morris — so Owen could see Williams' face on a TV screen and look him, and the audience, straight in the eye. "I wanted the audience to be immersed in Owen's head, to tell the story from the inside looking out," the director explains.
"It took a year of editing because of all these layers," he adds, paying special tribute to Teague. "It's almost so seamless that you don't realise how layered it is."
Another challenge was getting Disney on board — not only to license the clips of films including The Little Mermaid, Peter Pan and The Lion King, but also, in an unprecedented move, to let another company re-animate versions of their characters.
Keri Putnam, executive director of the Sundance Institute, introduced Williams, who serves on Sundance's alumni board, to Walt Disney Pictures president Sean Bailey, who is on the board of Sundance Institute. Williams and producer Julie Goldman worked with Bailey to pitch the project to Disney chairman Alan Horn and president Alan Bergman, and later to other department heads at Disney. There were "sniffles in the room" at the end of his pitch to them, in which he asked for permission to use the clips. "Pulling all this together was the greatest creative challenge of my career," says Williams.
The A&E IndieFilms production was released by The Orchard in July in the US, and has just opened in the UK via Dogwoof.