Midnight Madness is showcasing a collection of international genre titles including Baskin, Hardcore and The Devil's Candy. But horror films don't always give directors an easy ride, as Tom Grater reports.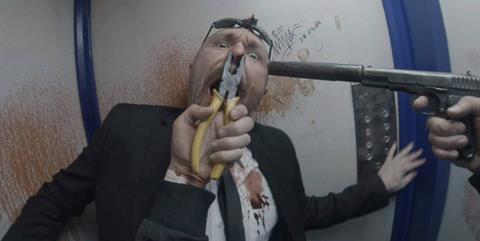 "I went home and, with three of my co-writers, wrote the script in eight days and translated it in two days."

Can Evrenol, director Baskin
Toronto International Film Festival's Midnight Madness programme - dubbed the 'wild side' of TIFF - showcases the latest genre films at late-night screenings throughout the festival. Selections will screen to a packed and enthusiastic audience, becoming part of an increasingly prestigious history since it launched in 1988. This year, there are 11 films in the strand, including three debut features alongside films from genre masters Takashi Miike and Soi Cheang.
Screen spoke to three of this year's Midnight Madness directors about the trials and tribulations of getting a horror feature made: Turkish film-maker Can Evrenol, who has adapted his short film Baskin into a feature of the same name; Russia's Ilya Naishuller, who presents his entirely POV-shot debut feature Hardcore; and Australia's Sean Byrne, whose second feature The Devil's Candy follows his breakthrough The Loved Ones.
For Evrenol, getting his first feature into Midnight Madness is a "surreal" feeling. After leaving his native Turkey to study film at the UK's University of Kent, Evrenol cut his teeth making short films while also pursuing a successful career directing adverts. His work with IKEA and Microsoft paid the bills as his shorts were garnering worldwide attention. His 2007 film The Chest (Sandik) played festivals across Europe and was selected by the UK's Frightfest, which then put money into his next film, To My Mother And Father, going on to screen at HP Lovecraft Film Festival in the US and Sitges Film Festival in Spain.
While Evrenol's shorts cemented his reputation as a promising young director, he received less-desirable attention when his contribution to Frightfest 2012's 'Turn your bloody phone off' idents, involving a man assaulting a woman in a grotesque manner after she uses her cellphone in the cinema, stirred up online vitriol from many who thought he had crossed a line of taste. "I was really upset that some of the female horror film directors didn't like it," he says, "but I kind of enjoy the notoriety; I like the edge." He also admits it didn't harm his reputation from a commercial viewpoint. "Controversy is seen as a good thing," he remarks.
Evrenol decided the time was right to embark on his first feature project, but the complications of development and financing caused him to instead work his idea into a short film, titled Baskin. It caught the eye of Eli Roth, who himself had Cabin Fever and Hostel selected for Midnight Madness in 2002 and 2005 respectively, and the two met up in Sitges.
"Eli said, 'Do you have a script for a feature?', and I said yes even though I didn't. I told him to give me 10 days to translate," Evrenol recalls. "I went home and, with three of my co-writers, wrote the script in eight days and translated it in two days. The story was done on the backbone of that week. It was an amazing time." Roth signed a first option to finance the film with Evrenol as director but, shortly after, he went quiet and the option eventually expired. Mike Hostench, co-director of Sitges, then put Evrenol in touch with a Catalan investor, but that deal also fell through. "I was a bit upset," Evrenol admits.
His next move was to get back in touch with Hostench who, along with Todd Brown from XYZ Films (both are credited as executive producers on the film), helped Evrenol to put together a file designed to attract private investment from a variety of sources including friends and family.
Eventually, it attracted more than $300,000, though Evrenol admits it was less than he would have liked: "I was able to make it for such a low budget, it looks more polished than it is."
Core values
For Ilya Naishuller, attracting online attention was an equally important, but less controversial, factor in getting his first feature, Hardcore, made. In 2013 he directed a music video for his Moscow band, Biting Elbows, for their song 'Bad Motherfucker'. It has, to date, clocked up more than 29 million views on YouTube and is a five-minute thrill ride shot entirely in the POV style and featuring plenty of violence.
"It started going viral pretty quickly," Naishuller recalls. "A couple of days later I got a Facebook message from Timur Bekmambetov." The Russian-Kazakh director-producer, whose credits include Abraham Lincoln: Vampire Hunter, asked Naishuller if he would consider shooting an entire feature in POV. "It was super-exciting [but] I told him I thought it was a terrible idea. He said that I should think about it." When Bekmambetov invited him to Los Angeles, Naishuller's doubts grew.
"I'd read those books about Hollywood. I knew how people would operate. I said, 'If they start to dictate how I'm going to do it, I'll not get involved.'" However, his fears were allayed when Bekmambetov displayed a flexibility when it came to ideas. "At that point, I knew he was a guy I wanted to work with."
Bekmambetov recruited two private investors from Russia and the project went into development. He also suggested they consider a crowd-funding campaign, but while Naishuller knew his online prominence would almost guarantee success, he didn't want to rush it. "At that point we had no idea if it was going to work. On the heat of 'Bad Motherfucker' we probably would've gotten a lot more, but I was terrified of taking money and coming back with a piece-of-shit film."
They decided to push on with the production and revisit the idea of crowd-funding when the project entered post-production. After wrapping the shoot, they sat down with Indiegogo's head of film, Marc Hofstatter, who told them to "think of it as an equal opportunity to raise money for the film, which you need, and get the attention from the press, which you also will need". The campaign eventually raised more than $250,000 towards completion, and generated plenty of attention. "Some things money can't guarantee," Naishuller says. "The fact we did the campaign got us a lot of press coverage."
Devil's detail
Sean Byrne, whose sophomore feature The Devil's Candy follows his debut The Loved Ones, which premiered at Midnight Madness in 2009 and won the People's Choice award, found the experience very different the second time around.
"I struggled to get money for my first film," he recalls. "The industry in Australia is primarily government-funded - I received 60% of the budget from them - so you can imagine the competition to access that funding. I had to jump through hoops for years." It was a simpler process for The Devil's Candy. "If you've done it before and it resonates critically or commercially, it makes things easier. If it turns out OK, that demystifies the whole process."
After developing the idea for the film, Byrne sent a treatment to production company Snoot Entertainment. "I always had Snoot in mind because they have a reputation for having exquisite taste, strong commercial sensibilities, and also for taking risks," he says. "I always like to take risks, especially with horror films. Horror without danger defeats the whole point." Snoot responded positively, and the project got the green light. "That's where it began and ended for me - I didn't have to source the financing; that's from the producers, it's privatised," says Byrne.
The director is delighted to once again be part of Midnight Madness. "The top-tier festivals validate the quality of the film, which is a big launch pad for horror," he notes. "In general, horror can tend to be a sea of mediocrity. Festival selection can tell you that these films have critical value. Insidious came out of Midnight Madness. Look at the success of It Follows, which had a great festival run. It raises awareness and underlines critical acclaim - both those things are invaluable."
Byrne believes, first and foremost, that first-time directors need to focus on quality. "To begin with, all you can really do is make a good film in a viable commercial genre and offer something new to the audience," he says. He also offers advice to future film-makers who dream of making a splash at Midnight Madness - advice that reflects the journeys of both Naishuller and Evrenol: "I think anyone out there who's trying to figure out the easiest way to get money - if you can make a short film that's either based on the feature you're trying to make or is very similar tonally, it makes the transition so much smoother because people trust their eyes; words and a script can only go so far."