Reunited on The Danish Girl with Eddie Redmayne and Working Title, Tom Hooper tells Screen about his passion for the project, transgender illumination and Redmayne's 'gender fluidity'.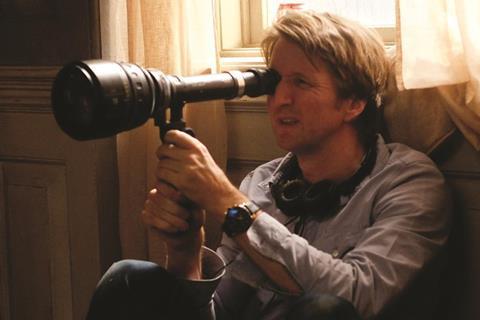 When director Tom Hooper first read Lucinda Coxon's initial draft of The Danish Girl about transgender pioneer Lili Elbe, he wept. Three times.
Hooper had been slipped Coxon's script by renowned casting director Nina Goldfive years ago, while the long-term collaborators were working on The King's Speech.
"Of all the first-draft screenplays I've read, this one stands out as being an extraordinary piece of writing," recalls Hooper, winner of the 2011 best director Oscar for his film about George VI's battle against his stammer.
Adapted from David Ebershoff's 2000 novel of the same name, Coxon's script charts the life of Elbe (1882-1931), one of the first recipients of gender reassignment surgery. Elbe was born in Denmark as Einar Mogens Wegener and became a successful artist under that name.
She began transitioning during a passionate relationship with painter Gerda Gottlieb, during which time Wegener started dressing in women's clothes while filling in as a model for her lover.
Wegener travelled to Germany in 1930 for the first of five operations for sex reassignment, virtually unheard of at the time and highly dangerous. While she managed to get her sex and name changed legally, the experimental surgeries took their toll and in 1931, soon after her fifth surgery, she died of transplant rejection.
"It's interesting how you look back at your decisions and in retrospect see patterns," says Hooper.
"The King's Speech had that same theme of how we overcome the blocks to our true self, or our best self. But there's something in the DNA of this piece that is a much more extreme and profound version of that.
"Like in The King's Speech, the catalyst of change, or what allows change, is love," he continues. "In this case, the unconditional love that Gerda has for Einar. It's the kind of love that made the possibility for change at a time when change was largely unthinkable."
The unique story The Danish Girl tells was an awakening for the UK director. "It has been an education for me about courage," he says. "You've got to remember that at the time there was no penicillin, no antibiotics. If you got an infection from an operation, it was very, very dangerous. Her courage was extraordinary."
It is perhaps fitting that a film about identity and transformation has itself gone through multiple incarnations. US producer Gail Mutrux first optioned Ebershoff's novel more than 15 year ago after reading a pre-publication review in Publishers Weekly.
"What most attracted me was the love story," reveals Mutrux, whose producing credits include Kinsey and Donnie Brasco.
"At that stage transgender issues were not in the news as much as they are today, so it was difficult to get it together. There were many almosts."
Over the 15-year odyssey, a number of Hollywood's top actresses were reported to be interested in — and some attached to — the project, including Nicole Kidman, Rachel Weisz, Marion Cotillard, Charlize Theron, Gwyneth Paltrow and Uma Thurman. Directors Tomas Alfredson and Lasse Hallstrom came and went. Financiers were wary of stumping up the $15m budget for a film so firmly rooted in transgender issues.
While Hooper connected with the script early on, he wasn't officially attached until the beginning of 2014. "It was Tom's attachment that got the film made," confirms Mutrux, who had been joined by producer Anne Harrison.
Hooper's passion for the project convinced two of his key collaborators on $442m global hit Les Misérables to jump on board: Working Title Films, whose long-term deal with Universal Pictures guaranteed the film's budget, and UK actor Eddie Redmayne.
The similarly in-demand Alicia Vikander would join to play Gerda, with Ben Whishaw, Matthias Schoenaerts and Amber Heard also joining the impressive supporting cast.
Despite the plethora of female A-listers previously associated with the project, Hooper was never in any doubt as to who should play Lili/Einar.
He shared Coxon's script with Redmayne while the pair were working on Les Misérables.
"When I read it that first time, I wanted to cast Eddie. That was my first thought," declares Hooper, who admits that Redmayne's journey since Les Misérables - he would go on to win this year's best actor Oscar for his portrayal of Stephen Hawking in The Theory Of Everything - made his casting "more possible".
Hooper had first directed Redmayne on the 2005 HBO mini-series Elizabeth I, casting him as Southampton opposite Helen Mirren. "I remember him doing a scene where he's sentenced to death for rebelling against Elizabeth," he recalls.
"In that scene his contact with his own emotions at hearing his death sentence was one of the most extraordinary bits of acting I've ever witnessed."
Redmayne's fine features and experience in taking on cross-gender roles also appealed to Hooper. "There's a certain gender fluidity that I sensed in Eddie, that I found intriguing," he muses. "I know, quite unusually, he'd been drawn to playing women roles from an early age. He was also in Mark Rylance's Twelfth Night playing Violet. I felt there was something in him that was drawn to the feminine."
'Psychology of the journey'
Hooper's instincts about Redmayne's fit for the part chimed with those of the actor, who fell instantly for the project. Between early 2014 and start of shoot in February 2015, Redmayne did as much as he could to immerse himself in Elbe's mindset.
"He wanted a genuine understanding of the psychology of the journey," remarks Hooper.
Lana Wachowski (Redmayne's director on Jupiter Ascending), UK trans activist Paris Lees and former Vogue model April Ashley were among Redmayne's confidantes while preparing for the role. He voraciously read around the subject to prepare for a role even more transformative than playing Stephen Hawking.
Despite his intense study, however, when it came time to shoot Redmayne couldn't quell his nerves entirely. "He has got a lot of anxiety," confirms Hooper.
"But Eddie has this ability to transcend his anxiety. Utterly. The truly great actors, whatever fears drive them, they can convert that energy into complete freedom in the moment of performance."
The casting of the in-demand Redmayne caught the attention of industry and media alike. It also irked some in the trans community, however, who would have liked to see a trans actor cast as Elbe.
"Over the years we thought about a transgender actor playing the part," confirms Mutrux. "But, unlike now, those great trans actors didn't appear to us."
"There's a tremendous pool of talented trans actors," adds Hooper, who was eager to cast transgender actors in speaking roles in the film — Rebecca Root, who plays Elbe's nurse, among them. The director nevertheless recognises significant industry shortcomings.
"There's a journey to go on in making sure that talented trans actors have the same access to opportunities both in front of and behind the camera as
cisgender actors."
Hooper notes the barriers ahead for transgender equality, but sees light through the cracks.
"When I first fell in love with [the idea of] making this film, it was perceived to be a very hard film to finance. Now, in a space of only five or six years, people talk to me as if it was an obvious film to do."