The acclaimed director of Hoop Dreams discusses his latest documentary, which focuses on the only company to be indicted following the 2008 mortgage crisis.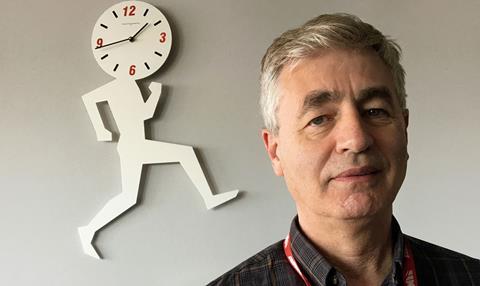 Seasoned documentarian Steve James might not have the profile or name recognition factor of Alex Gibney or Errol Morris, but with 20 film and television documentaries under his belt, including Hoop Dreams (1994), Independent Spirit Award-winner The Interrupters (2011) and Life Itself (2014), he too has made his mark.
Following on from the heartfelt Life Itself, which chronicled the final months of legendary US film critic Roger Ebert, James takes a different turn with Abacus: Small Enough To Jail, which premiered at the Toronto International Film Festival (TIFF).
In the film, James places a spotlight on Thomas Sung, his family and the Abacus Federal Savings Bank, their modest six-branch bank in New York's Chinatown which became the only financial institution to be criminally indicted following the 2008 mortgage meltdown.
Rather than keep the focus on the complicated details pertaining to their trial, James engages viewers with the intimate, often comedic, moments shared between the Sungs throughout their five-year ordeal, which cost them approximately $10m.
The Chicago-based director spoke to Screen at TIFF.
What about the Sungs' story made it ripe for a documentary feature?
A small family-run bank in New York City's Chinatown was the only financial institution to be criminally indicted after the 2008 mortgage crisis – that was interesting. My producer Mark Mitten had a pre-existing relationship with the family. He had known Vera [Sung] for ten years.
So that put us in a great place going in that we could have a trust and comfort level with the family. Their story is important and compelling. I wanted to give an inside look into this family going through this trial that no one seemed to care about outside of the Chinese-American press.
While you present both sides of the story, your sympathies clearly lie with the Sung family. How important is objectivity to you?
Where there are sides to be explored, I think it's important to present them. But it doesn't mean you can't have a point of view. Clearly the point of view is that the film-makers believe that the Sung family are innocent, and that their being prosecuted is wrong. However, you also have a duty to present as clearly as possible the case against them – to not stack the deck so completely that your story looks absurd.
We also felt there was an obligation to try and characterise the 7000 pages of testimonies and boil it down to something that was digestible, and hopefully compelling for a viewer.
How difficult was it to access key interviews from the prosecution's side throughout the trial?
It was not easy. We wanted to get into the courtroom during the actual trial but we were unable to do that. Once the decision came down [that the Sungs had won], we were able to get Polly Greenberg [Director of the Economic Crimes Unit]. And then we got the juror that initially thought the Sung family was guilty. That then helped us get New York County District Attorney Cyrus Vance Jr who had announced the indictments of 19 former Abacus employees and the bank itself. We told him we were serious about hearing his side and we let him say a lot.
You've described your style of shooting as cinema vérité, but in a more engaged manner.
I am not the pioneer of this. But my approach is to simply build relationships with subjects where they like having you around and they can be themselves.
Some filmmakers believe in spending weeks or months before filming to get to know their subjects, but I don't have the patience for that. I hate being in a room knowing something happened that I could have got on camera.
And I tell my subjects it's not a big deal. We are a small crew where often I am shooting and later editing and the producer is sometimes also the sound person. I don't promise festivals and premieres, we're just doing this little thing with a camera.
That segues nicely to your debut film Hoop Dreams. Did you ever imagine that film would become such a success?
Never. I thought anyone not into basketball wouldn't be interested in the film. I also remember thinking it was going to be on PBS in the 10 or 11pm time slot since it was around three hours long. And it would have done that if it hadn't gone to Sundance [in 1994] where Roger Ebert and Gene Siskel first saw it, and subsequently told their television audience that here was a film that should be seen in theatres. That was the jump start.
How has Hoop Dreams shaped the rest of your career?
I had my Big Picture moment because of Hoop Dreams. I had meetings across town that led to opportunities to do a few narrative sports biopics – one movie (Prefontaine, 1997) and two cable movies (Passing Glory, 1999 and Joe And Max, 2002). They weren't bad but I felt pigeonholed at the time in this sports biopic thing. And narrative biopics are hard to do well – it's hard not to cradle the grave and try to get your arms around everything that interests you. The best biopics take a slice of someone's life and let that illuminate the whole.
Would you like to work again on narrative fiction films?
Yes, definitely. There is stuff I'm working on but it's not public yet. But overall, I want to to do it better than I did before. Those biopics were not the films I had in mind to make.
When I first fell in love with film, I fell in love with narrative film but I found my way into documentaries. I'll never forget, I used to complain that I felt pigeonholed when the DoP Bill Butler (The Conversation) told me "to stop complaining. Most people in this industry want to get pigeonholed and they can't."
What's next?
A trans-media collaboration called Generation Food with author Raj Patel which looks at solutions to fixing the broken global food system, and a series called Bridge The Divide that follows the stories of a dozen students, representing different races, grade levels, socio-economic classes and educational tracks within a suburban high school grappling with how to address what is called a "racial achievement gap."