Huge numbers of people are working around the world in the rapidly expanding VFX and computer animation sector. But where is the next generation of specialised talent coming from?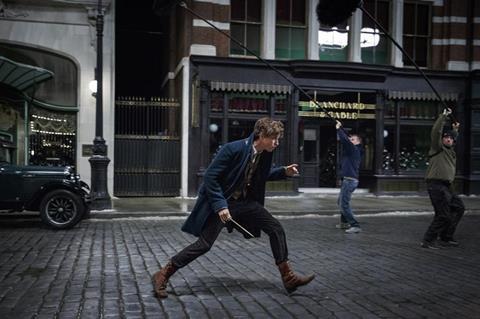 The visual effects industry in the UK and Ireland is booming, with London at the epicentre of this digitally enhanced artistic and technological explosion. The last three Oscars for best visual effects were awarded to London-based houses: Framestore for Gravity (2014), Double Negative for Interstellar (2015), and Double Negative and Milk VFX for Ex Machina (2016).
London also has ILM, Moving Picture Company (MPC), The Mill, Cinesite and other smaller, boutique houses, all of which are working at capacity to deal with the increasing demand. Double Negative employs 840 people in London and 2,000 worldwide, in Vancouver, Mumbai and Singapore, while Framestore has around 1,000 employees worldwide in London, Montreal and Los Angeles.
Between them, these two VFX studios are working onCaptain America: Civil War, Alice Through The Looking Glass, Guardians Of The Galaxy 2, Fantastic Beasts And Where To Find Them and Assassin's Creed.
But such rapid expansion brings its own problems, not least a shortage of skilled VFX artists, the majority of whom are freelancers working on a project-by-project basis. (When ILM opened in London, Framestore, in
particular, lost a wealth of staff lured by the chance to work on Star Wars.)
"The talent pool globally has diminished in that the artists who have experience are all in employment," says Double Negative head of recruitment Ben Owen. "We are very much looking to the future: where we get these
talented, enthusiastic, hungry graduates and what we can do internally to prepare them to go onto productions?"
While all houses will take on self-taught digital artists with no formal training but a dazzling showreel, the bulk of new VFX recruits come from a select group of universities, art and film schools across the UK and Europe. Double Negative and Framestore each take, on average, 100 new graduates every year.
"We think it's important we have new blood entering the business," says Framestore global head of recruitment Amy Smith. "It's how we make sure there's a talent pipeline even though we might be quiet at that particular moment."
"We have long-standing relationships with some of the best schools in the world," says Owen. "We partner with over 25 across Europe. Some of the stronger schools we've been hiring from over a number of years are Bournemouth as well as Gobelins, IDS Rubika, Art FX and ESMA in France [see box, page 40]. We also work with Filmakademie in Germany and Animation Workshop in Denmark. They have been consistently turning out exceptional talent and their openness to adapting the courses to suit the changing needs of the industry has made them a force to be reckoned with.
"In the UK we work with long-standing VFX feeder universities such as Bournemouth, Swansea, the National Film And Television School, Ravensbourne, Teesside," he adds. "We also partner with some of the newer universities, such as Hertfordshire, Portsmouth, Staffordshire. We visit them regularly and focus on building a relationship with the students throughout their studies, and when they come to graduate we align them with our training programme and entry-level roles."
Framestore has key relationships with Teesside, Dundee, Bournemouth, Glamorgan and Hertfordshire, and also partners with Filmakademie, Rubika and Gobelins.
It has even had an office on campus at the Arts University, Bournemouth since 2011.
"They're in an environment that's familiar but they're working on our projects, supported and supervised by our people," says Smith of the office. "Typically someone might spend a year there, then move to London or, equally, to Montreal."
According to Chris Williams, head of department for the National Centre For Computer Animation at Bournemouth University, which offers three undergraduate and three post-grad courses in computer
animation and visual effects, the number of students wanting to study VFX has risen dramatically in recent years, with the ratio of applications to places on the undergraduate courses now about five to one.
"There has been a year-on-year growth that is difficult to handle," he says.
While the educational establishments aren't industry-owned, they do operate in close conjunction with the VFX houses that visit on a regular basis, attend degree shows, provide guest lecturers, host masterclasses and update students on their film projects and software development. In some cases, they set course work and help retool the content of courses to better suit the needs of the industry.
"We have an industry advisory panel who we have a meeting with every year to talk about what the up-and-coming developments are in the industry," says Williams. "What are the things we should be concentrating on going forward; is there anything we've missed? Also, when we do our revalidations, which take place every four to five years, and we review the entire curriculum, we always consult with industry to discuss what we should be doing. [But] it's got to be a two-way process. What we don't expect is industry to dictate to us, because we're not a training course, we're an educator. We have a responsibility to students to ensure they are educated, not just trained how to push a set of buttons."
Smith notes: "We've spent a lot of time over the last 10 years working with universities, trying to ensure the students come out with industry-relevant education, because, ultimately, it is a vocational qualification.
"It's about producing what we like to call a T-shaped student, someone who has an overview of a lot of things but has particular skills in a certain area. One thing that's important is a combination of maths and scripting skills with artistic skills, because what we find is a lot of students come out falling into one of two categories: they're either a mathematician and a computer scientist, or an artist. We need people who are both."
Bridge between industry and education
In Ireland, which boasts four VFX studios — Windmill Lane VFX, Screen Scene VFX, Piranha Bar and Egg Post-Production —many graduates enter the industry via animation courses.
"There are a combination of animation, VFX and motion graphics, but a lot of VFX-specific courses will be emerging in the next 12 months or so," says Screen Training Ireland's Sorcha Loughnane. "We're part of the Irish Film Board, working very closely with industry to try and offer fairly industry-
specific training."
That can involve anything from short software training programmes for VFX artists to traineeship and work-based learning in conjunction with the recently formed Visual Effects Association of Ireland, extablished by the four big VFX companies.
"It's about providing that bridge between industry and education where we can as much as possible be a thread between those two," says Loughnane. "But we're also looking at alternative routes to industry for school leavers who have a high level of digital aptitude, trying to find alternative routes, especially for the more entry-level positions."
In an industry that's as rapidly changing as visual effects, staying up to date with the technology is tricky for the various schools and courses. "It's very hard for universities because their procurement processes are very slow," says Smith. "If a course needed to change the software it's teaching, it could take them three years to push that through."
While sharing and trialling of new software is normal between VFX houses and school and universities, Framestore has even provided the Arts University, Bournemouth, with a new render farm, donating its old machines to the school. "We will do anything we can to help," says Smith.
Graduate internships
Given the explosion of interest in visual effects as a career in the last decade or so, there has been an equally significant increase in courses in the UK, with students able to choose between Masters, three-year degrees or shorter vocational programmes.
"If you do a search on the [official UK university application] UCAS website you'll find hundreds of courses, but some are calling themselves computer animation or computer games or visual effects and not necessarily delivering the goods," insists Williams. "Skillset is a good place to start because there's a list of courses that have been accredited. But also it's worth going to industry and saying: 'Where should I go and study if I want to work for you?' Go and speak to the people who hire."
Smith, for one, feels there are too many courses producing too many graduates for the jobs available.
"I feel it's unfair on those students. [Software firm] Autodesk did a study six or seven years ago where they said there were 3,000 coming out every year in the UK. Where are they all going? Of course some of them are getting jobs in games, in animation, in fields like medical imaging, but I'm sure a lot of them aren't getting related jobs and that is a shame for what is essentially a vocational qualification."
Both Framestore and Double Negative provide graduate internships. Framestore's is an eight-week summer course aimed at students about to start their final year at university. "They get to work on live work," says Smith. "We get them to complete a personal project, because, more often than not, the live work is not something they can straight away put on their demo. If they do a personal project, they have something that demonstrates what they learnt on their internship."
Double Negative's programme runs for 12 weeks and is for new or recent graduates. "They spend a part of that period in a classroom environment, learning how we use the software and the tools to create the images you see onscreen," says Owen. "Following the classroom training, they have on-the-job learning, working on actual shots for film projects, and, by the end, we have an artist ready to go onto a production as a junior."
Starting this September, Framestore and Double Negative will also offer two-year apprenticeships for 16- to 18-year-olds with no formal visual effects experience. Candidates will spend 20% of their time at college; the rest will be on the job.
"Learning through experience, through trial and error," says Smith. "We're prepared to accept those people aren't necessarily going to produce anything show-ready during their apprenticeship. In this first round we'll probably only take five apprentices and see how it goes. We can add more in year two and could put ourselves in a position where we take on 50 each year. Interestingly, 15, 20 years ago, before visual effects degrees existed, it's how most of our staff learnt. Tim Webber [who won the Oscar for Gravity] was effectively an apprentice in the early 1990s."
But the desire to breed the next generation of digital artists doesn't stop there, with representatives from the various houses working in conjunction with Skillset and the NextGen Academy to promote visual effects and computer animation as a career path for secondary students.
"We want to make sure those who have an interest are given the resources to make sure their studies are most relevant to this career," says Owen. "Studying maths and physics is beneficial alongside the more artistic courses and we find being able to answer questions younger students have will enable them to choose whether a university programme or apprenticeship is right for them. We have letters and emails from 12- to 14-year-olds who have seen the work on the big screen and want to be a part of that. In some cases we have been in touch with these potential hires over the course of years, and by keeping in contact with us they can make sure they learn the right skills."
Addressing diversity
The industry, says Smith, is also working hard to tackle diversity in a sector that, like much of the film industry, can be seen as white, male and middle-class.
"If I look at applications versus hires, we're representative from a diversity point of view of the applications we're receiving. The problem is earlier than us," she says. "And that's part of the work we're trying to do with STEM [Education]. Females and ethnic minorities are quite unrepresented and most of the females are in administrative positions as opposed to artistic positions.
"That's something we're trying to address, right back at school age. We're trying to reach out to areas of the population who perhaps may not be aware that this is an option for them and there are careers here. It's also why we're particularly interested in apprenticeships, because that seems a very obvious way to give opportunity to a broader range of people for whom a degree is just not an option."
Top schools for studying vfx and computer animation in Europe
ArtFX
Located in Montpellier, ArtFX is a CG school of higher education training its students in CG art, CG animation and visual effects.
en.artfx.fr
Bournemouth University/Arts University, Bournemouth
The former offers several graduate and post-graduate courses in computer animation and visual effects; the latter a BA (Hons) in visual effects design and production.
www1.bournemouth.ac.uk; aub.ac.uk
ESMA
Based in Montpellier, Toulouse and Nantes, ESMA offers courses in design space, graphic design, photography and 3D animation.
esma-artistique.com
Filmakademie Baden Wurttemburg
Founded in 1991, Filmakademie is one of the most renowned international film schools, with a project-oriented curriculum and an institute of animation, visual effects and digital production.
filmakademie.de/en
Gobelins School Of The Image
This Paris-based school of the visual arts offers degrees in 3D character animation and an MA in character animation and animated film-making.
gobelins-school.com
ISD Rubika (formerly Supinfocom)
Based in Valenciennes and Arles in France, and Pune in India, this institut supérieur de design offers advanced training in digital, 3D animation, video games and computer graphics.
rubika-edu.com
National Film and Television School
Voted the top international film school in 2014, the NFTS offers an "extremely practical" masters in digital effects commencing every January, which includes on-set learning as well as training in 2D and 3D VFX, and CG 3D FX.
nfts.co.uk