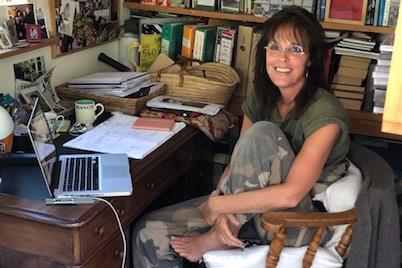 Director Coky Giedroyc is enjoying the UK lockdown. Sort of. She had been expecting to celebrate the theatrical release of How To Build A Girl, a coming-of-age story starring Beanie Feldstein based on the autobiographical novel by Caitlin Moran.
Giedroyc's third feature was meant to open theatrically on May 8 in the US through IFC Films and on July 3 in the UK via Lionsgate.
Instead all the cinemas were forced to close. Lionsgate has yet to confirm a new date for the UK release, while IFC changed up its campaign to release the film digitally and in drive-in theatres sticking to the May 8 date. Giedroyc is thrilled by how well it has been performing.
"In a weird way the pandemic has allowed the film to reach a really wide audience," she says. "Caitlin and I have always said that [VoD] is where the target audience is going to find this film."
The production shutdown has also given Feldstein ample time to promote the hell out of the release. "Her job is on hiatus," Giedroyc explains. "She's been available for six weeks to just chat to the press."
In the UK, Lionsgate is in talks with Amazon Prime to release the film online in the UK in late June.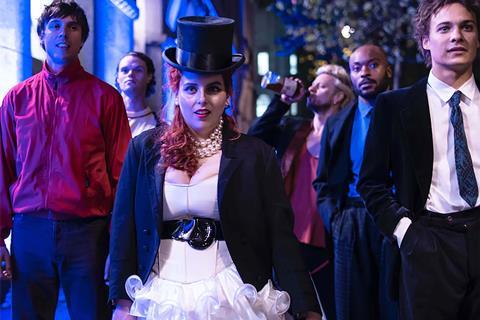 How To Build A Girl is only Giedroyc's third film in what has been a distinguished career in UK TV, most recently Save Me for Sky. She made her debut feature Stella Does Tricks, starring Kelly Macdonald, for what was BFI Production in 1996 followed by romantic comedy Women Talking Dirty starring Helena Bonham Carter for Elton John's Rocket Pictures in 1999.
But following How To Build A Girl, her feature career looks poised to enter its second act. Next up for Giedroyc is one of the hottest UK projects in the works, Greatest Days, a jukebox musical featuring the music of boyband Take That. It will be the debut project from Danny Perkins' Elysian Film Group which is producing and will distribute the film in the UK.
The past few months have given Giedroyc an unexpected opportunity to very closely prep the project in collaboration with writer Tim Firth. Thanks to what the director describes as her strong work ethic, this has helped to keep the lockdown demons at bay.
"I work really, really hard. I bust my gut doing what I do," says Giedroyc of her approach to every job. "When we hit lockdown, I was in early soft prep on Greatest Days. I thought, 'I can go either way here: I can take this as a sabbatical and just disappear, or I can just work at it, even in strange limbo and strange isolation. I don't know what the locations are, the cast isn't secured but I'm going to sit and I'm going to storyboard the whole film.'
"I've certainly had much more time on the script than I would normally have. Just me sitting with it, looking at it and it looking back at me and thinking, 'Where is the film in the middle of all this?'"
Giedroyc and the producers believe the project can be one of the first to start shooting when UK production resumes.
"We have every intention of doing it this year," she says. "The latest discussion is to try and quarantine the whole film. Make the film up north, which is where the film is set. Find a northern town where we can set the film, take over a whole hotel and literally be a sealed-off unit as much as we can be."
The conversations include the possibility of building less complicated sets and shooting as much as possible on location in the open air. "The big alarm bells for me are trying to pull anything off in London," she admits.
But in what will be welcome news for crew looking to start working again, Giedroyc does not believe they can make what is understood to be approximately a £20m [$24.3m] production with a stripped-down crew. "I doubt [that]," she says. "It's a pretty big film this one.
"It's very clear this film will be very, very homegrown," she continues. "With big movies like this, the temptation is to find a big starry American name or an Australian name and it's really overwhelming actually when you're raising the money. But for this film, I can be absolutely, doggedly, UK-based."
Giedroyc is talking to actors during lockdown. With schedules all over the place, Giedroyc is finding the "thorn in my side" are those with series contracts with the likes of HBO and Netflix.
"Things are on hiatus but [actors] are going to have to go back to finish those shows where before we thought they would be free for the summer."
But the filmmaker is not one to panic. "We have to be super-calm and very, very prepped and ready so we are the first out of the gate. And feel confident we can do it and make it and have all of the ambitions in place. We don't want to minimise the film in any way but be very inventive with it."
For instance, the film has some big song-and-dance routines. "Obviously they are going to be really tricky to shoot but I've said there are ways we can scale things down, there are ways we can shoot things in quarantine," she explains. "We've got an incredible choreographer in Drew McOnie. He's the kind of person who will just weave his magic around something if I say to him, 'We can't have 200 dancers, we can only have 50, what shall we do with it?'"
Giedroyc hopes commercial and audience momentum will build behind the kind of feel-good film Greatest Days aims to be. She points to the success of Mamma Mia! which came out just after the end of the last big recession in 2008. "It's a very joyous film," she says of Greatest Days. "And I really love Take That."
The band are involved as executive producers. "It existed as a [stage] musical in a previous life and we've changed it a lot to make it into a movie," says Giedroyc. "They are standing by, ready to write new songs, ready to do press, helping us with all sort of music contacts.
"But it's not a biopic. It's about five girls in a small town in the north of England who are obsessed with the band. They are very close friends. It's about these girls who then become women. And what happens to them along the way. It's really heartwarming, really life-affirming. A bit like How To Build A Girl – it's a nice thing to be working on in lockdown."
Monster plans
Giedroyc has another feature project lined up to go after Greatest Days, a smaller-scale film called Mary's Monster, based on an original screenplay by Deborah Baxtrom about how Mary Shelley wrote Frankenstein. Rose Ganguzza of New York-based Rose Pictures is producing. Ganguzza's credits include Kill Your Darlings and Margin Call.
"It is a very dark and strange reworking of Mary Shelley's story," Giedroyc reveals. "It's not a posh old period drama. It's more in the vein of Twilight, with clothes that come off the Lee [Alexander] McQueen catwalk and music like Nick Cave."
Set in the UK and northern Italy, the production is "holding tight".
When she does get back on set, Giedroyc says her directing style is to gain the trust of her cast and crew and ignite "a conversation".
"The big one is with actors," she says. "All my rehearsal time is about gaining their trust because when I'm on set I want the quietest, calmest set and I want to be able to very simply, very forensically, work on the performance with them in a place that is very calm and collaborative.
"I was talking to my sister Mel, who is a comedian, and the other thing that is really important to me on set is that people have a laugh and enjoy themselves," the director continues. "You can get a hell of a long way with a crew of about 70 people, all standing looking at you, most of whom are male, with a lightness of touch and a sense of humour. I'm going to be firm and clear and have a vision but we're all in this together."
Giedroyc has been spending lockdown at her home in west London with her husband, a set designer, and two of her children, aged 18 and 22. They have established a film club four nights a week in which they watch films together that the younger two have never seen.
"The one absolute hit was The Graduate," she reveals. "They absolutely loved it. The Deer Hunter went down really well and also Kramer Vs Kramer."
Giedroyc describes the unexpected time with her children as a gift of stolen, golden time. "I started the lockdown quite euphoric in a weird way, mixed with existential despair obviously. But the idea of downtime, of being at home, being with my kids, it's amazing in some way. But every now and then I feel a bit heartbroken for them and what world they are going to come into."