With the country's exit from the European Union less than a year away, UK film industry executives consider the potential ramifications on Britain as a robust co-production partner for Europe.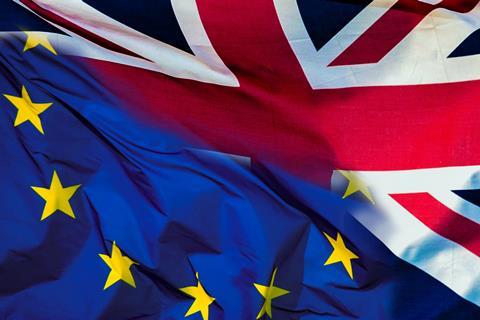 When Munira Mirza, an advisor on arts and philanthropy to the UK government and the former deputy mayor for education and culture of London, was on a panel titled 'The Creative Industries Beyond Brexit' earlier this year, she turned the debate on its head.
While other speakers had been lamenting the obstacles Brexit was likely to put in the way of artists, architects and filmmakers, she took an opposing position. "Brexit is about engaging with the rest of the world," Mirza declared. "It's about being outside the protectionist zone which is the EU."
In the brave new world she portrayed when the UK leaves the EU on March 29, 2019, its departure will open up new opportunities for trade and cultural collaboration with territories such as China, North America, Latin America and India.
David Puttnam, president of the UK's Film Distributors' Association (FDA), was also looking forward in a recent speech: "An increased investment in the production and distribution of creative content with a distinctive British voice could help to deliver a form of national re-branding, renew confidence, and play an important role as we seek to redefine our relationships with the rest of the world." The veteran producer called for trading arrangements post-Brexit to be made "as frictionless as possible… with reciprocal market access for the distribution of UK and EU member states' film and TV productions".
But many UK producers, distributors and sales agents do not share either Mirza's optimism about new opportunities or Puttnam's confidence in 'national re-branding'. Few believe new co-production opportunities are now going to emerge in India, China or anywhere else. "That's a long way off," suggests Rebecca O'Brien of Sixteen Films. "The films we make are not the films those markets are looking for."
Global ideals
"This fantasy of opening up new markets is probably borrowed from other industries where it may work, but film has always been predicated on the idea that if it can be distributed all around the world, then somebody will be working to make sure that does happen," notes Charlie Bloye, chief executive of Film Export UK, the trade association that represents the UK's independent sales companies.
However, when it comes to European co-productions, the Brexit effect is likely to be negligible because so few UK films are made that way now. In 2017, 211 films started principal photography in the UK. Of these, 68 were inward investment films, 130 were locally produced UK features but only 13 of them were international co-productions. They included the English-language High Life, a UK-France-Germany co-production directed by France's Claire Denis, and Cannes Competition title Cold War, a Poland-France-UK co-production, directed by Poland's Pawel Pawlikowski and shot in Polish and French.
The lack of co-production activity isn't necessarily a problem. Inward investment continues to boom and US producers appear confident that neither shooting in the UK nor working in the EU will become any more difficult after Brexit. The US studios, and more recently the streaming giants and HBO, have long based productions in the UK and shot on location around Europe.
"Our speculation is that [Brexit] will not have a massive amount of impact on most of us," says Paul Hanson, CEO of Los Angeles-based Covert Media. The company's feature Ophelia, which premiered at Sundance Film Festival this year, shot in the Czech Republic and did part of its pre-production and all of its post-production work in the UK. The film's producer, production designer and composer were all from the UK, as were many of its actors including Daisy Ridley, Clive Owen and George MacKay. "Talking to producers and other financiers as well as distributors, no-one seems to be panicking," adds Hanson.
In addition to High Life and Cold War, the BFI has backed some prestigious European features, including Sacha Polak's Dirty God and Victor Kossakovsky's documentary Aquarela. However, the BFI's minority co-production fund has only $1.4m (£1m) a year to invest. It tends to support work by well-known European directors who already have international reputations. It will very rarely, if ever, back non-UK first features.
Co-production problems
The days when the UK was highly desirable as a minority co-production partner because of the tax write-offs are long gone. It is no longer possible to do financial-only co-productions in which international partners could access UK tax relief with no creative UK element to the film. UK producers talk darkly of the difficulties they face when they attend co-production events such as Rotterdam's CineMart or the Berlinale Co-Production Market.
"As a minority co-producer, it is a thankless task. It is financially unviable. There is no real co-production money in the UK," says Christine Alderson of Ipso Facto Films of attending co-production events knowing that, beyond the UK tax credit, there is very little UK producers can offer potential partners.
Her sentiments are echoed by veteran producer Simon Perry, president of European producers' network ACE. "It's a perception of Britain by Europe that is really being compounded by Brexit. [That perception] already was very, very negative," Perry suggests. "Most of the producers in our network don't even think about Britain as a possible partner. It is the bottom of the list as a co-producer of choice."
But that is not at all the perspective of Isabel Davis, head of international at the BFI. She points out that the UK film financing system is different to that of its European partners. "We have less public money overall for co-production than our near neighbours in Europe," she notes. "We tend to look at co-productions for their cultural and creative importance. In that regard, we should be seen as sincerely behind it."
Davis argues UK film tax relief is attractive to international producers and films that would previously have qualified as co-productions are being made through the system. "Underneath that data, you have a much richer picture of international engagement where films will have qualified as British under the cultural test but will have brought on European or other partners," she says.
Sales and distribution
The real impact of Brexit on the film industry may be felt by the sales and distribution sector. But if the UK leaves the EU's Creative Europe programme after 2020, UK producers are bound to feel the pain too. "There will be a drop in the acquisition price of British movies if they don't qualify for any [marketing or distribution] support [from Creative Europe]," predicts Bertrand Faivre, founder of London- and Paris-based production company The Bureau, whose recent credits include 45 Years and Lean On Pete.
If UK films are no longer classified as European by Creative Europe, it will mean a reduction in demand from European distributors who also co-finance UK features by putting up minimum guarantees or co-produce UK projects such as The Death Of Stalin (Gaumont) and The Happy Prince (Beta Cinema). These distributors will find it harder to sell the films on to their broadcasters, who have quotas for European films.
Opportunities for UK technicians to work on European co-productions may also decrease as producers looking to pass EU cultural tests will be wary about hiring them. Furthermore, VFX, post-production and animation houses express concern about their ability to continue hiring the best young talent from the EU. Some employers said they are already seeing Brexit clauses in contracts which required them to guarantee non-UK employees legal and financial protection in the case of a so-called 'hard Brexit'.
Although the Creative Industries sector deal unveiled in March revealed the number of Tier 1 (exceptional talent) visas would be doubled, this has only allayed employers' concerns very slightly. The figures were small — visa numbers will go up from 1,000 to 2,000 — and the bar to secure one of these visas is very high. The measure does nothing to address concerns about employing freelancers who make up such an important part of the workforce. The creative industries federation is lobbying for a more flexible 'creative freelance visa' to sit alongside the exceptional talent visa, but the government is yet to respond.
One subject back on the agenda is whether or not the UK should rejoin Eurimages, the Council of Europe's co-production fund, having left in 1995. After more than 20 years out of the organisation, UK producers have mixed feelings about returning. "People have fallen out of the habit of co-producing," argues O'Brien. "What you don't see, you don't know. That's the problem. People are blinkered as to what the options are. Once you've done one co-production, it's easier to do lots. I've continued to co-produce throughout my career. Eurimages would actually make a difference."
Ireland is thriving as an English-speaking Eurimages member with a strong appetite for co-production. Canada is also set to join while the perception grows that the UK — as Perry puts it — is "even more distant, an offshore island drifting towards North America".
Although Mirza's vision of the creative industries striking bold new partnerships beyond the EU post-Brexit seems wildly far-fetched to many UK producers and executives, there is a growing feeling that the relationship between UK producers with their European partners will not be too adversely affected post-Brexit.
"We feel confident the landscape for co-production after Brexit is very stable," says Davis. "We are staying of course within the EU Convention. Our bilateral treaties do not change, our tax credit will remain the same, the cultural test will remain the same. Our films will remain cultural European works."