Copenhagen-based filmmaker Samanou Acheche Sahlstrøm is attending this year's Tallinn Black Nights Film Festival with the world premiere of his latest film Until We Fall.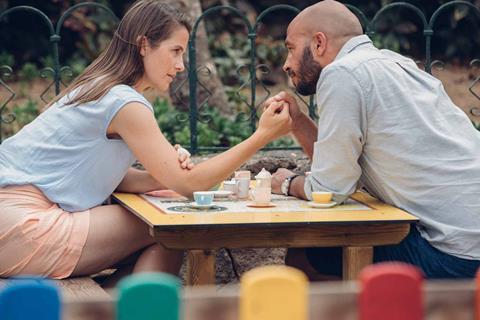 The feature is the director's second after In Your Arms, which premiered at Göteborg Film Festival in 2015.
Set in the Canary Islands, Until We Fall follows a couple who return to their holiday home for the first time since losing their son during a trip some years before, highlighting the complexity of the grieving process.
The film premiered earlier this week and screens in Tallinn again on Sunday (December 2). Screen's review described it as "An impressive, superbly-acted Danish drama".
This is your second feature, what did you learn from your first film?
My debut was well-received at festivals and by critics. That made it easier to get this one financed in Denmark, and it also gave me confidence in myself as a director and screenwriter.
The starting point of my first feature was my fear of death. For my second film, I started to dig into some of my other fears, and one that came naturally was the fear of losing the ones I love - I have two children.
As a father, was it a tough screenplay to write?
I wanted to tell a story about people who are grieving. Grief isn't a logical, three-act, pattern-fulfilling process. I thought that was interesting and I wanted to apply that to the screenplay. But it was hard to research it and to ask myself the questions that I didn't really want to think about.
Why did you shoot in the Canary Islands?
It was a mix of finding the right locations and finding the right economical reason. We used the Islands' tax incentive, which completed our budget alongside funding from the Danish Film Institute, the national broadcast channel DR, and co-production funds from Sweden. My first film was around €700,000 budget, this one is around the €2m mark.
On the locations side, one of my friends had suffered a loss during the summer time. The way she described it, that it was so warm that summer, she had to continue going on doing summery things (eating ice cream, swimming) even though she was in pain. I liked that contrast.
Tell me a bit about your cast.
Dar Salim has had a great career, doing many high-quality TV series in Denmark and big feature films including Tobias Lindholm's A War. Lisa Carlehed was the lead in my first film In Your Arms and I really wanted to work with her again.
How long did you shoot for?
It was six and a half weeks. It was tough, particularly because of the subject matter. And it was tough for me, as a father, to be away from home, but I like shooting and find it fun when I'm surrounded by people I trust.
I like to over-prepare and under-rehearse. We don't do rehearsals and I don't direct the first couple of takes, I try to observe what their initial direction is and then react to that.
You worked at Zentropa for a bit, what was that like?
I'm originally from France and I moved to Denmark in 2001, wanting to make films. After spending a year learning Danish, I got the opportunity to start at Zentropa on their trainee programme. It's either loved or hated because, at the time, you had to work for free for a month – I would have paid to work there so working for free was saving money.
There have been controversial stories coming out of Zentropa about unorthodox working conditions and some more serious allegations – what was it like when you were there?
I witnessed crazy things but everyone has their own definition of what's crazy. I can only speak for myself, but I only had a great experience. It was also a great way to get a deep understanding of the Danish film industry and a very good network. I also met my wife there.
What's it like being a filmmaker in Denmark? Are there good opportunities?
I think so. There's a very good support system and there have been great changes the last five or six years with a lot more debuts getting made. Not long ago, the average years people had to wait to make their debut was much longer than it is now. It's a good place to be, though at the same time, the more people who are making their debuts, the more people you have to share the money with.
Do you want to work anywhere else?
I'm French so I'd really like to work in France, but you can't develop a Danish film and then translate it to French, if I want to make that move I need to start from scratch with a French company.
What's up next for you?
I have a few loose ideas and themes but I will start writing properly in January.