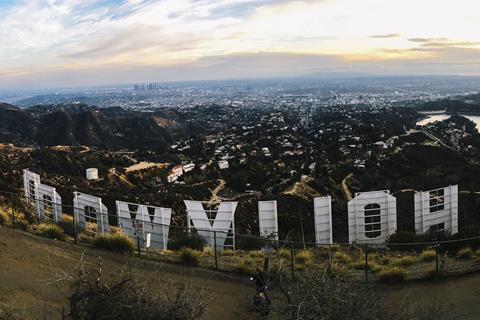 While nobody is expecting anything like the volume of business one would typically see on the Croisette, many market participants broadly agreed there is solid business to be done at the Hollywood-led virtual platform and its counterpart the Marché du Film online next week.
Some have scoffed at the ambition required to replicate, at least in part, the world's largest film market after its physical iteration was cancelled due to the pandemic. Yet US industry executives who spoke to Screen broadly supported the unprecedented forum, where a resourceful community can swap intelligence on how to emerge from a period of unprecedented uncertainty and severe economic hardship.
The lockdown has created an unholy trinity of concerns that loom over the sector, indeed the entire film industry: when does production gets back on track (in the US, a state-by-state approach to protocols is byzantine, and productions are either being tentatively dated for later this year or in 2021); what happens to production insurance (currently no new project can get Covid coverage); and when will cinemas reopen (the three major exhibitors AMC, Cinemark and Regal owner Cineworld have published roadmaps and everybody is hoping Tenet sticks to its July 31 date).
Buyers will be looking for product for late 2021 and 2022, by which time it is hoped things will have returned to some semblance of normality. Hence pre-buy prospects for major commercial projects remain robust, with FilmNation and CAA Media Finance's Will Smith-Antoine Fuqua runaway slave project Emancipation high on many buyers' lists.
STX will show a recorded presentation for Michael Mann's long-gestating Ferrari film, with Hugh Jackman in talks to star.
"You need to invest at this stage if you want to be on board premium material," said AGC Studios' Stuart Ford, whose global team will be selling another hot project – upcoming Pierre Morel action thriller The Blacksmith starring Nick Jonas and Laurence Fishburne.
The same goes for streamers, whose platforms have benefited immensely from the lockdown, and studios. They know as well as anyone that the production halt will put a dent in the pipeline in 2021 and as usual will be scouring the land for material like the aforementioned titles, albeit remotely. Plus ça change.
MGM under new film head Michael De Luca has been on an aggressive buying spree, snapping up Ron Howard's Thai cave rescue drama Thirteen Lives and Ridley Scott's Gucci project with Lady Gaga. It has not been lost on market participants that these are the kinds of projects that ordinarily would have made it to the market.
The lingering question of when people will feel comfortable returning in numbers to cinemas will be top of mind. "Certain companies are going to be very adversely affected by this question," said Arianne Fraser of Highland Film Group, whose sales slate includes Pierce Brosnan thriller Rust. "Do buyers want to put down big MGs for titles that they don't know they'll recoup if no theatres are going to be open?"
Windowing debate
On top of that, the evergreen conversation around windowing has taken on even greater resonance during the lockdown. Universal's very public PVoD experiment with the release of Trolls World Tour – which back in late April parent company NBCUniversal called a success that had generated close to $100m in sales – is one of a number of titles previously scheduled to open theatrically that have gone out via a digital-first launch since mid-March. This will all feed into negotiations about what form a release may take.
"Those kinds of conversations were already happening pre-Covid, and [this has] speeded up that process, that transition from the old to the new," said Cornerstone co-founder Alison Thompson, who will be talking to buyers on the company's first genre feature, the Changeling remake, which is expected to shoot next year.
The pandemic, Thompson said, has inevitably brought things into focus. "As we come out and theatres reopen it looks very likely that windows will change. That will probably help us internationally."
Endeavor Content executive vice-president of international film sales and distribution Alex Walton noted the pandemic had forced international distribution and exhibition to engage in talks about windowing, which had not happened much until now. "There's by no means an outcome yet, but developing that conversation is really important for the evolution of the business," said Walton. "There's going to be some healthy progress as cinemas start to re-emerge, where there's more premium VoD alongside theatrical… there might be more of those models."
Cornerstone sold international rights on Josephine Decker's Sundance psychodrama Shirley and despite the film debuting on Hulu in the US, co-founder Mark Gooder noted, "Some of them still want to follow through with their planned theatrical release in their market."
Yet what has happened in the last three months inevitably feeds into bigger questions. "The value proposition is really the key," said Gooder. "What's the bottom line for this film that I'm going to buy into? What is the bottom line if cinemas come back half-mast and they're not fully up for a year? If I buy it now and it shoots in the first quarter, then maybe I'll be OK."
The economic crisis will have impacted every company in the industry, so will this be reflected in asking prices? "To some extent, yes," noted AGC Studios' Ford. "There's no doubt buyers are entitled to be of a slightly more cautious frame of mind than they would otherwise be given the sort of macroeconomic landscape and uncertainties about when the theatrical business will get back to what we know it to be. So that usually translates to a greater degree of caution on the pricing.
"Having said that, the cost of film production is not going down as a result of Covid, it's going up, and so buyers and sellers alike are going to have to find a way to meet in the middle to join the dots between those two diverging influences."
For their part sellers and buyers would much prefer a live, physical festival and market. Strong word of mouth can galvanise sales. Buyers gather to swap notes with each other and trusted critics after a buzzy premiere or market screening. Buying from a link is nothing new, but it is not ideal and one senior acquisitions executive said that in a virtual environment, the trick will be to make judgement calls in isolation and try to block out aggressive promotional messaging by a film's publicity team.
For Sony Pictures Classics co-head Michael Barker, the virtual market cannot replicate face-to-face interaction with friends and associates but he, Tom Bernard and Dylan Leiner have already engaged in calls with sales companies and discussed promo reels.
"This is about information," said Barker. "The more you can get, the better."
Zoom calls thus far have been "very satisfying", he said, adding there was "real quality from what I have seen" in this year's Cannes official selection, even though a lot of the expected heavyweights are not there this year – Paul Verhoeven's Benedetta and Leos Carax's Annette being two examples.
Insurance concerns
Participants canvassed by Screen differed in their scale of alarm over the state of the insurance landscape. Some acknowledged that without Covid coverage, it was unlikely independent productions would be able to proceed. Others said the matter would eventually resolve itself, possibly through some kind of government intervention along the lines of what industry groups are trying to achieve in the UK, Canada and France.
"It's problematic for the independent films for sure," said UTA Independent Film Group co-head Jim Meenaghan. "Because without the insurance, it's impossible to get the bond. And then that triggers loans, which often require bonds. So it becomes a little bit of a domino effect. But then there are companies that have deeper pockets and they may just self-insure."
Many agreed how talent respond to the idea of working in close proximity with others will be key. When will they agree to have hair and make-up, even when protocols are in place? When will they do a love scene in a room with a dozen crew members? Guidelines on these issues were being worked out by guilds at time of writing.
Despite coverage challenges, the solid number of projects in the agency-led market suggests there will be plenty to discuss in online meeting rooms.
Conducting more business than ever before on a service like Zoom and getting familiar with other technology platforms has given the industry the tools it needs should a second wave, or a new outbreak occur in future. However people were adamant a virtual platform would be additive and not a replacement.
"Should there be another need for a virtual market we're going to be learning a lot," said Jonathan Kier of Sierra/Affinity, who will be talking up Lee Daniels' The United States Vs. Billie Holiday. "Some people are saying this is how all markets are going to be. I don't think that that's the case, but what might be the case is there will be some sort of hybrid where there are certain buyers who can't make it and I engage with them in this way. Three months ago, that wouldn't have even occurred to us."
For AGC Studios' Ford, the technology platforms will serve to accelerate a streamlining of the calendar. "It's very important that we keep two or three physical staging posts a year but as with the television business, which certainly doesn't rely upon MIP to do a significant volume of its deal-making, these things become gathering points, and the serious business of buying and selling becomes a year-round activity heavily, heavily reliant on digital technology, whether that be for screenings, or meetings, or circulating materials or otherwise."
At time of writing, Venice, Toronto, San Sebastian, Telluride and, a little later in the year, New York Film Festival have all made noises about going ahead. Toronto heads are expected to make their first announcement this week and co-heads Cameron Bailey and Joana Vicente have said they are planning a hybrid physical-virtual event. There has been unconfirmed chatter about public screenings of 2020 Cannes Label selections, and outdoor events.
"We are submitting our films that we need to sell and could be in those festivals and we're waiting to hear back, and then should they want to programme them, we'd need to discuss what the options are for screening in these places," said Endeavor Content's Deborah McIntosh.
"There's optimism," said SPC's Barker, "even though there's a question mark as to how much longer this will last."