Writer Jack Thorne and director Tom Harper have reunited once again – this time for the micro-budget political thriller War Book, which received its world premiere at the BFI London Film Festival.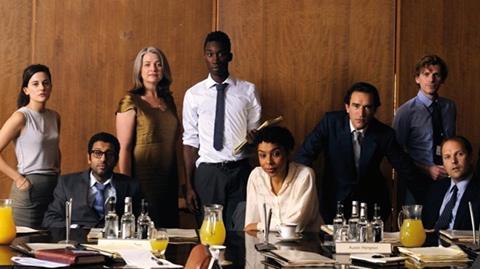 Taking place over three days, the film focuses around nine civil servants who conduct a role-playing act as a precautionary measure in the event of a nuclear war crisis.
Bafta-winning Thorne stumbled upon the idea after hearing historian Peter Hennesey discuss on BBC's Radio 4 the release of the 'War Book' files that details actual exercises performed in the 1960s and 70s.
"I did a degree in politics, and I've been a member of a political party since I was 16, so this form of political dungeons and dragons really interested me," said Thorne.
"The fascinating thing is – these types of activities that potentially map out government policies still happen today, and strangely not many people seem to know about it, nor care about it."
Having previously worked together on Scouting Book For Boys and the Channel 4 television series This Is England, Thorne passed the script on to Harper whose interest was immediate.
"It was just the film I wanted to make: tense, important and keeps you on the edge of your seat," said Harper. "But I also knew this would be a challenge as it's basically a long conversation set in one room."
The sharp, biting script and concise two-week shooting schedule helped bring on board theatre darling Antony Sher, followed by a succession of other heavy hitters including Oscar-winning Sophie Okonedo, Ben Chaplin, Kerry Fox, Nathan Stewart-Jarrett, Shaun Evans, Phoebe Fox, Nicholas Burns and Adeel Akhtar.
Financing was pulled together in the same steadfast manner. The two re-connected with Scouting Book For Boys executive producer Ivana MacKinnon, who then introduced them to producer, and coincidentally advocate of Campaign for Nuclear Disarmament (CND), Lauren Dark.
The luck continued when Dark passed the script on to UK-based production company Archer's Mark who agreed to back the film within 24 hours of reading the script.
K5 International and Sixteen Films subsequently became involved.
"Since people were responding so well to the script, we decided to set an immoveable production date. And surprisingly, we were able to secure an incredibly strong cast and production team very quickly," said Harper.
The 95-minute film was shot at local council centre Brent Town Hall, doubling as UK's Civil Service sector referred to as Whitehall, where the nine actors took on the roles of prominent government figureheads, working out how elements like military intervention and healthcare would play into a large-scale nuclear crisis.
"Some people said we should do this as an actual event that occurs, but I wanted to tell a story whereby power overtakes individuals in the room rather than catering to external panic, riots and all sorts of dramatic elements," said Thorne.
"They (the civil servants) become engaged in the responsibility of what is the appropriate response, and that is something anybody can relate to, whether it be the Ebola outbreak or the Russia and Ukraine conflict," he adds.
Harper enhanced the film's tension with fast-paced, intimate camera set-ups, particularly as the characters' emotions build in the final two days.
"We had one week's rehearsals where we attempted to map out each camera angle in efforts to bring versatility to the shot list, but the dialogue plays out so quickly, the two cameras we were using had to often be very spontaneous," said Harper.
Referencing courtroom classics Twelve Angry Men and Glengarry Glen Ross, the two also worked closely in developing each characters' back stories, helping to build affectivity and further the underlying sub-plot that drives the tension from the start to the finish.
"I don't want this to be a film with a political message. I just want to pose a question- why do countries have nuclear weapons, and what do we intend to do with them?" explained Thorne.
Thorne has completed work on television crime drama series Glue for E4, and is next working on six-parter The Last Panthers based on a group of Balkan jewel thieves, starring Samantha Morton, John Hurt and Tahar Rahim.
Harper wrapped on The Woman in Black: Angel of Death and will next head to Russia to direct BBC's adaptation of Tolstoy's War and Peace.
International sales on War Book are handled by K5 International, with all territories currently available.