Ahead of the world premiere in Edinburgh of We Are Monster, writer and star Leeshon Alexander talked to Screen about bringing a harrowing true story back into the public eye.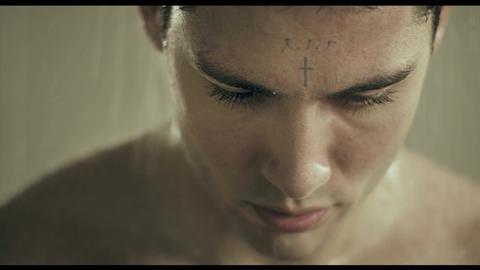 In February 2000, violent racist Robert Stewart was placed in a cell at Feltham Young Offenders Institute with Zahid Mubarek, an Asian teenager convicted of petty theft. Hours before Mubarek's release, he was bludgeoned to death by Stewart.
It is a case that has largely been forgotten since 2006, when a public inquiry found the murder could have been prevented and named 14 prison officers – none of whom received disciplinary action.
Antony Petrou's We Are Monster, which receives its world premiere at the Edinburgh International Film Festival tonight (June 20) and is nominated for the Michael Powell Award, is an attempt to bring the harrowing case back into the public consciousness and delivers a stylish, gripping prison drama that delves into the fractured mind of a killer.
The 'monster' of the title is played by Leeshon Alexander, who also wrote the script and co-produced the film through his company Terra Rossa Films Entertainment with Petrou's 11littlefilms, Noel Clarke's Unstoppable Entertainment and Immortal Transmedia.
Meeting Screen at 11littlefilms's office in Soho, Alexander looks nothing like the pale, slight youngster seen in the film. Dark-skinned and well-built, it is clear the actor underwent a physical transformation for the role.
"I was scrubbing my skin with exfoliator for six weeks before the shoot," he says. "I cut and dyed my hair, wore blue contact lenses, lost weight and waxed my arm and chest hair. Also, I'm a Surrey boy from a grammar school so I needed to practice the Manchester accent."
Meticulous research
This dedication was mirrored by Alexander's meticulous research of the case, which was initially brought to him by his father, a political researcher.
"I was 16 when it happened and remembered it immediately, as I grew up near Feltham and it was a huge story in the area," recalls the actor, who studied business and accounting at Liverpool University before returning to acting after a year at London's ALRA Drama school.
"I was drawn into the case immediately and four months of pure research took over my life, reading psychological profiles and reports. But I didn't want to tell a straightforward prison drama."
Alexander began discussing the script with Petrou, whom he befriended after working with the director on a short and later starred in his 2012 thriller Senet.
"Tony is a fantastic artistic director and we discussed making something that would be simple and quiet but with beautiful, cinematic moments, which he has a great eye for."
Alexander also came up with the idea of an alter-ego – "a dominating, powerful figure that was a bit more charming" – that would be present throughout the drama, goading on Stewart.
The actor wrote the script in six weeks over the summer of 2012, knowing that Petrou's approach of a "slower, more European-style" of filmmaking would take the 72-page screenplay up to an 85-minute movie.
A teaser reel from the short Petrou filmed with Alexander was shown to potential producers and sparked the interest of Dean O'Toole, unit production manager on Kick-Ass, who came on board with his company Immortal Transmedia and fellow producer Jean Pierre Magro.
Shooting
Filming began on June 5, 2013 and ran for 18 days, shooting at the former Royal Hospital Haslar in Gosport and on sets built at Twickenham Studios.
The cast included Gethin Anthony, best known for his role as Renly Baratheon in Game of Thrones, and Aymen Hamdouchi who plays the tragic Mubarek.
Hamdouchi, best known for his intimidating role in urban drama My Brother the Devil, is almost unrecognisable as the vulnerable cellmate of Stewart.
"I don't think he'd mind me saying that he's a streetwise character and understands the troubles of some of these kids," says Alexander.
The director kept the two actors apart until their first scene together in the film. "The first time [Hamdouchi] sees me, I stroll in with a tattoo on my head, scowling at him," Alexander recalls. "I think it worked. It was unsettling. We didn't speak for the first day."
Once that tense relationship had been established, the actor gained permission from the director to introduce himself. "Tony told Hyman that 'Leesh actually wants to say hello now.' We met, I gave him a hug and we got on really well after that. But having established that tension, we were able to switch it back on when we needed to."
The script is packed with racist language but this was deemed necessary to maintain a realistic approach. "I find it just as offensive and feel deeply uncomfortable saying those things," says Alexander, "but if you don't say it, you're doing a disservice to anyone who has suffered racist abuse because they'd have cause to say 'That's not what I hear on the street'."
Inevitably, the murder presented one of the toughest scenes for the actor. "The striking went on for around five hours, from different angles, so was physically tough," he says. "But knowing I'm killing the guy in the way he really did it reminded me this wasn't some game. It was a strange day, re-enacting the murder of a young kid that really happened."
Unstoppable
Producers Noel Clarke, Jason Maza and Phil Dore boarded the project through their company Unstoppable Entertainment.
"They have been phenomenal for us, Noel especially, because we needed people who could help put this out there with passion," says Alexander.
"I've never met anyone who works harder. Noel's the hardest working guy in the industry and, without him, most people wouldn't be hearing about the film."
With the film set to premiere at Edinburgh, Alexander is now hoping to see the feature travel to other festivals and is beginning conversations with distributors.
Justice
The film ends with a call for justice. But what would that be? "Justice would be a comprehensive reform of the prison service and the way young offenders are dealt with," says Alexander.
"You're not going to bring Zahid Mubarek back. But what if we could see reform so this doesn't happen again.
"If this film can wake a few people up and realise there needs to be change, maybe it can help. Sometimes you have to use every avenue you can to try and make a difference and film just happens to be a great medium for that. If our film does that in some small way, it would be good."
We Are Monster received its world premiere at the Edinburgh International Film Festival on June 20.