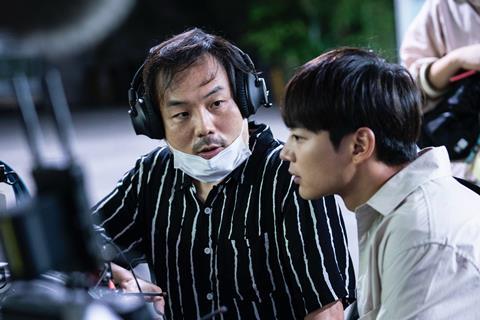 Korean filmmaker Jung Bum-shik found himself at a loose end in the middle of the pandemic.
The writer-director of renowned horror features Epitaph and Gonjiam: Haunted Asylum decided to get behind a camera and quickly shot New Normal, a film he calls "a suspense drama and comedy" in several chapters. It reflects on loneliness and the "new normal" of eating alone while depicting the fears and unexpected risks that are hidden in everyday life and common spaces.
He assembled a cast that includes Choi Ji-woo of Crash Landing On You, Squid Game star Lee Yoomi, Choi Min-ho - also known as Minho from K-pop group Shinee, Pyo Ji-hoon - also known as rapper P.O, Jung Dong-won and Ha Da-in. The film is set to receive its world premiere as the closing film of the 26th Bucheon International Fantastic Film Festival (Bifan) on Sunday (July 17).
How did New Normal come about?
I was working on a big project with a major investment company around the time the coronavirus pandemic started. We had the cast and crew in place but a lot of overseas location shoots when we couldn't travel overseas at all. It seemed ridiculous to just wait it out when there was no end in sight so we decided to take one of the scripts we had at Unpa Studio to shoot a smaller film more quickly with this crew while we were waiting.
My debut feature, Epitaph, was a film that dealt with weird incidents that happened over four days in Seoul, 1942 during our country's period of suffering [the Japanese occupation of Korea]. After making New Normal, I realised the film dealt with creepy and absurd incidents happening over four days in Seoul, 2022 – exactly 80 years after the period setting of Epitaph – in a period of suffering for all humankind in the present pandemic era.
Did you see further similarities between the two films?
When I was making Epitaph, the main emotion I was going for was 'loneliness' and I was trying to express sympathy for these characters who lived through that past era of violent upheaval. A lot of people talked about the line that the now-deceased actress Kim Bo-kyung said in the film, "How lonely," and empathised with it.
At some point, eating alone has become natural, where we're all holding a smartphone in one hand and feeling lonely and exhausted, but with the pandemic, this became even more serious because we couldn't even go out. We talk about the "new normal" as a phenomenon, but I think people's hearts and minds have also been changing because of it.
People are eating alone, unable to have exchanges, lonely and desolate - and whether in the case of a perpetrator or a victim, it's the same - so wouldn't things happen in the world because of this? This is what I was trying to capture in this film.
What was the production like?
We got a lot of stars but had to match their schedules so ended up with only a month to prep before shooting for a month and a half from July 2021, with one pandemic shutdown. I didn't want to shoot on sets because of concerns about reality and budget. We found places in Seoul and its environs, and they turned out looking rough but with some gems of scenes that we shot there.
The chapter we shot with P.O was a small empty apartment in Hannam-dong with no air conditioning. Dozens of crew in there in the middle of August heat waves – we were all just drenched in sweat. We had to keep sending P.O to the car in between scenes to cool off in air con so his clothes wouldn't be wet. About 10 of us were in the smallest room in front of the monitor. It was about the size of this [indicating a space the size of a king-size bed] and we all had to wear masks. By the end of the shoot, I'd lost about 7kg.
The editing room is right next door to my office, so I stayed here for seven months and polished the film quite a lot compared to others.
Tell us how you became a sought-after horror director.
I became a director after being a cinephile. I make horror films and thankfully, people find them scary, but I'm not necessarily a horror fan. I really like 50s and 60s Japanese and European films, arthouse films.
Films are visual language so depending on how you make your cuts and edit them together and design the sound, you should be grasping and letting go of your viewers' psychology. I think that is the same whether it's for horror, suspense thrillers or comedies.
What I caught on to as interesting was that for mainstream commercial films, investment companies interfere a lot, but with horror, if you have scary parts in the right places, they wouldn't say anything if you did anything else. So when I was making Epitaph, I was also set on putting in aesthetic, art film elements that I liked. The assessment was quite good, with people saying they realised a horror film could be sad and beautiful at the same time.
But in Korea, if a film does well, you just keep getting that genre of film proposed to you and especially if you find some success with horror, because not many work in this genre.
I wouldn't necessarily call New Normal a horror film. It's more a suspense drama and comedy. And every time we do another film like this, we will label it as one of the "Unpa Suspense Collection". New Normal is the first in this collection.