Currently one of the most active distributors of Asian movies in the North America market, Well Go USA Entertainment distributes action, genre and US indie films across all platforms, including theatrical, DVD and VOD.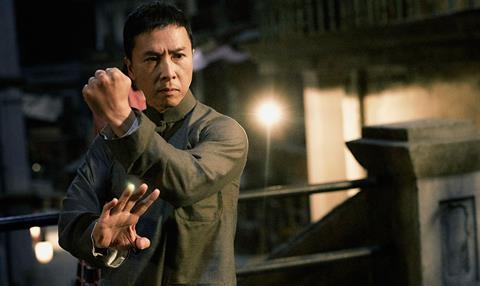 Recent releases include martial arts biopic Ip Man 3, starring Donnie Yen and Mike Tyson, which grossed a healthy $2.7m from 115 screens earlier this year. At Filmart in Hong Kong last month, the company swooped on Benny Chan's historical action title Call Of Heroes and 3D martial arts epic Sword Master, produced by Tsui Hark and directed by Derek Yee.
A family-owned business, Well Go started out distributing karaoke videos and other home entertainment content in the 1990s in Plano, Texas, where the company's headquarters are still based today. It quickly expanded into Asian action and genre movies, supplying an avid 'fanboy' audience in North America, and in recent years has started to acquire other kinds of Asian films, including Hou Hsiao-hsien's The Assassin, and US independent titles.
Recent non-Asian acquisitions include Owen Harris' Toronto title Kill Your Friends and Jamie M. Dagg's River.
While the company has an output deal with Netflix, it still has a healthy business selling physical DVDs via retail chains to North America's fanboy collectors.
President and CEO Doris Pfardrescher explains how the company taps niche audiences for Asian product in North America and is also expanding through multi-territory acquisitions and production.
Q: How many films do you release theatrically each year?
A: We do around one title a month theatrically, which could be Chinese, Korean or other Asian and we also do around three US independent films a year. We usually pick up films that work across all platforms. If you have a romantic comedy from China, you can get box office if you release it day-and-date with China, otherwise the only market is home entertainment. We want films that we can release day-and-date to get theatrical box office, then get them into Walmart and distribute on VOD.
Q: Do you work with certain cinema chains?
A: AMC has been really supportive of our films as its backed by Wanda and they really want Chinese films to support the Chinese market. For the most part, all cinemas are open to Asian films as long as it's a traditional theatrical release moving to VOD after 90 days. It's much harder if you're going day-and-date with VOD. That's when cinemas start requiring you to pay four-wall fees.
Q: Who is the audience for Asian films in North America?
A: If you're talking about the martial arts films, then its white males aged 15-45 and the gamers, who are downloading and renting from Xbox or Sony Playstation. Also the African American and Hispanic communities love martial arts films. Donnie Yen is a big name for all these groups. Costume 'wuxia' films work as well, but everyone is watching and waiting for the big fight scene. The fanboys are really looking for the action choreography.
We put Ip Man 3 in over 100 screens across the US, pretty much day-and-date with Hong Kong, and saw about 35-40% Asian audiences, 20% Caucasian fanboy, 10% African American community and 10% Hispanic community. That's really rare for a film to work across all groups, but it's a franchise, its Donnie Yen and Mike Tyson, and it was able to work with every community it was supposed to target. The per screen average was really great.
Q: Do Asian audiences usually turn out for the martial arts movies?
A: Previously China was making a lot of romcoms, dramas and comedies, which were performing really well in China, and that's what the Asian audience would go and see. We did a couple of those, like Lost In Hong Kong and Mojin, which did really well, but they don't bring in the fanboy audience, and the Asian audience wasn't really showing up for the martial arts films.
We were kind of baffled by it; you see a film like Kung Fu Killer, where the action is just so good, and in Asia it doesn't do as well as a comedy like Lost In Hong Kong. But we think it's starting to pick up with Ip Man 3 working across all the groups, as well as in China and Southeast Asian territories. Production values are going up, and while the romcoms are still going to work, perhaps younger Asian audiences are ready for something different.
Q: How do you work with SVOD platforms?
A: The majority of our films go exclusively to Netflix in what would be considered a first pay-TV or SVOD window. If we have international rights, SVOD typically starts simultaneously across the globe, as with films like Ip Man 3, Kung Fu Killer and Iceman. We've also recently launched our own SVOD channel called Hi-YAH!, where we're streaming Asian action catalogue content from Well Go and other content providers.
Q: Do you often acquire international rights outside of the North America market?
Our goal is to be a global distributor and we're aggressively pursuing films that work both at home and internationally. We're building partnerships around the world that will allow us to fully exploit all rights, not just SVOD or TVOD, internationally.
Ip Man 3 for example, aside from North America, we acquired a number of European territories, Australia as well as Latin America. We will work with a specific global platform for SVOD and also work directly with various global TVOD platforms. We also have established partnerships in these territories, which allow us to simultaneously release theatrically and on home video around the world.
By controlling the windows we're able to build a global buzz for these films while controlling piracy. To execute properly you have to be able to stomach a ton of moving parts and recognise the process of day-and-date global releases is by no means an exact science, but the vision is sound and we'll continue moving toward our goal.
Q: Last year you co-financed Luis Prieto's Kidnap, starring Halle Berry. Are you planning to do more production investment?
A: For us, it's about owning the IP and dipping our toe into the production side. Obviously we want to continue to be the leaders in Asian cinema – and think there'll always be a market for that – but we want to expand and not everything that China or Asia produces is going to work overseas.
Q: How did a full-on arthouse film like The Assassin work in North America?
A: That was a fun one because we released it on close to the number of Ip Man 3 screens and it did around $650,000 in box office. We targeted the arthouse crowd, and didn't really target the Asian audience – and we certainly didn't target the fanboys because we didn't want them to be disappointed. It's a beautiful arthouse film that won best director in Cannes – so we really pushed that angle. Its just been released on DVD and VOD and done really well.