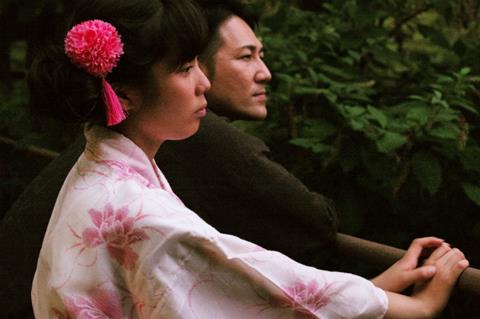 When legendary German filmmaker Werner Herzog attended Cannes with Fizcarraldo in the early 1980s, his temperamental lead actor Klaus Kinski had a meltdown and hurled all his toys out of the pram.
"He [Kinski] didn't turn up at the screening because he wanted to be driven in a Rolls Royce to the very steps of the red carpet," recalls Herzog. "We were told cars do not drive on the red carpet and he threw a tantrum and wouldn't turn up."
Herzog is back in Cannes this year with his new feature, Japanese feature Family Romance, LLC (sold by Film Constellation and which receives a special screening). He isn't expecting any commotion on or off the red carpet this time round.
In the film, a man is hired to impersonate the missing father of a 12-year-old girl. The project started with producer Roc Morin at Skellig Rock who, as Herzog puts it, "had some experience with a phenomenon nobody knew about in the west, that family relationships, friendships and all sorts of [family] replacements can be rented. In a way, it points to something in society that we feel and know is coming with all this existential solitude. It's not an exotic phenomenon. It is something we know that is coming at us inevitably."
What's remarkable about Family Romance, quite apart from the fact the German director shot it entirely in Japanese using "intelligent translators", is that this is one of three new Herzog features that have premiered in a matter of months.
The other two were documentaries: Meeting Gorbachev, which he co-directed with Andre Singer; and Nomad: In The Footsteps Of Bruce Chatwin, which screened at Tribeca. Herzog knew Chatwin (who died in 1989) and adapted his book The Viceroy Of Ouidah as Cobra Verde.
"I didn't even attend my own world premiere because I was scrambling to get French subtitles for Family Romance," Herzog admits. "I had to do a trailer and a press kit and a poster and photos."
To his surprise, Herzog found that he got on famously with ex-Soviet leader, Mikhail Gorbachev. "One has to understand that Gorbachev, when we did the conversations, was 87," he says. "He is 88 now and not in good health. He is doing good battle against all sorts of diseases. It was made clear by his entourage that there would be no more meetings with media ever [after the interviews]. We had an I instant rapport and liking for each other."
Quite apart from being the hardest working director in film, Herzog has a burgeoning career as a character actor, playing roles in films like Jack Reacher and Julien Donkey-Boy.
"It does me good to step out from behind the camera and work as an actor once in a whole," he reflects. "My scope is fairly limited. I couldn't play a role in a romantic comedy for example. I am always fairly good as a villain, like in Jack Reacher, or when it comes to hostile, dysfunctional father roles like in Julien Donkey-Boy. Recently, I've been in the Mandalorian series."
What role does he play in The Mandalorian, the Star Wars series that will launch on Disney + later this year? "I don't even know the name of the role but hopefully I am still in it. You never know if you end up in the garbage can in the editing."