For her role as newly sentient android Maeve in HBO's Westworld, Thandie Newton drew heavily on her humanitarian activism and passion for anthropology.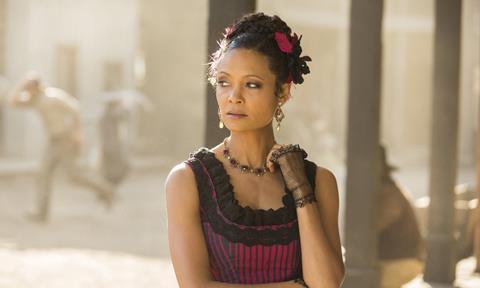 British actress Thandie Newton had a few reservations when she was first approached about HBO's lavish $100m adaptation of Michael Crichton's 1973 science-fiction film Westworld, set in a technologically advanced Wild West theme park populated by robotic hosts so perfect they could almost pass for human.
Newton had been offered the role of newly sentient android Maeve, a saloon madam who spends quite a bit of her screen time naked. "I'm known for fighting violence against women and for the human-rights work I do," she says. "So it [the role] just seemed so contrary to most of what I put my energies into in my life."
Her initial concerns were, however, put at ease when she had a Skype conversation with Jonathan Nolan and Lisa Joy, Westworld's creators and executive producers. The pair explained they would subvert this traditional depiction of female characters to make a point about violence against women. "I was in up to my chin," Newton jokes. "I just couldn't wait to get onto the set."
Indeed, Newton found the character of Maeve actually dovetailed with her unpaid job as a humanitarian. "[In previous roles] I didn't feel I was advancing my life as a human-rights activist in any way," she says. "I would go to work and simply do the best I could. With Westworld, I felt like I was tackling those very issues. I've been affected by violence against women, and it felt like there was an amazing catharsis that went with saying a lot of the dialogue playing Maeve."
Renaissance woman
With Maeve, as with all her roles, Newton drew on her study of anthropology at Cambridge University, which she views as "the best training for an actor you can get. Because you're studying humanity, you're studying how people work. What better way to study as an actor? I feel entitled to play anyone from any corner of the globe because I have attempted to step in their shoes. As an anthropologist, it's part of what you do. You immerse yourself in another culture."
As a youngster growing up in Cornwall in the south west corner of England, Newton says she used dance to escape her non-progressive surroundings. She was awarded two scholarships that took her to Tring Park School for the Performing Arts just outside London, where she was the only black student.
An audition while there led to her first film role in 1991's Flirting, alongside Nicole Kidman, Noah Taylor and Naomi Watts, and she has since appeared in a raft of diverse big and small-screen projects, including Gridlock'd, Beloved, Mission: Impossible 2, Crash and ER. She describes 1998's Beloved, based on the Pulitzer prize-winning novel by Toni Morrison and directed by the late Jonathan Demme, as a particular life-changing experience. "[Jonathan] just got the best out of people," she says. "And he got the best out of me. He was a legend."
Newton says of her choice of roles: "I'm always looking to challenge myself. I don't mean physically; I'll never do stunts unless I have to. But emotionally and psychologically, I love to push it. And I love research. I love to try to step into the shoes of a person that maybe I would dismiss or oppose. I feel our effort needs to be in trying to understand the people that make us crazy."
As part of her preparation for playing Maeve, Newton tried to think of the most bizarre accent that a woman of colour could have in the Westworld environment. In essence, she wanted something that was memorable.
"I thought a haughty, aristocratic English accent would be the best because it's absolutely not expected that a woman of colour would speak like that. I also feel if I have any tendency toward prejudice it would be toward people who speak like that," she jokes. "I wanted to challenge my prejudice by using that accent to play Maeve."
Newton is busier than ever, with her role in Westworld, for which she garnered a supporting actress Golden Globe nomination, her recent turn as senior investigator Roz Huntley in hit BBC drama Line Of Duty, and a role in the upcoming untitled Han Solo Star Wars film.
"I'm more surprised than anybody that, as a woman of colour [at age] 44, I'm having a resurgence in my career," she observes. "It just seems bizarre. I keep waiting for somebody to come in and say, 'Um, Thandie, you're actually not supposed to be here at all!' So, I'm enjoying every moment."
Her role in the fourth season of Line Of Duty, for which she received rave reviews, came at the recommendation of her agent. "My UK agent called me and said, 'Thandie, if ever you want to work in British TV, this has got to be it. It's the best thing on TV and it has been since it started.'" The series had already been on air for three seasons, and Newton was "absolutely blown away by it". After a conversation with series creator Jed Mercurio, she was well and truly on board.
Although she forged her career in the film world, Newton has a fondness for the long form of television. "You really get to excavate a story," she says. "You get to explore a character if you're lucky enough to have a character that runs the whole season."
That slow-burn approach certainly worked for Westworld, which boasts an all-star cast including Evan Rachel Wood, Anthony Hopkins, James Marsden, Ed Harris, Jeffrey Wright and Ben Barnes. The first season averaged 12 million viewers across all platforms in the US, and ranked as the most-watched first season of an HBO original series ever. Its first episode broke audience records for UK broadcaster Sky Atlantic, with 1.84 million viewers watching the show over the week following its October 4, 2016 UK debut. It is no surprise HBO has renewed the show for a second season, which is scheduled to run in 2018, with Newton returning as Maeve.
"I'm not a snob when it comes to doing TV or film," the actress says. "I've been around so long that I've seen television go from being something that a film actor shouldn't do to being something that every film actor wants to do. There's no formula, you just do what your heart really pumps over."