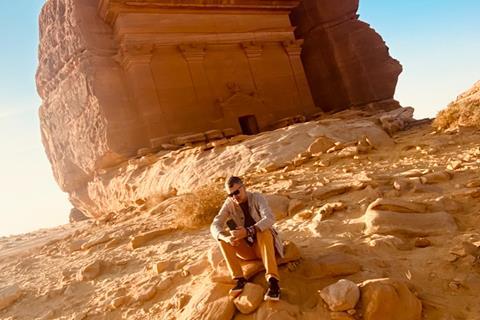 If you build it, will they come? Saudi Arabia is investing heavily in creating a world-class locations hub. But what is the reality of shooting in this vast country of which little is still known?
Less than four years after it lifted its ban on cinemas, Saudi Arabia's aim of becoming the Middle East's foremost filming location seems to be bearing fruit with two major Hollywood movies shooting in the country. The cameras have just started rolling on Thunder Road's Kandahar starring Gerard Butler while Desert Warrior, starring Anthony Mackie and Aiysha Hart, has been shooting since September.
They are following in the footsteps of the Russo brothers drama Cherry, starring Tom Holland, which shot second unit in Saudi Arabia just before the pandemic hit, and the mostly Arabic-language horror Cello, an international production directed by Darren Lynn Bousman, known for making Saw II-IV.
Fully financed by Saudi company Rozam Media, Cello stars Tobin Bell, Jeremy Irons, Samer Ismail and Elham Ali and was produced by US-based Lee Nelson of Envision Media Arts, who worked with Bousman on Death Of Me which was shot in Thailand.
The film's shoot lasted 39 days – 12 in Prague, doubling for Italy, and the remaining 26 in Saudi Arabia, split between the AlUla region and the capital Riyadh.
"It was a very international production," says Nelson. "Darren and I are based in Los Angeles. The DP came from Italy. And we had a gaffer and a key grip the DP liked that came from Italy. The line producer we found in Lebanon. The script supervisor was Tunisian. The actors were a mix of Syrian and Saudi with some from Prague. We had crew from Dubai."
It was executive produced by David Tish of Envision with Sultan Al Muheisen and Niko Ruokosuo of Alamiya, a leading Saudi media and advertising company based in Riyadh beginning to move into international film production.
"Alamiya was the key support in Saudi," says Nelson. "They do huge live events, but this was their first feature film."
Cello is part of the wave of regional and international productions choosing to shoot in Saudi and the filmmakers' experience is a boost to the country's efforts to move away from its controversial past towards becoming a more progressive and inclusive society.
"We had a really good experience," says Nelson. "The country isn't what you think of it in the press. We made the movie we wanted to make with nobody behind us going, 'Sorry guys, you've got to do it like this'. Our line producer was female. Our head of wardrobe was female and Saudi-based. Darren didn't bring any shorts because he thought you weren't supposed to wear shorts out in public. But no – our crew were all in shorts and girls were in tank tops. From that standpoint, it felt very much like anywhere else in the world. I would go back."
Varied locations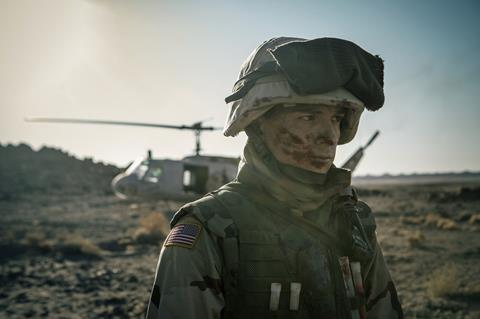 With a crew numbering between 400-500, Desert Warrior is by far the biggest film to shoot in Saudi to date. The seventh-century-set epic is produced by MBC Studios, the production arm of MBC Group — the largest media company in the Middle East and North Africa (MENA) — in partnership with US-based JB Pictures and AGC Studios.
Directed by Rupert Wyatt, whose credits include Rise Of The Planet Of The Apes, Desert Warrior is filming for three months on location in northwest Saudi Arabia and is the first feature to be based out of Neom, a futuristic development being built as part of the Kingdom's Vision 2030 project. The venture has ambitions to create an entire carbon-free region.
Neom's technologically integrated media hub is still under construction (it is due to be finished by mid-2023) but aims to provide everything from production facilities to soundstages for regional and international productions.
"We've got the benefit of a lot of never-seen-before, never- used-before locations," says Wayne Borg, Neom's managing director of media, entertainment, culture and fashion.
"Within that diversity of locations, we've got close to 500 kilometres of coastline, incredibly diverse and rich marine areas, and stunning coastline. We've got dramatic and majestic mountain ranges that elevate to 2,500 metres and we get snow up here in the winter."
Borg also addresses how Neom will be progressive, inclusive and diverse, and how change is reflected throughout the region. "There's a stereotypical view," adds Borg. "But having lived here for the last two-and-a-half years, the evolution, change and reform – even in that time – is tremendous."
Four hundred kilometres to the south is the AlUla region, where both Cherry and Cello chose to shoot. Covering more than 22,500 square kilometres, AlUla is home to the ancient city of Hegra, built by the Nabateans 2,000 years ago. The Unesco World Heritage site was their second city after Petra – now one of neighbouring Jordan's most popular tourist and filming destinations – and features a multitude of monumental tombs carved in red sandstone. Like Neom, AlUla also contains little photographed deserts, mountains and oases.
UK-born Stephen Strachan, who heads Film AlUla which is part of the county's Royal Commission, waxes lyrical about the abundance of locations available.
"You can open the door, and within 20-30 minutes you're in beautiful desert space," says Strachan. "There's not much driving time to get into beautiful, unique, virgin territory. We don't have five-star hotels dotted around our landscapes. We have areas that have been almost abandoned through history, since the Nabataeans moved out.
"We also have a variety of landscapes. From golden Lawrence Of Arabia-like desert to, 10 minutes down the road, a stony, grey desert, more like Afghanistan. And then we have the black basalt desert, which is yellow sand, but covered with a layer of basalt from the volcanic eruption a million years ago, to the more red, almost Moroccan hillscapes you see in so many films."
Cherry was one of the first US productions to shoot in AlUla in early 2020, directed by Anthony and Joe Russo for Apple TV before the country closed its borders because of the pandemic.
"We worked with a Saudi company, Nebras Films," says Strachan. "It was a good step forward, showing what we could do as a country."
Kandahar, an action thriller set in Afghanistan is now shooting in AlUla. Directed by Ric Roman Waugh, who most recently made Greenland, Kandahar is being produced by Thunder Road Films' Basil Iwanyk and Erica Lee, G-Base's Alan Siegel and Butler, and Christian Mercuri of Capstone, which is co-financing alongside Saudi-owned MBC. Principal photography started on November 29 and will last for three months.
Unlike Neom, AlUla doesn't offer anything in the way of filmmaking facilities, but according to Strachan that will change. "For Kandahar, we converted one warehouse, an old date factory, into a mini stage. We're trying to use what we've got up here at the moment and start building some more infrastructure in the next year."
Elsewhere in Saudi, the port city of Jeddah and its historical centre, as well as the Red Sea coastline, are becoming increasingly popular filming destinations. Jeddah recently hosted Champions, an Arab remake of the 2018 Spanish hit Campeones from Oscar-winning producer Andres Vicente Gomez and directed by Manuel Calvo, with the backing of Saudi company Al Maha Al Arab.
"Everyone thinks you're starting from ground zero [in terms of filmmaking] in Saudi, whereas you're not," says Strachan. "There's already a buoyant commercials industry. We have at least four or five companies who have been around for more than 10 years, filming commercials, documentaries, and TV.
"We have got some trained crew, although not in features. But then you've got regional crews from Jordan and the UAE. We've got Saudi companies investing in film equipment and regional companies from the UAE and Jordan who are setting up shop here as well."