What does a foreign-language film have to do to make a mark in the US market? John Hazelton looks at 2016's releases and weighs the impact of awards, title recognition and streaming.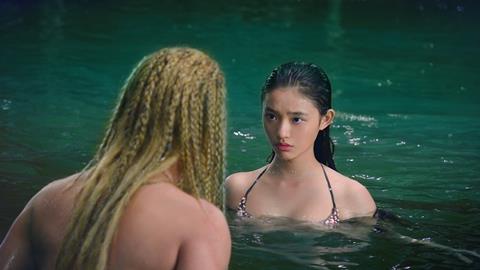 Foreign-language films have it tough at the US box office. And some have it tougher than others. Commercially oriented films aimed at specific ethnic groups have an expanding potential audience — the US Asian population grew by 3.4% to 21 million between 2014 and 2015, and the Hispanic population by 2.2% to 56.6 million — and they dominate the upper reaches of this year's foreign-language chart.
Spanish-language comedy No Manches Frida racked up an impressive $11.5m (nearly as much as it grossed in Mexico), giving distributor Pantelion Films, a joint venture between US mini-major Lionsgate and Mexico's Grupo Televisa, a follow-up to last year's animated family hit Un Gallo Con Muchos Huevos.
Hindi-language action drama Sultan scored with Indian-American audiences, taking $5.2m and becoming the second biggest US performer ever for producer-distributor Yash Raj, though the US tally paled next to the $62m take in India.
Mandarin-language fantasy comedy The Mermaid (Mei Ren Yu) was the biggest draw for Chinese-American audiences. But even with 'big Sony' rather than the studio's Sony Pictures Classics (SPC) unit distributing, writer-director Stephen Chow's massive Chinese hit — at $527m the highest-grossing film of all time in China — managed only a modest $3.2m in the US.
Foreign-language films aimed at arthouse audiences face a number of hurdles in the US: a shortage of screens not already occupied by the studios' latest tentpoles, competition from US (and usually English-language) indie films and the US audience's long-held aversion to subtitles.
Since the arrival of Netflix, Amazon and other streaming outlets, "it has actually become more difficult to get North American audiences to see them [foreign-language films] in theatres", suggests Jeff Bock, senior box-office analyst at Los Angeles-based entertainment research firm Exhibitor Relations.
Finding a foothold
As of early December, only two specialised foreign-language films had this year grossed more than $2m in the US.
Boosted by the presence of crossover star Gael Garcia Bernal — and perhaps by its election-year topicality — Jonas Cuaron's Spanish-language Mexican border thriller Desierto made it just past $2m for new (to the foreign-language market) distributor STX.
Hannes Holm's black comedy A Man Called Ove, Sweden's submission for this year's foreign-language Oscar, went considerably further, grossing more than $3m since its late-September launch. Key to that success, says Ed Arentz, managing director of Ove's US distributor Music Box Films, was the worldwide popularity of the novel of the same name by Fredrik Backman, on which the film is based.
"The book has been on the US bestseller list since before we bought [the film]," Arentz points out, "so we were able to promote very heavily with book stores, libraries and reading groups. We created as much awareness as we possibly could with the book-reading segment of the population."
Awards and festival trophies can be valuable marketing hooks for foreign-language films, but in 2016 the big prize-winners have struggled at the box office.
Laszlo Nemes' Hungarian-language Holocaust drama Son Of Saul, winner of the best foreign-language film Academy Award for 2015, took only $1.8m through SPC, making it the lowest-grossing foreign-language Oscar winner since Susanne Bier's 2010 Danish winner In A Better World.
Among the other Oscar nominees for 2015, Ciro Guerro's black-and-white Colombian adventure Embrace Of The Serpent (also a prize-winner at Cannes and Sundance) grossed $1.3m through Oscilloscope; Deniz Gamze Erguven's French Turkish-language drama Mustang amassed $845,464 through Cohen Media Group; Naji Abu Nowar's Jordanian thriller Theeb managed $283,024 with Film Movement; and Tobias Lindholm's Danish drama A War scraped together $122,902 through Magnolia.
After successful runs on the international festival circuit, meanwhile, Jacques Audiard's Cannes 2015 Palme d'Or winner Dheepan, from France, grossed $248,392 in US cinemas through IFC; this year's Berlin Golden Bear winner Fire At Sea (Italy's current Oscar submission), which is directed by Gianfranco Rosi, managed only $61,591 through Kino Lorber; and Lorenzo Vigas' From Afar, Venezuelan recipient of the Venice 2015 Golden Lion, took a mere $30,169 (according to Box Office Mojo) through Strand.
Buzz at the box office
Distributors will be hoping for bigger hauls from some of the foreign-language prizewinners and contenders that are opening in the US in December and January to capitalise on awards season buzz.
As ever, Sony Classics has a slew of Oscar submissions to launch. They are releasing Paul Verhoeven's Elle (from France), Pedro Almodovar's Julieta (from Spain) and Maren Ade's Toni Erdmann (from Germany) into theatres. IFC has just launched Mia Hansen-Love's Things To Come, which won the best director prize at Berlin. Cohen Media Group and Amazon Studios — a significant new player on the foreign-language scene — are jointly opening Asghar Farhadi's The Salesman, Iran's Oscar submission and a Cannes prize winner. And The Orchard is going out with Chile's Oscar submission Neruda, directed by Pablo Larrain.
Paul Davidson, executive vice-president, film and television, at The Orchard, hopes with its literary connection and hot director in Larrain (whose English-language debut Jackie is an awards contender this year), Neruda has a better-than-average chance in the difficult US marketplace. "With films like Neruda and Toni Erdmann, the [subject matter] is broader and in some scenarios they are more commercial," Davidson says."