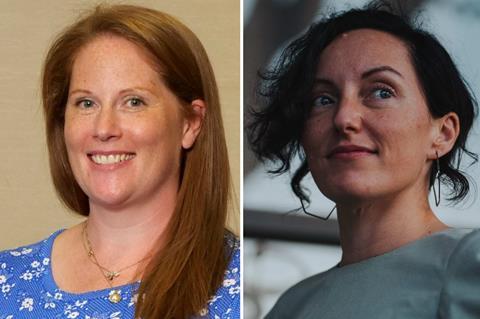 From discovering the possibilities of virtual production to making the industry a fairer, more inclusive place to work, training is a critical part of keeping the UK's screen industries a global success story.
ScreenSkills invests National Lottery funds awarded by the BFI alongside industry contributions to the ScreenSkills' skills funds with the aim of meeting the skills needs of today and identifying and preparing for the challenges of tomorrow.
Hampshire-based Kate Vaisey, a contingent-hire VFX producer at Netflix, attended a session designed to demystify virtual production and pre-visualisation in film. "I could see that the future for my role would include virtual production skills and I wanted to make sure that I didn't get left behind, particularly when I was on maternity leave," she says.
"It's a fast-moving industry, and it's so important to stay up-to-date. I wanted to get, and did get, intel on how onset workflow works for VFX. I also wanted to know the VP impact on budgets, schedules and teams – and I wanted a better understanding of the hardware needed for VP. I feel the masterclass was a kick-off point, for me to get my head around the topic."
Emma Ford, from Leeds, was encouraged to take the ScreenSkills-supported introduction to set decorating course delivered by Talking Point when she was working as an art department assistant on a TV drama.
"At this point in my career I was a bit of a jack-of-all-trades and was ready to specialise," she says. The training helped her make the move into feature films. "I gained new insight and information on the etiquette and the approach to working on a big movie. For example, I developed an understanding of what is expected of the crew and the relevant paperwork."
The trainer passed her details to a set decorator and she was made set decorating assistant on Warner Bros.' Tom And Jerry. She went on to work on the latest Fantastic Beasts: The Secrets of Dumbledore, where she stepped up to assistant buyer, then onto another big feature before a further step up to a buyer role on an Amazon series
The training supported by ScreenSkills empowered her to succeed on these bigger projects and "changed my life," she says. "I've taken on a lot of responsibility in the last two-and-a-half years, and the course set me up. The course gave me confidence to do well in the job."
Marloes Koot had been seeking work on a production for three years and had taken a community training programme in south London before securing a place on ScreenSkills' Set-ready Bootcamp. "Set-ready felt focused on working in the industry and it didn't assume prior knowledge," she says. "It covered very job-specific tasks - like using code-names, call-sheets and radio mics - which is what I needed. It gave me extra knowledge about things I wasn't expecting and hadn't really thought about, like contracts."
Koot feels that the training really helped. "In my first job, which I started within two weeks of the bootcamp, I was marshalling with other people who hadn't done the training. I noticed that I ended up being trusted with a bit more responsibility quite quickly, as I was well-prepared."
There are other ways to support career progression from bursaries to short courses and e-learning.
Stephen Mulholland, who lives in Glasgow, is an editor who found the need to work on a feature film from home over the pandemic exposed his computer as out-of-date. A bursary meant he could work on projects including the Netflix animated series Love, Death And Robots on a new machine. "I could stop worrying about the kit and focus on the work instead" he says. "It helped me to keep working confidently when I had no choice but to work from home."
Producer Martina Silcock took ScreenSkills' training on unconscious bias, with the British Independent Film Awards (BIFA), and disability awareness, with ThinkBIGGER!, as part of her own mission to make a difference.
"I was keen to be able to make decisions without bias as a result of doing this course," she says. "I also wanted to learn more about how to respond to peoples' biases - and to address some real-world examples, particularly micro-aggressions. The course has extended my curiosity and inspired further reading. It has made me feel evangelical – I'd like others to benefit in the same way."
For more information on training, go to the Training and opportunities directory on screenskills.com


ScreenSkills is the industry-led skills body for the UK's screen industries – film, animation, VFX and immersive technology, games and television including unscripted, children's and high-end.