Joanna Scanlan scooped the best actress prize at the Bifas for her performance as a grieving widow who comes to doubt the realities of her marriage in Aleem Khan's After Love. She tells Screen about the rewards found on leaving her comfort zone.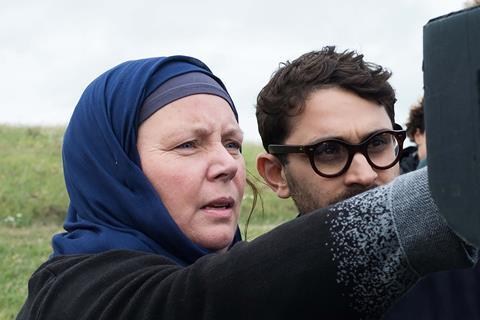 With an on-screen career that spans almost 25 years, taking in everything from satirical TV series The Thick Of It and No Offence to big-screen features Pin Cushion and Wild Honey Pie!, UK actress Joanna Scanlan has read her fair share of scripts. And, as she tells Screen on a cold November day — ahead of her best actress win at the British Independent Film Awards (Bifas) in early December — they tend to follow a familiar template.
"Often, you get a lot of dialogue," she says. "Because these documents are selling the story, and the way to do that is through dialogue. Then, in the process of making it, a lot of that dialogue gets bumped along the way."
But the moment she read the screenplay for writer/director Aleem Khan's debut feature After Love, she knew it was something special. "It was immediately obvious this was something completely different. You turned the page, and you didn't get chunks of dialogue. It had strong cinematic elements, and there was lots of storytelling that was very visual. It had meta­phoric elements, magic-realist elements, but it also had a ring of authenticity. I thought, 'This is a cut above.'"
Khan's story follows Mary, a middle-aged English woman who converted to Islam to marry ferry captain Ahmed (played by Nasser Memarzia). When Ahmed dies suddenly after a long and seemingly happy marriage, Mary discovers evidence that he was living a second life in France, and sets out across the Channel to discover the truth.
"My experience has given me this absolute conviction that something very rarely falls beneath the quality of the script," says Scanlan. "The amount you can fuck up is a lot less when it's a really strong script. I knew whatever happened in this process, we were telling a story that was completely unusual and captivating, in a very intriguing and accessible way."
Indeed one of the main strengths of After Love — which was produced by The Bureau, BBC Film and the British Film Institute, releasing in the UK in June this year, and going on to sweep the Bifas with six wins — is the way in which it invites viewers into Mary's world in an entirely naturalistic way. Her conversion to Islam is simply a detail of her life; her crisis is one of emotional, rather than religious, faith. In order to inhabit her character with complete confidence and ease, Scanlan spent a great deal of time with Khan and his family.
"His mother Wendy had been brought up in the East End [of London], and met his dad, who was a Pakistani immigrant, when she was 15," she says. "She's an amazing woman who has lived a life that's absolutely extraordinary but, at the same time, is below anyone's radar. I found something deeply humbling about my conversations with her, and the risks and hope that she took with her at every stage to achieve what's been a wonderful family life. In a way, my performance is an homage to her."
Scanlan also drew on her own family heritage to inform Mary's relationship with her faith. "I come from a very devout Roman Catholic family, and grew up in the 1960s when things like Latin Mass and the rosary were a part of life. So I dug into my own childhood memories of the daily practice of faith."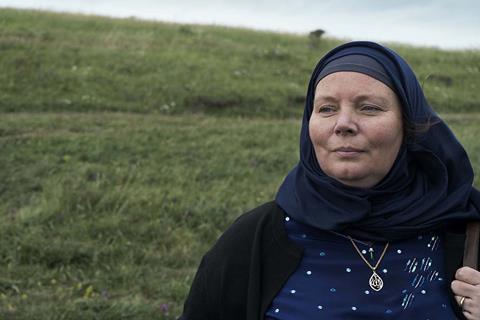 Moving target
As well as getting to grips with the screenplay's faith elements, Scanlan found herself navigating a film that has shifts in tone, from domestic drama to psychological thriller and even dreamlike elements — something that delighted her.
"I thought we were going to be a bit kitchen-sink, tonally," she says. "I thought that was partly why I was cast, because I've done loads of improvising and naturalism. But Aleem wasn't wanting that at all."
One of the most striking scenes sees Mary examine her body in the mirror, running her fingers over the stretch marks and scars that are evidence of her pregnancy, her motherhood. It is one of Scanlan's favourite moments, and she becomes genuinely moved when discussing what it means to her.
"It's a scene that depicts a fundamental truth, that women's bodies are autobiography," she says. "They tell our life history in a way that is not quite the same on a male body. It makes me want to cry that women try to conform to some other reality, and try to disguise that autobiography. Your body is elementary in telling your story, and this seemed an opportunity to do that; to admit the humanity of the female form. That is a truth."
With After Love, Scanlan feels privileged to be part of an authentic portrayal of a little-seen aspect of womanhood.
"I think this film would not have been financed maybe 20 years ago," she muses. "That's not to say there haven't always been strong women's stories in cinema. But there is a bigger palette now, for many life experiences. It all comes back to who gets the chance to tell the story. That's partly about financing, and education, and about bringing young people into creative environments. Writing is a craft you learn, and emotionally you have to have the confidence to access your own self."
With After Love putting Scanlan firmly in the awards conversation, her most recent role has seen her back on the small screen, as Ma Larkin in Objective Fiction's adaptation of HE Bates' novel The Darling Buds Of May, which was broadcast in the UK on ITV1 in October. Looking forward, however, and the big screen beckons.
"There is something deeply meaningful for me about working in film," she says. "Ironically, TV is a much more organised professional environment; it's a safer place to be in many ways. Film is like jumping off a cliff. You don't know where you're going to land, or if the parachute will open. That's really exciting."