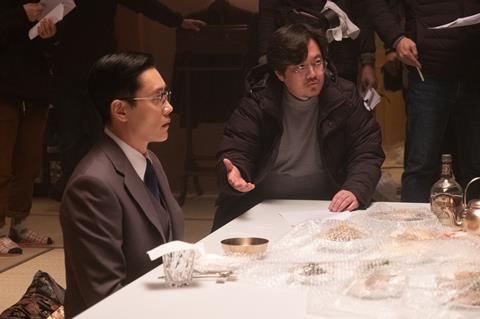 Woo Min-ho, director of South Korea's entry to the Oscars' international feature category The Man Standing Next, isn't worried about the ability of international viewers to follow an involved story drawn from modern Korean history.
"When I spoke to press and audiences online at the Udine film festival [in early July 2020], they compared it to Roman history in which Brutus kills Caesar," Woo tells Screen. "In a way, the film has a classical structure of a power struggle where the second-in-command kills the first."
Based on a best-selling non-fiction book, the film is set in the late 1970s when South Korea's authoritarian president Park Chung-hee controlled the country with the help of the Korean Central Intelligence Agency (KCIA). When an ex-KCIA director who has fallen out of favour exposes corruption at the highest levels of the South Korean and US governments (in a scandal that was dubbed "Koreagate" at the time), the ensuing power struggle eventually results in the October 26, 1979 assassination of the Korean president.
Woo's fifth feature is a dramatised retelling of these events and changes the names of many of those involved. Lee Byung-hun, who starred in Woo's Inside Men (2015) and has had roles in Hollywood films including GI Joe: The Rise Of Cobra, plays the current KCIA chief.
Budgeted at $15.5m, The Man Standing Next opened in local theatres on January 22, 2020 and clocked up more than 4.75 million admissions and $37m for local financier/distributor Showbox, according to the Korean Film Council (Kofic). Although the Covid-19 pandemic slowed admissions after its release, it still ended 2020 as the country's top-grossing film.
Produced by Hive Media Corp and Gemstone Pictures, the film has also sold to the US and German-speaking Europe (Capelight Pictures) and French-speaking Europe (The Jokers Films).
This is still sensitive subject matter for some in Korea. For instance, Im Sang-soo's The President's Last Bang focusing on Park Chung-hee's final hours ran into difficulties around its 2005 release. Were you at all concerned when you embarked on this project?
After I finished Inside Men, I got the film rights to the book in January 2016 and started working on the script. People around me did ask whether I thought it would be alright, whether I thought it could get made. It seemed like the administration [of president Park Geun-hye, daughter of Park Chung-hee] would last forever although now they are unhappily in prison. I knew it couldn't last forever, and this was a film I wanted to do.
Inside Men, which opened [locally] in November 2015, delved into the cozy relationship between the press, political power and conglomerates. Although it was rated Adults Only, it became a big social issue. I heard later I wasn't on the [Park Geun-hye administration's] blacklist and I was a little disappointed. I guess I wasn't such an important person to them.
In any case, she was impeached in March 2017 and I started shooting The Man Standing Next in 2018 without any trouble. Had it been otherwise, we would probably have shot the film but had difficulties around the release. Director Im Sang-soo also finished shooting his film and it was only afterwards that everything happened with the court injunction and the censorship. I was lucky.
What attracted you to this subject matter?
I first encountered the book in 1998 when I was in college studying film and dreaming of becoming a director. I hadn't known about these events but reading about them written out like The Godfather made me want to adapt it into a film.
The original book [which was never published in English but roughly translates as KCIA Chiefs] was written by Kim Choong-seek, a newspaper journalist at the time who wrote a series of investigative reports on the subject. He was risking his career to do this dangerous work back then; the work I did cannot compare to his journalist's spirit [but] I tried to put that sharp and cold mentality into the film. I worked with screenwriter Lee Ji-min, who also worked with me on The Drug King and on Kim Jee-woon's The Age Of Shadows.
The book is actually thicker than a wooden pillow, encompassing almost 18 years of KCIA chiefs, so the most difficult thing was to get everything in one film. I thought about making it as two films but put away that greed and decided to concentrate on the most dramatic events when the then-chief of the KCIA assassinated the president.
Tell us about casting and working with the actors.
I worked with Lee Byung-hun on Inside Men and was counting on him to be in this film from the time I bought the rights. I would have given up on making it if he hadn't agreed to be in it. I thought because of the sensitive subject matter, it wouldn't be easy but in fact he accepted easily. The way the script dug into the characters' psychologies appealed to him.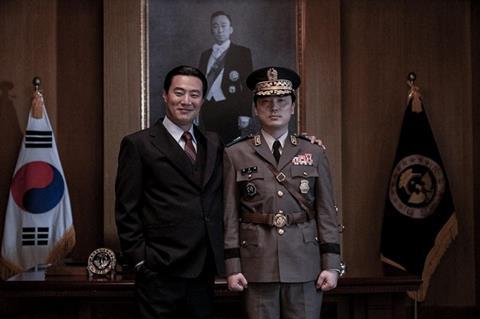 Lee Sung-min plays President Park. He's actually from the same town as Park Chung-hee and has a similar way of speaking. We had to put special make-up on him to imitate the president's cabbage-leaf-shaped ear, and he had to put a mould in his mouth to make it protrude, which isn't easy for an actor when he needs to say dialogue. Korean audiences, especially those who knew President Park, said they were surprised at how similar he looked.
As the ex-KCIA director, I cast Kwak Do-won. His performance in The Wailing was so intense. I had my eye on him for a while thinking I would like to work with him if given the chance. I saw a photo of the ex-KCIA director Kim Hyong-uk testifying in Washington DC at the time to expose the scandal and he looked quite similar, so I cast Kwak in the role.
Did you face any particular challenges with the shoot?
We had 63 shooting days from October 2018 for about five-and-a-half months. We did a lot of shooting on location – we shot in Washington DC, in France on a farm outside Paris and on the Place Vendome. It was my first time shooting overseas so I was tense at first, but we worked well with the local crews and there weren't many difficulties.
How was it to shoot the final scene where Park is assassinated?
The process of shooting the five or six minutes after the gun is fired, to make it look like a scene shot in a single continuous take, was considerably difficult. We shot it with two cameras in six parts to make it look like one cut. The actors and cameras all had to move as one so as not to get crossed in their blocking. Emotions were high and the blocking was complicated so cast and crew all had a hard time.
I had only heard about what had happened in that house. It was chilling just to imagine it when I was young, and it was even more so on set. In those moments, it felt real, because it was the biggest inflection point in modern Korean history. I felt a little like I had stepped inside history.