Mexican director Bernando Arellano's Beginning Of Time won best film in the Tiantan Awards of this year's revamped Beijing International Film Festival, while Jean-Jacques Annaud's Wolf Totem won best director and best visual effects.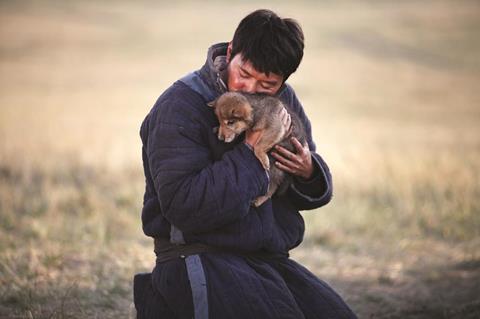 Yuliya Peresild won best actress for her role in Russian-Ukrainian war film The Battle For Sevastopol, while best actor went to Artem Tsypin for Russian detective story A White, White Night.
Slovakian filmmaker Jaro Vojtek's Chilren (Deti) won awards for best supporting actress (Eva Bandor), best screenplay and best cinematography. Best supporting actor went to Tony Leung Ka-fai for his role as the villain in Tsui Hark's The Taking Of Tiger Mountain, while best music went to German filmmaker Marie Kreutzer's Gruber Geht.
With red carpet screenings held in Beijing's renovated Oriental Theatre, a move initiated by BJIFF's new chief advisor Marco Mueller, the festival felt much more like a cinematic event than it has done in previous years. The competition and gala films played to full houses and standing ovations, with directors and cast in attendance at all screenings.
In addition, more foreign companies and national delegations were using both the festival and Beijing Film Market for promotional and sales purposes this year. The festival's opening film, Paolo and Vittorio Taviani's Maraviglioso Boccaccio, secured a Chinese distributor, New Film Association, before the festival even started.
Australia brought a large delegation of producers and New Zealand took a booth in the market and screened five New Zealand films including vampire comedy What We Do In The Shadows.
Russia's ROSKINO brought six films to the festival and reported strong interest from Chinese distributors in The Battle For Sevastopol, which has grossed $7.5m since its release in Russia on April 2.
The film's producer Mila Rozanova said she was encouraged by the success of the similarly-themed Russian film Stalingrad, which grossed $15m in China in 2013. "Our film is similar as it's an epic WW2 film with lots of CGI and action battle scenes, but it's also a strong melodrama, so we hope to capture both male and female audiences," she said.
Presenters for the Tiantan awards included Jackie Chan and jury president Luc Besson, who is producing upcoming Sino-French co-production Warriors Gate in China.