Plus… Carol producer Christine Vachon to receive special Teddy Award.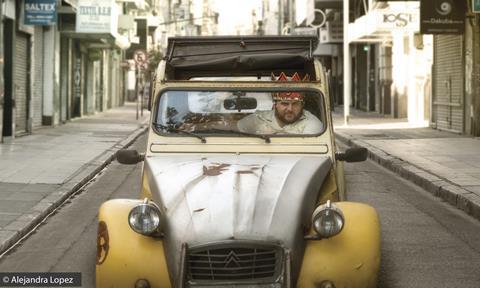 Scroll down for full list of new additions
Berlin Film Festival (Feb 11-21) has announced that its Panorama Special strand will open on Feb 12 with Daniel Burman's The Tenth Man (El rey del once) and the previously announced War on Everyone by John Michael McDonagh.
Argentinian director Burman opened the main programme of Panorama in 1988 with his debut A Chrysanthemum Bursts in Cinco Esquinas (Un crisantemo estalla en cinco esquinas). After presenting further works in Panorama and Competition, including Lost Embrace (El abrazo partido) which won two Silver Bears in 2004, Burman is to return with a portrait of multi-layered life in Once, the Jewish quarter of Buenos Aires.
Another Argentinian film in the Panorama is Maximiliano Schonfeld's The Black Frost (La helada negra). In his second film, Schonfeld uses elegiac images to explore a world disconnected from time, where ancestors of European immigrants cultivate their land and traditions. And yet when a mysterious woman appears, they all pin their hopes on her.
Indignation, the directing debut of US producer James Schamus (Brokeback Mountain), is based on Philip Roth's novel of the same name and centres on a young student (Logan Lerman) champions his moral and political ideals in fierce debates with the dean of his college at a time when the Korean War has started to undermine the still youthful and brash confidence of US citizens. Schamus was jury president of the Berlinale International Jury in 2014.
Andrew Neel's Goat, produced by Christine Vachon and James Franco and scripted by David Gordon Green (Our Brand Is Crisis, Pineapple Express), centres on a teenager who enrolls into college with his brother and pledges the same fraternity. What happens there, in the name of "brotherhood" tests the boy and his loyalty to his brother in brutal ways.
Little Men by Ira Sachs portrays the end of a childhood friendship and is presented in Cross-Section with Berlinale's Generation section.
Following the success of his first film Harmony Lessons (Berlinale Competition 2013), Emir Baigazin reveals in The Wounded Angel the states of mind of teenagers growing up in Kazakhstan in an era of extreme upheaval. The second part of a visually stunning trilogy about young people and their complex relationship to a world without consistent morals.
Wayne Wang, who last contributed two films - Smoke and Blue in the Face - to the Competition in 1995, depicts a Japanese author on holiday, whose ability to write comes and goes with the somnambular kisses of his muse, a rather dangerous lady. Takeshi Kitano plays (under his artist name Beat Takeshi) in While the Women Are Sleeping, which has been adapted from a short story by Javier Marias.
Lantouri is the name of a gang that robs people in the streets of Tehran and breaks into homes in the city's rich northern districts. The Iranian film is from director Reza Dormishian, whose earlier work I'm Not Angry played in Panorama 2014.
The full Berlinale line-up will be announced on Feb 2.
Vachon to receive Teddy Award
Christine Vachon, the US producer behind Todd Haynes' Carol, has been selected to receive a Special Teddy Award.
Through her company Killer Films, Vachon has been producing movies for more than 20 years, a dozen of which have been shown in Berlinale programmes.
In the early 1980s, as a student at Brown University, Vachon met Todd Haynes, whose debut film, Poison (Teddy Award 1991), became the first feature film she produced. Vachon also produced Oscar-winning films Boys Don't Cry and Still Alice.
Vachon will be honoured with the Special Teddy at this year's award ceremony. She will be a guest of the Queer Academy Summit and present, as part of the Teddy30 anniversary programme, the Killer Films production Hedwig and the Angry Inch by John Cameron Mitchell, which won the Teddy Award in 2001.
Panorama 2016
WP = World Premiere / IP = International Premiere
Aloys (Swiss / France) WP
By Tobias Nölle
The Tenth Man (El rey del once) (Argentina) WP
By Daniel Burman
Goat (US) IP
By Andrew Neel
Fukushima, mon Amour (Germany) WP
By Doris Dörrie
Indignation (US) IP
By James Schamus (debut)
Jonathan (Germany) WP
By Piotr J. Lewandowski (debut)
Tomcat (Kater) - (Austria) WP
By Händl Klaus
The Black Frost (La helada negra) - (Argentina) WP
By Maximiliano Schonfeld
Lantouri (Iran) IP
By Reza Dormishian
Little Men (US) IP
Cross-Section Generation
By Ira Sachs
While the Women Are Sleeping (Japan) WP
By Wayne Wang
The Wounded Angel (Ranenyy Angel) (Kaz-Fra-Ger) WP
By Emir Baigazin
Panorama Dokumente
The GDR Complex (Der Ost-Komplex) (Germany) WP
By Jochen Hick
Mapplethorpe: Look at the Pictures (US-Germany) IP
By Fenton Bailey, Randy Barbato
Mariupolis (Lit-Ger-Fra-Ukr) WP
By Mantas Kvedaravicius
Uncle Howard (UK/US) EP
By Aaron Brookner