Busan Metropolitan City has asked Lee Yong-kwan to step down as festival director of the Busan International Film Festival (BIFF) ahead of its 20th edition.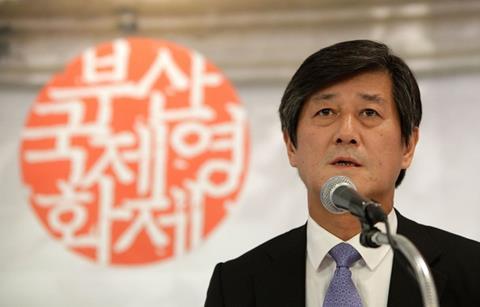 Along with an audit of the festival that the South Korean city carried out in December, this request is widely seen as retribution against BIFF for standing by its selection of the controversial ferry-sinking documentary The Truth Shall Not Sink With The Sewol.
Conservative Busan mayor Seo Byeong-soo had requested the film's screenings be cancelled, but the festival refused.
"It's an absurd situation. I have no intention of quitting and will continue to prepare for the festival's 20th anniversary," Lee told ScreenDaily.
Local film industry groups have quickly rallied to support the festival director, calling for Busan City to retract their request, uphold the festival's independence and not damage freedom of expression with such censorship measures.
The request
Lee explained he met with vice mayor for administrative affairs Jung Gyung-jin as well as culture and tourism bureau director-general Kim Kwang-hee at a hotel coffee shop near Busan Station where they suggested he resign because of organizational problems.
"They haven't even give us the results of the audit," said Lee. "They merely said they were not good. It's difficult to understand this behavior of ignoring due process.
"They said there were a lot of problems so didn't I think the organizing committee personnel needed renewal?
"I asked if they meant I should leave and they said yes. I asked if they were conveying the mayor's opinion, and they said yes.
"So I asked for time to think about that and we parted. The whole meeting took about 20-25 minutes. This was the afternoon of January 23 (Fri)."
Local media picked up on the story, positing retribution.
On Jan 24, Busan City posted a statement on its website saying it was asking for "the festival's drastic reform" with BIFF's 20th anniversary in mind.
"Unlike when the film festival first opened, it has a budget that reaches up to an annual KW12.1bn ($11.2m) and regular staff numbering 38 people," said the statement, mentioning hiring and spending practices, responsibility and the need for "new vision and paradigms".
It also refers to a need for programmers to report film selections to a permanent executive committee and "objectivity and transparency while maintaining the independence of programmers' activities".
BIFF today issued a release refuting the city's accusations of mismanagement and lack of transparency, one by one, adding they have officially put in a request for an official document addressing problems and requesting improvements as per procedure.
Film industry groups demand retraction
In a statement issued earlier today, a dozen major Korean film industry organizations including the directors', screenwriters', producers' and cinematographers' guilds, as well as the Korean Association of Film Critics, the Korean Film Marketers Association, the Federation of Korea Movie Worker's Union and the Association of Korean Independent Film and Video, demanded the city retract their request for Lee to resign.
"The mayor of Busan is the chairman of the Busan International Film Festival's organizing committee, but he does not have the right to say whether to screen a particular film or not," they said.
"In the case of a normal film festival, politicians cannot be involved in the selection of films. This is because guaranteeing programmers' film selection authority is a most important basis for a film festival to be able to exist.
"The reason why the Busan International Film Festival has been able to grow so rapidly in the past 19 years to become the representative film festival of Asia is because this principle was observed.
"For festival director Lee to be urged to resign with more than a year left in his tenure clearly looks to be a retaliatory measure on the part of Busan City, and this is not simply a matter of the position of Lee Yong-kwan, an individual.
"The hidden intention to censor a film festival and harm freedom of expression, in the end, damages film festival independence and is shaking the identity and existence of the Busan International Film Festival, which has been maintained for 19 years."
Filmmakers threaten boycott
The statement warned that if the request is not retracted, the film industry will show solidarity in fighting together to resolve the issue.
Filmmakers have already suggested boycotting the festival – withholding their films as well as attendance.
Lee helped found BIFF in 1996 and has since then been senior programmer, festival vice director, co-director with Kim Dong-ho, and festival director since 2010.
His current three-year term, approved by general assembly in February 2013, is due to end in February 2016.