In the lead up to Cannes, we revisit the 2010 Screen Jury Grid and reflect on what critics around the world had to say about the films in Competition.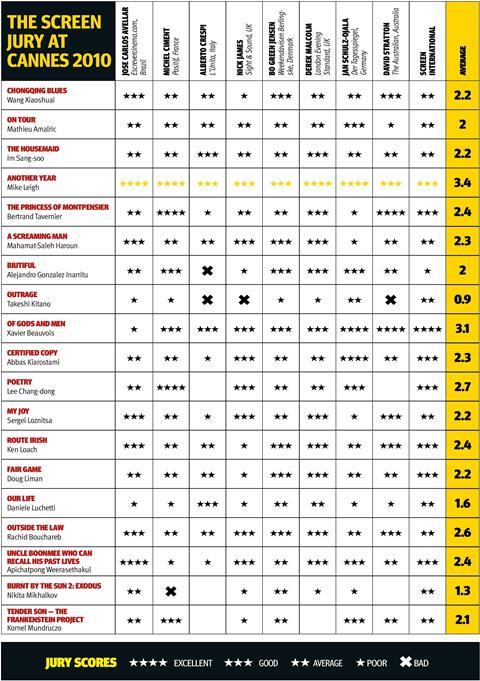 Each year, Screen calls upon its international jury of critics to cast their judgement on the films in Competition at the Cannes Film Festival and rounds up the results in the ever-popular Screen Jury Grid.
In 2010, top marks from the critics went to Mike Leigh's romantic drama Another Year, which scored a strong 3.4 out of 4. The ensemble drama was Leigh's fourth film in Competition at Cannes, including Secrets and Lies, which won the top prize in 1996.
Leigh has since been up for the Palme d'Or with biopic Mr Turner, which starred Timothy Spall as eccentric British painter J.M.W. Turner, for which he won best actor at the festival in 2014.
But in 2010, the Palme d'Or went to fantasy drama Uncle Boonmee Who Can Recall His Past Lives, directed by Thai filmmaker Apichatpong Weerasethakul, making it the first Asian film to take the top prize in over a decade. Only one member of Screen's Jury Grid saw that coming – Brazil's Jose Carlos awarded the film the full four stars.
Elsewhere, the critics were all in agreement with the festival's choice of second place. French-Algerian drama Of Gods and Men, directed by Xavier Beauvois, came second in the poll with 3.1 out of 4 and won both the Grand Prix and Prize of the Ecumenical Jury.
Another high scorer, with 2.7, was Poetry by Lee Chang-dong, the suburban South Korean drama that won the festival's best screenplay award.
Mexico's Alejandro Gonzalez Iñárritu returned to the Croisette for the third time with Biutiful, a love story between a man and his children, for which Javier Bardem took home best actor.
Also appearing in 2010 was veteran director Bertrand Tavernier, who scored 2.4 for his period romance The Princess of Montpensier. His latest film, Journey to the Heart of French Cinema, will receive its world premiere in the Cannes Classics section of this year's festival.
Cannes mainstay Ken Loach was also present. He scored 2.4 for his gritty drama Route Irish and returns this year with I, Daniel Blake.
Loach has notched up a record-breaking total of 15 selections and 13 prizes at Cannes since his first appearance in 1979, including the Palme d'Or for The Wind That Shakes the Barley and the 30th Anniversary Prize of the Ecumenical Jury for his life's work.