As Cannes approaches, Screen casts its eye back at the winners and losers of 2012 according to our jury of critics.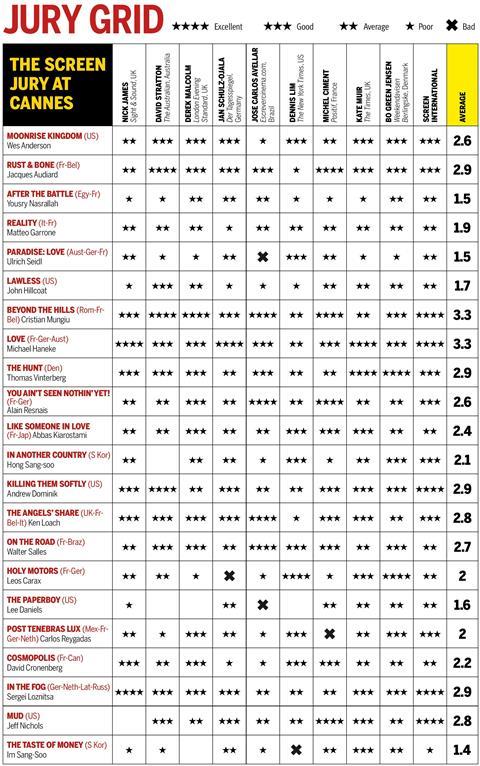 Screen International's jury of international critics has long been a strong indicator as to what will take the top prizes at the Cannes Film Festival – and 2012 was no different.
Sharing the Jury Grid's top spot in 2012 were Cristian Mungiu's Romanian drama Beyond the Hills and Michael Haneke's heart-breaking Amour.
Both films scored 3.3 out of 4 and Amour went away with the festival's coveted Palme d'Or.
Amour was Haneke's second film to win the Cannes top prize, after 2009's chilling pre-war drama The White Ribbon.
Beyond the Hills also performed strongly, winning awards for best screenplay and best actress for its two leading ladies Cristina Flutur and Cosmina Stratan. Director Mungiu has another shot at the Palme d'Or this year with Graduation (Bacalaureat).
Tie-breaker
It was a year for ties, with four films claiming second place on the Jury Grid, all scoring 2.9 out of 4. They were Jaques Audiard's Rust and Bone, Thomas Vinterberg's The Hunt, Andrew Dominik's Brad Pitt-starrer Killing Them Softly and Sergei Loznitsa's In The Fog.
But the Cannes jury, presided over that year by Italian film director Nanni Moretti, awarded Italy's Matteo Garrone the Grand Prix for satire Reality, despite a relatively low Jury Grid score of 1.9.
There was a range of big names in Competition in 2012 including Cannes first-timer Wes Anderson with enchanting coming-of-age feature Moonrise Kingdom, David Cronenberg with his fourth nomination for Robert Pattinson-starrer thriller Cosmopolis and legendary French filmmaker Alain Resnais with meta-drama You Ain't Seen Nothing Yet!.
One of the lowest scores, went to Lee Daniels' The Paperboy, which memorably featured Nicole Kidman urinating on Zac Efron. Screen's jury could only muster 1.6 for the film, which co-starred Matthew McConaughey.
Where are the women?
Notable by their absence from the line-up were women. A record number of female directors had competed for the Palme d'Or in 2011 (although that record was a paltry four) but Cannes attracted criticism in 2012 for failing to include a single film directed by a women in Competition.
Andrea Arnold, who sat on the jury that year was outspoken about her disappointment at the lack of diversity. The British director is one of three women competing this year with her first US-set production, American Honey.
Returning directors
Cannes' most frequent nominee, Ken Loach, won the jury prize for comic drama The Angels' Share. He is back this year with I, Daniel Blake, bringing his grand total of Cannes selections up to a record-breaking 15.
Elsewhere, Jeff Nichols was in Competition for the first time in 2012 with Matthew McConaughey-starrer Mud, which scored 2.8.
Nichols had previously won the FIPRESCI prize for his psychological drama Take Shelter, which played at Critics' Week in 2011, and will return to compete for the Palme d'Or again this year with civil rights drama Loving.