SCREEN SUBSCRIBERS: Film Bazaar in Goa, India's leading independent film event, is the place to meet the country's growing ranks of internationally focused film-makers.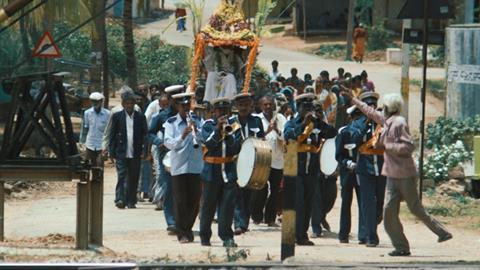 Over the past few years, it has almost become the norm for at least one Indian independent film to win awards and critical acclaim at every major international film festival.
Following the success of Chaitanya Tamhane's Court at Venice in 2014, the winning streak continued in 2015 with Prashant Nair's Umrika scooping an audience award at Sundance, and further honours for Nagesh Kukunoor's Rainbow (Dhanak) in Berlin, Neeraj Ghaywan's Fly Away Solo (Masaan) in Cannes and Raam Reddy's Thithi in Locarno.
At this year's Venice, Ruchika Oberoi's Island City won the best young director prize in the Venice Days section, while Pan Nalin's Angry Indian Goddesses scooped audience awards in Toronto and Rome and was sold to a slew of territories. While India's non-mainstream output may not yet be a deluge, it's certainly become a steady pipeline of acclaimed and award-winning films.
At the ninth edition of Film Bazaar (November 20-24) in Goa, the next wave of Indian 'indies' will be starting their journey through the event's various development and financing strands, including the Co-Production Market (CPM), Screenwriters' Lab (SWL) and Work-in-Progress Lab (WIP Lab).
Organised by India's National Film Development Corporation (NFDC), the annual event has evolved into a platform that has helped to either kickstart or shape a large proportion of the award-winning independent films coming out of India. The first crop of Indian indies to draw attention on the festival circuit around three years ago — Ship Of Theseus, Miss Lovely and The Lunchbox — can all trace their roots back to pivotal meetings at Film Bazaar.
Urmi Juvekar, NFDC's head of development and production, who has been involved in several editions of Film Bazaar, says a much wider range of projects are now being developed. "We're now seeing more film-makers applying with stories across genres. There used to be a lot of projects looking for 'meaning' in a certain type of Indian story, but now we have thriller, horror, drama and comedy," Juvekar says.
She adds that Indian film-makers' definition of what is 'crossover' has also changed: "Many preconceived notions of what works globally are not present any more. Of course that's happened because many 'local' films have had a great international trajectory."
With content improving dramatically, NFDC managing director Nina Lath Gupta says the next steps are to encourage diversity of output and to ensure more films connect with local and international audiences. Although Indian indies are winning awards and being picked up by sales agents, they struggle to secure theatrical distribution in their home market, which remains under-screened and crowded with Bollywood and mainstream regional-language releases.
"We should be seeing more 'middle-of-the-road' films that do well at the box office," says Gupta, referring to films that are not commercial Bollywood but not straight art-house either. "There's nothing like success to make a certain kind of cinema grow. We want to support films that push the boundaries but are also more commercially viable. This kind of cinema is emerging all over the world."
Anurag Kashyap, a leading light of India's new wave, says prohibitively high p&a costs, lack of screen space and the industry's reliance on using soundtracks to market movie releases are just a few of the obstacles facing indie film-makers.
"We have amazing new voices coming out of India but unless these films are released during the cricket season, when there are no big films, they just become lost," says Kashyap, who recently ventured into studio film-making with Bombay Velvet, backed by Fox Star Studios.
"The critics support the smaller films, but the audience is conditioned to pay attention to the bigger films, which can afford to flood television channels with their songs."
Film Bazaar aims to address these issues through its Knowledge Series seminar programme, which will include sessions on innovative distribution models and how to optimise marketing opportunities on a small budget. Meanwhile, Producers' Lab, which is entering its third edition at Film Bazaar this year, will encourage film-makers to think about budgeting and recoupment strategies in addition to the creative aspects of film.
Outside of the event, NFDC is working on several initiatives, to be announced at a later date, which are designed to help overcome these problems — in particular high p&a costs and lack of access to screens. The organisation also continues to release films it has produced or co-produced through its Cinemas Of India label. Most recently, it theatrically released Anup Singh's Qissa and Farook Abdul Rahiman's Malayalam-language Kaliyachan. Both Qissa and Kaliyachan played on VoD platform cinemasofindia.com, while Qissa also had a home-video release.
A handful of Indian production companies that focus on story-driven films are also taking matters into their own hands and stepping into theatrical distribution. Vivek Gomber's Zoo Entertainment, which produced Court, released the film in April, while Manish Mundra's Drishyam Films distributed Fly Away Solo in July and Phantom Films, founded by Kashyap and three other film-makers, released award-winning documentary Katiyabaaz in August.
Even the Bollywood studios are experimenting with specialist films they have either acquired or financed. Viacom 18 Motion Pictures releasedManjhi — The Mountain Man in August, while Kanu Behl's Titli opened through Yash Raj Films last month.
International revenue
None of these films have been huge hits, but Drishyam Films' CEO Shiladitya Bora asserts that focusing on theatrical grosses is missing the point. He claims Fly Away Solo, which had a budget of around $550,000 and cost almost as much to release, recouped its costs and moved into profit through a combination of box office, sales to ancillary platforms and international sales, which were handled by Pathé.
"We've found it is possible to recoup on a specialist title, but a chunk of that revenue needs to come from international," says Bora. "If you have strong content, produced at the right budget and released with proper marketing support, you can make this kind of film-making sustainable. But you need to spend the same on marketing as you did on making the film."
After a busy year on the festival circuit and many lessons learned, India's indie directors and producers will have much to discuss at Film Bazaar. As film-makers in other territories have discovered, co-production markets are about much more than script development and raising finance. Exploring new business models and sharing experiences also play a crucial role in enabling diverse kinds of cinema to survive.
Film Bazaar 2015 Line-up
The line-up for the Co-Production Market at this year's Film Bazaar includes new projects from Kanu Behl, whose Titli premiered in Cannes Un Certain Regard 2014; Aditya Vikram Sengupta, director of Venice 2014 title Labour Of Love; acclaimed Sri Lankan film-maker Prasanna Vithanage; and Fahad Mustafa, whose credits include award-winning documentary Katiyabaaz.
In addition, Ritesh Batra (The Lunchbox) is stepping into production with Raj Rishi More's Pirates, which he will produce through his new outfit Poetic License Motion Pictures, while Drishyam Films' Manish Mundra is bringing a new project from Amit V Masurkar (Sulemani Keeda). The Co-Production Market will also feature an Open Pitch session, in which selected film-makers will pitch their projects to a curated audience of investors.
The Work-in-Progress Lab will present six features, including Gurgaon, the directorial debut of acclaimed DoP Shankar Raman, and six documentaries including Alka Raghuram's Burqa Boxers. Following the introduction of a section for romance and women-centric stories last year, Screenwriters' Lab is expanding further this year with a selection of children's stories.
Film Bazaar is also increasing its focus on helping India's state film and tourism bodies improve and market their services to local and international producers. In addition to the Film Offices launched last year, NFDC will host a Film Tourism Workshop on the sidelines of Film Bazaar, which includes seminars on subjects such as creating the right mix of incentives; building a local workforce to service filming requirements; and creating single-window clearances for shooting and other permits.
Speakers scheduled to attend the workshop include Film New Zealand CEO Gisella Carr, Pinewood Studios Malaysia CEO Rezal Rahman and Poland Film Commission's Anna E Dziedzic. The workshop is timely, with the Indian government now putting renewed focus on creating a film facilitation office at a national level, which is likely to be overseen by NFDC.
Co-production market
Agra (language: Hindi)
Dir Kanu Behl, Prod UFO Films
Aasai Mugam (Tamil)
Dir Arun Karthick, Prod Prabhu Ramasamy, Dream Warrior Pictures
Bhavarth (Konkani, Portuguese)
Dir Laxmikant Shetgaonkar, Prod Entertainment Network of Goa (ENG)
Bombay Rose (Hindi)
Dir Gitanjali Rao, Prod Clara Mahieu, Les Films d'Ici
Children Of The Sun (Sinhala)
Dir/prod Prasanna Vithanage
Dhaar (Hindi, English)
Dir/prod Salil Jason Fernandez
A Goat's Life (Malayalam, Hindi, Arabic)
Dir Fahad Mustafa, Prod Globalistan Films
Manto (Urdu, Hindi)
Dir Nandita Das, Prod Chhoti Production Company
Meeting The Sumdees (English, Urdu)
Dir Michael McNamara, Prod Markham Street Films
Memories And My Mother (Bengali)
Dir Aditya Vikram Sengupta, Prod Vikram Mohinta, Jonaki Bhattacharya, For Films
Newton (Hindi)
Dir Amit V Masurkar, Prod Manish Mundra, Drishyam Films
Nigudha Manushyaru (Kannada)
Dir MS Prakash Babu, Prod Bayalu Chitra Productions
On The Way To Paradise (English, Independent Filmmaker Project)
Dir Sara Blecher, Prod Imraan Jeeva
Pirates (Hindi)
Dir Raj Rishi More, Prod Ritesh Batra, Poetic License Motion Pictures
The Poacher (Hindi, Bengali, English)
Dir Suman Ghosh, Prod Colin Burrows, Beautiful Bay Entertainment
Sandhya (Marathi, Hindi)
Dir Mukti Krishnan, Prod 7Seas Films, Ravi Kambhoj
The Sweet Requeim (Tibetan)
Dir Ritu Sarin, Prod White Crane Films
Unread Pages (Assamese, English)
Dir/prod Jahnu Barua
Unromantic Woman (English, Hindi)
Dir Joan Carr-Wiggin, Prod David Gordian, Paragraph Pictures Inc