Goteborg Film Festival (Jan 23-Feb 2) has always offered the best of Nordic cinema but is now attracting more international industry attention. Andreas Wiseman previews the 2015 edition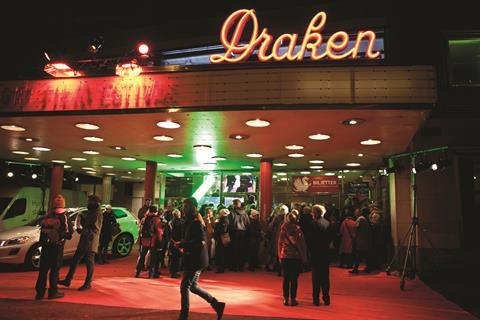 Goteborg Film Festival sold an impressive 135,000 tickets to 35,000 visitors in 2014. This year the Sweden-based showcase is aiming to go further, screening more than 500 films from a record 89 countries. While the festival continues to bolster its strong regional credentials, it reports that it is also seeing a growing number of attendees from the international industry.
Guests and festival participants in 2015 will include directors Naomi Kawase, Michael R Roskam, Olivier Assayas and Liv Ullmann, actress Noomi Rapace, screenwriter Tony Grisoni and Left Bank Pictures CEO Andy Harries.
The festival has strengthened its industry offering (11,000 guests attended festival seminars in 2014), ramping up its TV market from one day to two and building on its Nostradamus project, a research platform devoted to future business models and consumer behaviour.
"Our industry events run from day one to day 10 now," says Cia Edstrom, the festival's head of industry. "Part of the rapid growth on the industry side is due to the global demand for Nordic films and TV drama. For example, our Nordic Days TV event has grown to two days this year in part as a response to the boundaries between film and TV becoming blurred. Producers attending this event often have film backgrounds.
"We have had the film institutes, buyers and festivals here for many years, but the number of sales agents, producers, broadcasters and commissioning editors has doubled in recent years, and there is an increase of financing being done and projects picked up by sales agents," adds Edstrom.
In total, around 40 projects will feature across the festival's Works In Progress, TV Drama Vision and Nordic Film Lab Discovery sections.
Works In Progress features new films from Norway's Yngve Saether, producer of Oslo, August 31st and co-producer of Force Majeure, and new projects from award-winning directors including Mads Matthiesen, Runar Runarsson and Lisa Aschan.
Participants in the Nordic Film Lab include Marte Vold, co-director of Toronto 2014 and Berlin 2015 title Out of Nature, and Jacob Jarek, a co-producer on Nicolas Winding Refn's Only God Forgives and drama Paris of the North, which competes in this year's Best Nordic Film category at Goteborg.
The Nordic Film Lab Discovery section includes Samanou Acheche Sahlstrom, director of 2011 feature Les Amours Perdues starring Emmanuelle Béart and Denis Lavant.
Despite a growing industry offering, there is still room for expansion. As Edstrom says: "We do not have a formal co-production market. It is an active choice as we are situated in between the huge markets of Rotterdam and the EFM in Berlin. But if it changes in the future it will be a tailor-made co-production platform with a starting point in our Nordic Film Lab Discovery, where we present upcoming projects from emerging talent."
Dramatic times
In his first year as artistic director, having previously been head of programming for the international strand, Jonas Holmberg recognises some familiar strengths in the competition line-ups.
"If we look at the eight films in competition for best Nordic film, we are dealing with very strong dramas, which are very well acted and directed," he says. "The standards for acting and directing are one of the best things about Nordic cinema and what has made it so famous."
Those include R director Michael Noer's Key House Mirror and Anne Sewitsky's Homesick, which will have its world premiere just days earlier at Sundance.
But Holmberg also sees new directions in other strands: "We have eight films in the Nordic documentary competition. In those, film-makers travel to four or five continents to find stories from all over the world. This is an interesting development for Nordic documentaries, which have also become more creative of late."
Female film-makers
The presence of female film-makers remains a key motivation for the organisers. "It's always very important for us," says Holmberg. "Three of our four main competitions have a 50/50 split between men and women directors. The other is 60/40. Every festival needs to do its part to make the global film business less male-dominated."
This thinking played a part in the choice of Japan as a territory focus. "Japan has for a long time had a male-dominated film industry. But we are now starting to see this change, with a lot of great films being made by women directors such as Naomi Kawase, who will be on the jury at our festival."
The festival has its share of international glamour. Galas include Michael R Roskam's The Drop, Olivier Assayas' Clouds Of Sils Maria, Bille August's Silent Heart and James Marsh's The Theory Of Everything.
One potential headache for Goteborg is Sundance's new slot, one week earlier in the festival calendar. "This was a little bit problematic in terms of our industry audience and global attention," acknowledges Holmberg. "But in terms of our programme, I don't think it's much of a problem. For example, Homesick will have its world premiere in Sundance and within a few days it will be in our Nordic competition."
Goteborg's key strength lies in its strong regional coverage, and festival heads are keen to maintain that local flavour: "What is most important for us is to continue to emphasise the importance of Nordic cinema, because that is why we're unique in the world as a festival," says Holmberg. "The main goal will be to strengthen our Nordic line-up while also representing the best of world cinema."