San Sebastian festival director Jose Luis Rebordinos tells Juan Sarda about his 'best selection' yet, including an Antonio Banderas sci-fi film, international hits and Latin American gems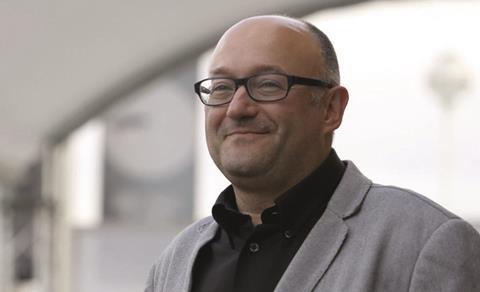 The 62nd edition of San Sebastian Film Festival (Sept 19-27) will again showcase its many facets — as an open door to Europe for some of the highest profile titles from Toronto, linking the Latin American and European industries, and acting as the biggest platform for the year's key Spanish films.
Click the links below for more on the line-up
One of the busiest editions in recent history will be marked by visits from Francois Ozon, Susanne Bier and Christian Petzold, along with leading Spanish directors including Alberto Rodriguez.
Antonio Banderas, meanwhile, brings his sci-fi project Automata, directed by Gabe Ibanez.
"I am sure that in my four years as director of the festival, this is the best selection," says festival director Jose Luis Rebordinos. "There are more films than usual because we could get better titles this time."
He says the festival does not try to compete with Toronto, rather to offer those films a European premiere.
"This is the best formula for the films and for us. In San Sebastian, those titles will have a second chance and will be seen by hundreds of journalists and critics.
"They gain this stamp of quality that San Sebastian gives, might take the Golden Shell and there are also quite a lot of industry players over here."
Rebordinos is passionate about this year's Official Selection: "There are very strong films that deal with controversial and powerful issues.
"We have a wonderful and brutal thriller from Susanne Bier, A Second Chance, that will really shock the audience; a fascinating new title by Francois Ozon, The New Girlfriend, about transvestism that only he could have presented so cleverly; and thriller Haemoo, a great debut by Memories Of Murder screenwriter Shim Sung-bo.
"And we are very proud of films like The Drop by Michael Roskam, which features the last performance by James Gandolfini; and Voice Over, a Chilean comedy directed by Cristian Jimenez that is a jewel."
Another highlight is closing film Samba, the new feature by Olivier Nakache and Eric Toledano after the huge international success of Intouchables.
Guests in attendance will include Donostia Award winners Denzel Washington with opening film The Equaliser and Benecio Del Toro with Escobar: Paradise Lost as well as John Malkovich with Casanova Variations and Willem Dafoe with Pasolini.
Supporting talent
San Sebastian also wants to foster the careers of young film-makers.
Rebordinos points to the New Directors section, in which Olivier Assayas, Danny Boyle, Juan Jose Campanella and Isabel Coixet screened their first films. "Talent hunters should take a close look because every year we find great promise."
Among the Spanish selections, there are high expectations around the sophomore effort by Carlos Vermut after the critical success of Diamond Flash.
"Magical Girl, his new title, is a big step forward. It's a very good thriller with the capacity of gaining a much broader audience than his first film."
Ibanez's Automata is also a second film, a $50m sci-fi title produced by and starring Banderas, about a robot conspiracy to take over the world.
Another second feature is Flowers (Loreak) by Jon Garano and Jose Mari Goneaga, a drama about different generations of women.
Out of competition, Golden Shell winner Isaki Lacuesta will screen Murieron Por Encima De Sus Posibilidades, a black comedy about a gang of losers who kidnap the chairman of the Bank of Spain.
Industry connections
Under Rebordinos's watch, the festival's industry activities have been gathered under the Industry Club umbrella and expanded significantly.
"We have always had a lot of industry people here but we needed to join them in a clearer way," he explains.
The three-day Co-Production Forum, now in its third edition, will welcome more than 1,200 guests.
"It's our greatest achievement. In the last few years there are 30% more people from the industry," he says. Some 17 projects (see below) will be presented to international producers.
The industry activities this year also include a Canadian delegation seeking Spanish partners.
The influential Films in Progress section will celebrate its 26th edition, presenting unfinished Latin American projects. "We share the Spanish language with Latin America and it's natural that we have a close bond."
The Horizontes Latinos section also strengthens those ties. Rebordinos says: "We are a big reference for artists and producers of those countries and that is going to grow."
Agosto (August)
Director: Armando Capó Ramos
Production Company: La Feria Producciones
Country: Costa Rica-Cuba
Animales domésticos (Domestic Animals)
Director: Andi Baiz
Production Company: Dynamo
Country: Colombia
Até o camino (Until the Way)
Director: Davi Pretto
Production Company: Tokyo Filmes
Country: Brazil
Chau Buenos Aires (Adiós Buenos Aires)
Director: Germán Kral
Production Company: Historias Cinematográficas
Country: Argentina-Germany
Entre perro y lobo (Wolfdoog)
Director: Irene Gutiérrez
Production Company: El Viaje Films
Country: Spain-Cuba
Fantasía
Director: Juan Pablo Richter
Production Company: Pucara Films
Country: Bolivia
La noche de Franco (Franco's Night)
Director: Bernardo Arellano
Production Company: Agrupación Caramelo Cinematográfica
Country: Mexico-Spain
Las elegidas
Director: David Pablos
Production Company: Canana
Country: Mexico
Marilyn
Director: Martín Rodríguez
Production Company: Maravillacine
Country: Argentina-Chile
Sal
Director: William Vega
Production Company: Contravía Films
Country: Colombia-Germany-France
Siete horas (Seven Hours)
Director: Chema Rodríguez
Production Company: Icónica Producciones
Country: Spain-Mexico
The Return
Director: Gorki Glaser-Müller
Production Company: Zentropa International Sweden
Country: Sweden
Walls (Muros)
Directors: Pablo Iraburu, Migueltxo Molina
Production Company: Arena Comunicación
Country: Spain
X Quinientos
Director: Juan Andrés Arango
Production Company: Séptima Films
Country: Colombia-Canada-Mexico
Ibermedia project (Not eligible for the award)
Noli
Director: Álvaro Ponte
Production Company: Quenepa Producciones
Country: Puerto Rico