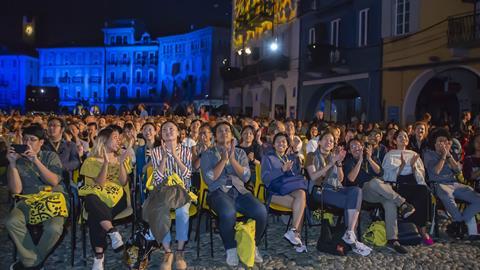 New projects from Brazilian director João Paulo Miranda Maria and Swiss-Rwandan director Philibert Aimé Mbabazi are among nine projects selected for Locarno Pro's Alliance 4 Development initiative this year.
The initiative is an integral part of Locarno Film Festival's Locarno Pro industry strand and is aimed at encouraging co-productions between Switzerland and France, Germany and Italy.
Each participating territory presents two to three projects.
The shortlist was selected from a record 75 submissions this year. "We were delighted with the quality and the sheer number of entries received," said Alliance 4 Development project manager Francesca Palleschi.
The producers and filmmakers of the nine projects will participate in three days of pitching and one-on-one meetings with potential partners from August 6 to 8.
Brazil's Maria, who received the Cannes 2020 label for his debut feature Memory House, will present his new project Bandeira. It is produced by Justin Pechberty at Paris-based Les Valseurs with Rodrigo Texeira and Lourenço Sant'Anna at Brazi's RT Features on board as co-producers.
Swiss projects include Swiss-Rwandan director Mbabazi's debut feature Spectrum, which recently participated in the Torino Film Lab's Script Lab. The Geneva-set tale revolves around the relationship between a Cameroonian artist who arrives in the city as an exchange student and an eccentric sound engineer in the midst of a personal crisis. It is produced by Gabriela Bussmann and Yan Decoppet at Golden Egg Production.
From Germany, Florian Hoffmann is presenting The Time Of Monsters about a young nurse from a poor background who emigrates to Cameroon in 1914, when it was under German colonial rule. The everyday violence she encounters destroys her hopes of a better life and also changes her view of the world forever.
The Italian projects include Giulia Di Battista's The Hunting Season, an adaptation of the graphic novel Stagione di Caccia by Emiliano Pagani and Bruno Cannucciari.
The Locarno Film Festival is due to run August 4-14 this year.
Alliance 4 Development projects

Bandeira (Fr-Braz)
Dir. Joao Paulo Miranda Maria
Prod. Les Valseurs
Brûle Le Sang (Fr)
Dir. Akaki Popkhadze
Prod. Adastra Films
Stranger in a Village (Switz)
Dir. Samir
Prod. Dschoint Ventschr Filmproduktion
Spectrum (Switz)
Dir Philibert Aimé Mbabazi
Prod. GoldenEggProduction
Don't Let The Sun (Catch You Crying) (Switz)
Dir. Jacqueline Zünd
Prod. Lomotion
Zeit Der Monster (Ger)
Dir. Florian Hoffmann
Prod. Chromosom Film
Carla's Enzo (Ger)
Dir. Adelfiano Oberto and Elmar Imanov
Prod. Color of May
Stagione Di Caccia (It)
Dir. Giulia Di Battista
Prod. Mastrangelo Cinematografica
La Selvaggia (It)
Dir. Lorenzo Puntoni
Prod. Lumen Films